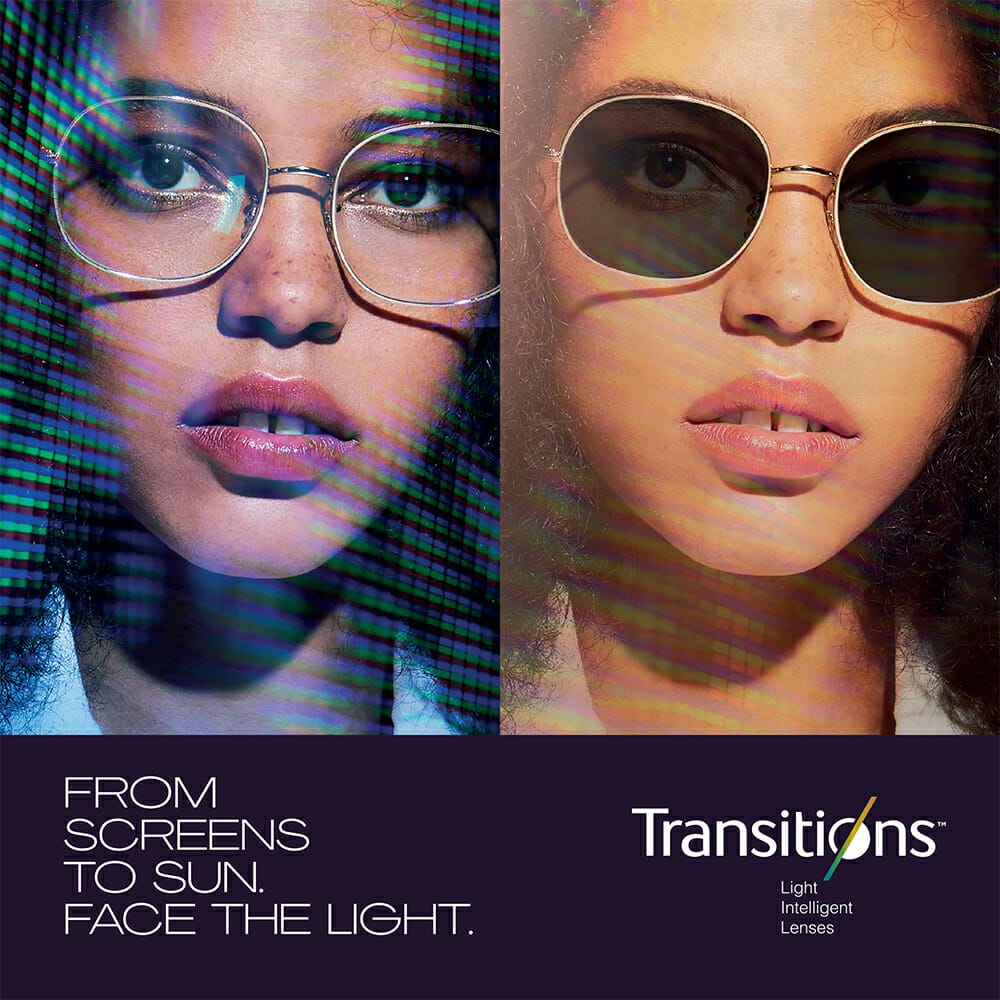 Transitions Optical has launched a new large scale consumer campaign to reinforce the role of Transitions lenses in enhancing wearers' vision experience, protecting their eyes from ultraviolent rays, and filtering blue light. In-store materials and marketing assets that echo the messaging are available to optometry practices.
The campaign has been developed in response to a recent Transitions Optical study, which found that since the beginning of the COVID-19 pandemic, 66% of prescription glasses wearers said they spend more time in front of digital screens and 22% of consumers report spending more time going outside into bright sunshine¹.
Consequently, glasses wearers are becoming more aware of the important role lenses play in helping to protect and preserve their eye health, with 75% agreeing lenses should help to protect from both ultraviolet light and blue light.1

Eyecare professionals have also taken note of the pandemic's effect on their patients' eye health. In fact, more than 70% of eyecare professionals agree that their patients have become more sensitive to eye care and protection since the pandemic began.1
"Consumer's eyes are in overdrive with increased exposure to ultraviolent rays and blue light emitted by the sun, harsh indoor lighting and electronic devices," said Adam McMahan, Key Account Manager Australia and New Zealand, Transitions Optical. "Our new campaign promotes Transitions lenses as a light management solution to help glasses wearers to face the intense light situations they encounter in their daily lives."
Digital Focus
Transitions Optical's 'From Screens to Sun. Face the Light.' campaign is being featured in large scale consumer outdoor advertising across Victoria, New South Wales and Queensland. With digital mediums being an ideal medium to illustrate Transitions lenses, advertising includes large landmark digital billboards and digital panels in busy retail precincts.
New in-store materials and marketing assets – including window posters, wall posters, counter cards, static and animated visuals, videos and social media posts – will communicate how the entire portfolio of Transitions lenses:
• Block 100% of UVA and UVB rays,
• Help filter blue light1 from digital devices and screens indoors to bright sunlight outdoors, and
• Help to reduce glare by optimising the amount of light consumers' eyes receive.
The new point of sale materials and marketing assets are available to order for free from Transitions Plus. First time visitors can use Registration Code TransPlus.
For more information about the company and Transitions Light Intelligent Lenses, visit Transitions.com.
Reference
1. Transitions Optical, Global Consumer Sentiment and Behavior, Multi-country survey (AR, AU, CO, FR, IT, SG, ZA, UK, US), Q4 2020, People Research, N=6,403/N=700 per country. Eyeglasses wearers agree to say Top2Boxes.