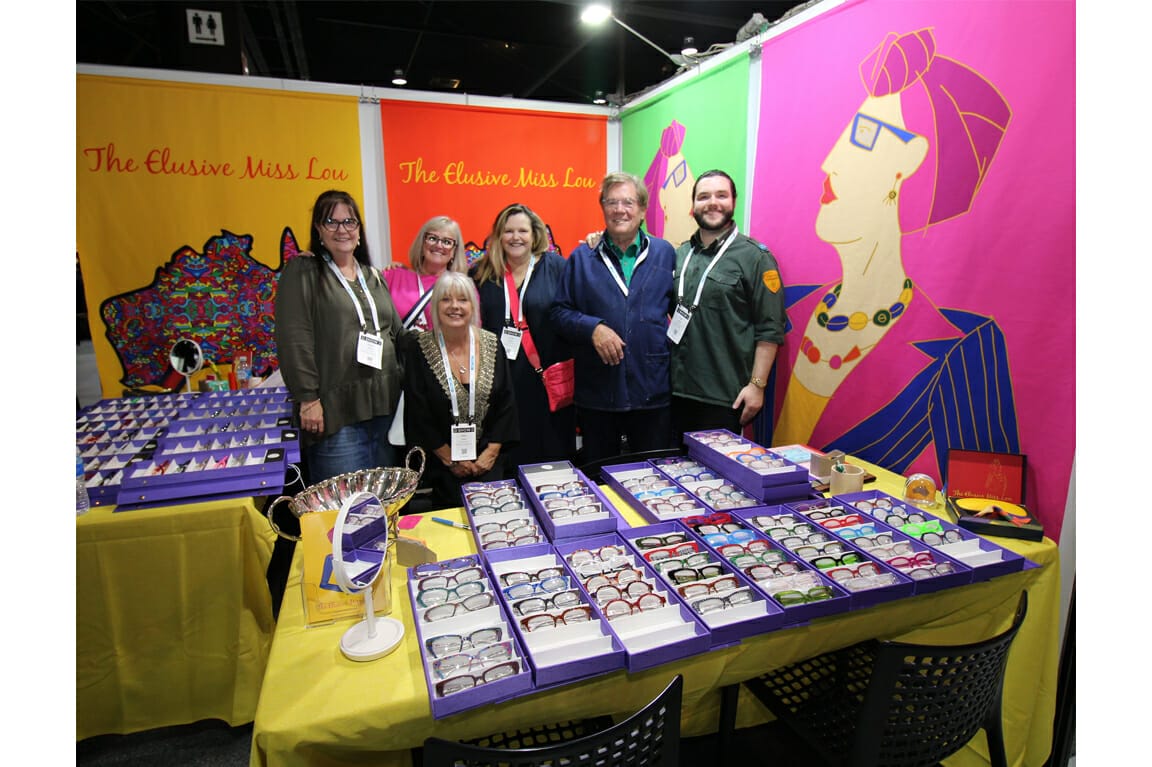 Buzzing with conversation and alive with interactions, O-Show 2022, at Sydney's Hordern Pavilion, proved a huge success for the 70 exhibiting companies and more than 1,000 attendees who graced the trade fair over the two days.
From frames and lenses to equipment, and everything in between, O-Show 2022 lived up to its well-renowned position in the optometry industry calendar. With people keen to be back face-to-face after a three-year hiatus, the atmosphere was alive with reunion and new connections.
Amanda Trotman, General Manager and Acting CEO of the Optical Distributors and Manufacturers Association (ODMA), responsible for organising O-Show, commented on the great vibe of the event, saying that everyone she spoke to agreed it was both professional and business focused, yet a relaxing and fun environment for industry networking.
"It was so rewarding for me to walk the aisles after the event formally opened on Friday and just observe all the buyers coming in and engaging in conversation with the exhibitors. You could see the keenness to view all the new products on display, the equipment booths were inundated for demos, there was so much chatter and so many smiling faces," said Ms Trotman.
ON THE TRADE FLOOR
At the ProOptics booth there was a buzz of excitement around the new Struktur collection, characterised by vibrant colours, shapes and patterns. Handmade in Normandy, France, these frames had only arrived the day before and were making their debut at O-Show with much fanfare.
Jisco, ProOptics longstanding brand, was also attracting attention for its eco-story which, now more than ever, is proving an important consideration when buying eyewear. Choosing ecological raw materials, 35% of Jisco's collection is made with bio-acetate, a 100% biodegradable, natural cellulose base. A further 25% of the collection is made with pure titanium, which is also a 100% recyclable raw material.
Jacque Katsieris, co-founder of ProOptics, described O-Show as a reunion of friends new and old, industry colleagues, and the ProOptics team.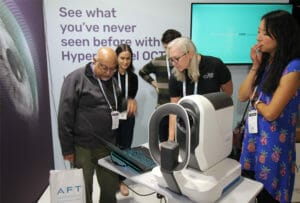 "Attendees were relaxed and energised and excited to be out and about looking at shiny and new products and catching up with existing suppliers who we haven't been able to see in this format for three years.
"There were lots of clinking glasses, handshaking and laughs – we can't wait to do it all again next year," said Ms Katsieris.
Having established The Elusive Miss Lou in the midst of the pandemic, for mother and son duo, Louise and Teiger Sceats, O-Show was a first-of-its-kind event.
When mivision spoke to Teiger on the Friday, he said they were down to four, from 40, of their highly popular The Runway frame in Smoke Glitter. These particular frames feature show-stopping gold-toned temples, peppered with sparkle. Both he and Louise were overjoyed with the positive reception.
Also in the eyewear category, Aaron's Eyewear was preparing for a big two days of sales. While their Götti range was expected to attract interest due to its new and unique appeal, Aaron McColl, co-founder, was confident that Cocoa Mint would continue to be a hit. "It's a classic, very popular, and always sells well," he told mivision.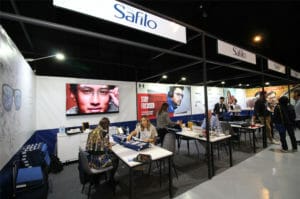 O-Show 2022 also marked the launch of Mondottica's Moleskine and Ripcurl collections, as well as the sunglass component of the already loved Scotch & Soda brand. For the little ones, Little 4 Eyes was "about to explode" with their showcase of 10 brands, the newest of which is the Harry Potter range, which launched in Munich, Germany, only a week earlier, and with great success.
On the equipment front, if it weren't for the great interest generated in the first Australian viewing of their fourth generation Hyperparallel Optical Coherence Tomography (HP-OCT), it may have been easy to miss the Cylite booth. Scores of attendees circled the device to watch, and be involved in, live demonstrations, and were highly impressed that, within five seconds, a scan of the cornea, crystalline lens and retina could be produced.
The Designs for Vision booth was packed with equipment, showcasing the best in eyecare solutions such as the Oculus Myopia Master, in partnership with the Brien Holden Vision Institute, and the Oculus Pentacam, the gold standard in anterior eye segment tomography. Device Technologies was also proud to demonstrate Topcon's MYAH, which offers all the technologies required to support myopia management.
EDUCATIONAL ESCAPE
Taking place above the action of the trade show floor was a series of masterclasses and workshops covering topics from Accurate measurements for optical dispensers on the Friday morning, to Start your own independent practice on the Saturday afternoon.
Essential skills for optical retail staff, hosted by Suhyun Kweon from the Early Career Optometrists NSW/ACT committee (ECONA), was an intimate masterclass in tips for performing visual fields. Participants were able to engage and ask questions in a supportive and friendly environment, as Ms Kweon passed on knowledge from personal experience and encouraged her audience to share their common practices.
"My masterclass provided a great opportunity for me to meet and talk to optical dispensers from different regions who were eager to learn," Ms Kweon told mivision. "And I loved how interactive the day was. It was great to see people again after the pandemic and I was impressed with how people flew from far afield to attend. I spoke to two people who had flown from Brisbane and were planning to enjoy Vivid after the show."
In addition to the pre-registration masterclass and workshop schedule, the Spotlight Stage, open to any O-Show attendees, provided an educational break from the fast-paced interactions on the trade floor. Audience members dipped in and out of topics such as Building instant rapport for increased sales, and Choosing a frame for your client's face type – both of which attracted the most interest, according to Ms Trotman.
A GREAT SUCCESS
O-Show 2022 provided ample opportunity for optometrists, optical dispensers, owners, directors, managers, students, front of house staff, and more, to meet, connect, engage, and explore.
"This is what live events are all about – exhibitors making sales and new contacts as well as cementing current relationships, industry peers networking with each other, optometrists and practice team members all able to find something of interest to view or listen to," said Ms Trotman. "A successful event that in turn helps fund ODMA as an industry association to then be able to stage more events and provide a variety of industry benefits such as scholarships, industry research and representation on industry bodies and Standard Committees."
This year's O-Show well surpassed the numbers from the previous, pre-pandemic edition, with 70 exhibiting companies compared to 47, and 130 booths compared to 70. The enthusiasm for live events is clear.