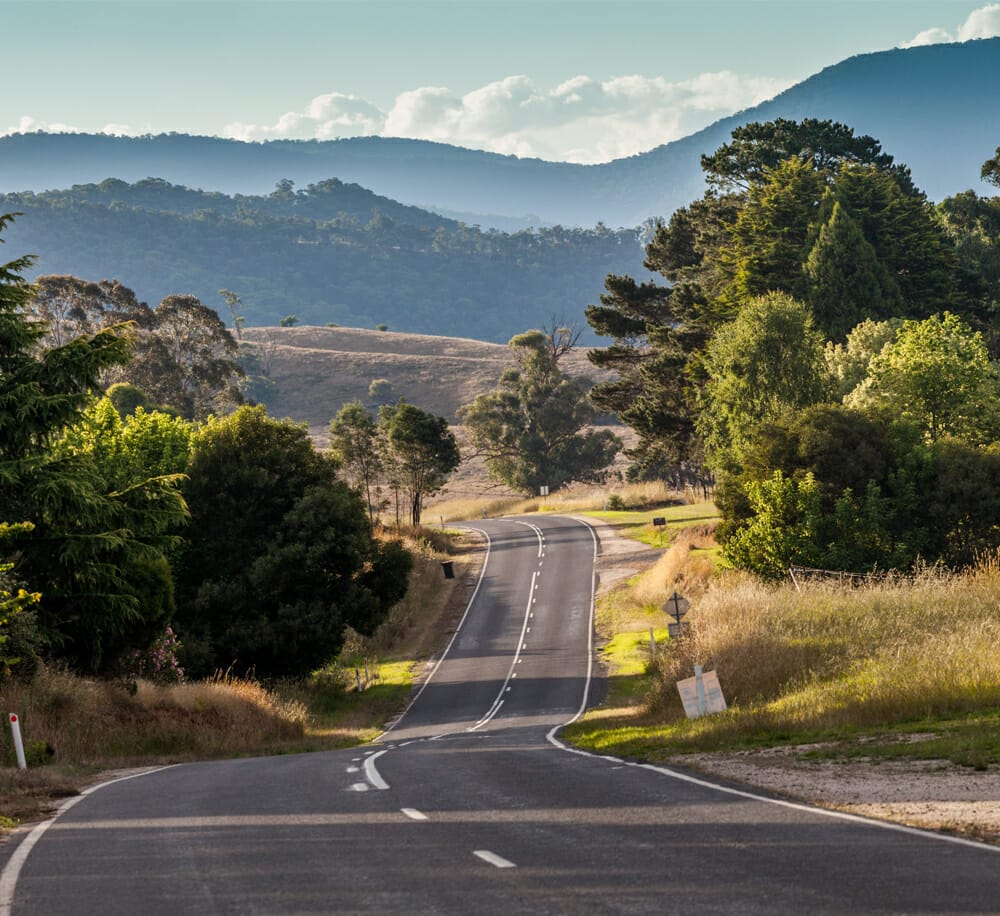 Regional and rural communities in Australia and New Zealand are crying out for health professionals. In recent years, both Deakin University and the University of Western Australia have established optometry programs with the promise of helping meet the eye health needs of these communities.
Sometimes it feels like living outside the city is perceived to be second rate. And yet all the optometrists living in the regions that I've spoken to, in years gone by and for this article, rave about the relaxed lifestyle, the lower costs of living, the higher pay, and the rewards and professional challenges of their work.
I have to admit, I have a personal bias. I moved with my family from Sydney's inner city to a regional community, of around 500 people, nine years ago… and we've never looked back.
Around 25% of Australians (seven million people) live in a rural or regional area.1 One in four New Zealanders live in rural areas or small towns, and there is a greater percentage of children, older people, and Māori living in these areas.2 
In an effort to solve the problem, Governments have initiated incentives to attract health professionals to regional areas and employers often offer higher levels of pay
Compared with people in metropolitan areas, people living in rural and regional areas tend to have:
shorter life expectancies,
experience more disease and injury, and
poorer access to and use of health services.
Caring for the health needs of these people is problematic as they have seven times fewer specialists than is the case in major cities. Primary healthcare facilities are generally smaller, have less infrastructure and provide a broader range of services.3 
In an effort to solve the problem, Governments have initiated incentives to attract health professionals to regional areas and employers often offer higher levels of pay. However, to date these lures haven't been enough.
Here, three optometrists talk about why they made the move from the city to regional communities, and why like me, they haven't looked back.
SHANNON'S STORY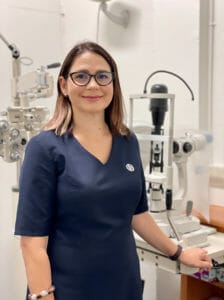 Shannon Davies is a busy mother of two, an optometrist, and the owner of Eyecare Plus Ayr in North Queensland. A board member of the Optometry Council of Australia and New Zealand, she has also been identified as Australia's first female Indigenous optometrist.
Ms Davies grew up in Mareeba, in Far North Queensland (FNQ), and studied to become an optometrist at University of Melbourne.
Q. Having grown up in FNQ, what was your first impression of being at University in Melbourne? 
I absolutely loved Melbourne. I enjoyed the sense of history, the buildings, the change of weather (seasons) rather than just wet and dry seasons. The diversity of people and the melting pot of cultures, the food, the shopping and the university. It was a real eye opener for me, and Melbourne is still my favourite major Australian city. However, my family remained in North Queensland, so I decided to travel back and be closer to home to practice.
Q. How did you begin your career as an optometrist? 
I worked in a private practice for a few years in Townsville, before wanting to travel. I then took a locum position with Luxottica, travelling and meeting new people from all over Australia. I worked in places like Karratha, Darwin, Perth, Bunbury, Adelaide, Devonport and Cairns. It was a great learning experience, working within different stores, team dynamics and demographics. I continued working with Luxottica for over ten years and during that time I volunteered for Onesight – their charity partner – providing eye care and eyewear to communities in need. I was lucky enough to help people within the communities of Domadgee, Mornington Island, Mount Isa and Palm Island.
Q. When did you become a practice owner and do you think being an FNQ local made this easier than it would otherwise have been? 
I purchased a small local practice in February 2021 and joined the Eyecare Plus Group, as Eyecare Plus Ayr Shannon Davies. This practice has been operating within the community for almost one hundred years, and in the same location for over 60 years. I was employed at the practice for two years prior, which was a great way to get an understanding of how the practice was running and areas of potential.
Our team is one optometrist and three part-time staff. I lived in Ayr for 10 years before owning the practice; my husband and his family are local to the area. Having local ties without being local myself, gives a sense of familiarity but no personal history and I think that has made it easier to grow the business.
Q. What support do you have for clinical patient care? 
Although there is no permanent local ophthalmology service, there are six private ophthalmologists based in Townsville (an hour away) and Townsville hospital offers a public ophthalmology service. Townsville is also fortunate to have a residing retinal specialist among the private ophthalmologists. I find the ophthalmologists to be accessible and helpful via phone or email; retinal imaging has been valuable in diagnostic reporting and organising time-appropriate referrals.
Being in a remote location we enjoy a successful professional relationship with the local hospital, general practitioners and pharmacists. Working in partnership with community groups, schools and child-care facilities is another way we provide eye care expertise to the local community.
Q. How do you find support from a practice ownership / business perspective? 
I have long term friendships with a few other optometry practice owners, and this is my main support network for sharing ideas and gaining advice. During my travels as a locum, I got to meet many optometrists and experienced working in stores with diverse teams, practice sizes, equipment and demographics – it was a great learning field! I was fortunate enough to work in partnership with an amazing manager, Carmel Sheehan, while at OPSM Townsville, and she taught me a lot. Carmel and I won Luxottica's Queensland Partnership of the Year award and the same year I was awarded Luxottica's Optometrist of the Year.
Q. What are the day-to-day challenges and rewards you deal with as an optometrist in a remote community? 
The challenges of working in a remote community include freight and finding exceptional staff. It can be hard to find the right people to fit within your team, and in a small team this is key to success.
A highlight of working within a small community is being a part of your patients' lives outside the consulting room. Inevitably you will see a patient at the boat ramp, school pick-up or at the local supermarket. I feel this helps build relationships, advocacy and promotes holistic care. Equally so, it is rewarding to see your patients enjoying their best vision and customised eyewear solutions.
In some ways, working in a remote community is also like having a captive audience. If you treat them well and provide exceptional care, they will be loyal and support your local business.
Q. As Australia's first female Indigenous optometrist, how do you hope to contribute to closing the gap on eye health in Indigenous Australian communities? 
I am currently serving as a board member for The Optometry Council of Australia and New Zealand (OCANZ) and a member of OCANZ's Indigenous Taskforce. My board position allows me to provide a unique voice to influence reforms within the training of future optometrists, aiming for a profession that is culturally safe and accessible for Indigenous peoples.
IAN'S MOVE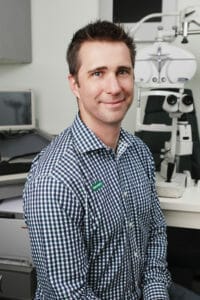 In 2018 Ian Russell, his wife and two small children, moved from Christchurch in New Zealand's South Island, to Whanganui, a city of around 47,000 people on the west coast of the North Island. To make the move, he sold the Specsavers practice he'd established in the suburb of Hornby in 2010 and acquired an existing Specsavers franchise in what was to become his 'forever home'.
Q. Why did you make the move? 
My wife had grown up visiting her grandparents in Whanganui and by the time we had our children, her parents and her sister (with her family) had all moved there. We decided we wanted our two daughters to grow up knowing their extended family. We also liked the idea of a regional lifestyle.
Q. What were your first impressions? 
We spent a lot of time holidaying in Whanganui before making the move; playing golf, enjoying free time, so we knew the area and had made connections through family. The town is very beautiful – it's full of heritage buildings and homes which the locals take pride in and make every effort to restore and preserve.
What struck me was that the people are very friendly, they're grounded and they're not time poor, so we engage in genuine conversations. They're interested to get to know us and they want to make sure we enjoy their town as much as they do.
Being in a remote location we enjoy a successful professional relationship with the local hospital, general practitioners and pharmacists
The kids have been a great conduit for making friends – we've been able to get to know the parents of their friends. But it's also been a matter of putting myself out there – by joining a cycling club and the local golf club I've made new friendships and the groups just keep expanding. There's a much greater sense of community here than I felt in the city where people are more spread out.
Q. How have your children settled in? 
My oldest was five and my youngest was three when we moved to Whanganui. They've settled in really well, through childcare and school, and I don't believe they've missed out on anything they would have had in the city. They're involved in swimming, dance, gym and horse-riding and the great thing is that all of those activities are an easy five-minute drive from home.
Q. How did you find the transition from a metro optometry practice to a regional practice? 
I bought my practice in Whanganui from an optometrist who was retiring. Like me, his name was Ian, which made for a few laughs when patients came in asking for him. The 'other' Ian – as he became known – was very popular among the patients. When they heard he had sold and was retiring, they were happy for him as they knew he felt ready.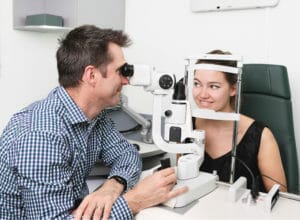 The practice itself had plenty of potential and a really good team, which has made it very enjoyable to be here.
The other really enjoyable aspect is that I see so much more pathology here than I ever saw in Christchurch (or in Auckland where I started my career). In the cities optometry is more routine, with patients who have eye disease or need a foreign body removed from their eye typically seen at the eye hospital. Here, the challenge is to look after many of these patients myself, so I feel I'm really able to make a difference – the greater the challenge, the bigger the difference I can make.
Interestingly, I think regional areas attract young optometrists for this very reason – they get to use all the knowledge they gained at university.
Q. Can you see yourself moving back to a city? 
I couldn't go back. I couldn't stand living back in the city where it takes forever to get anywhere. And anyway, my wife loves being close to her family, my kids are thriving and I have a great practice, a growing friendship group and a really enjoyable lifestyle.
LAURA'S NEW LIFE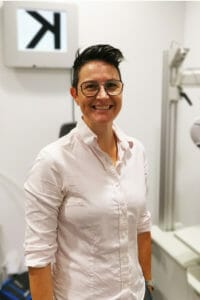 Laura Matthews enjoyed her 20s as a stuntwoman, working on films and TV programs like Avatar, The Hobbit and Spartacus. She'd also established herself as a champion boxer – representing New Zealand in the 2012 World Championships. But she felt life wasn't stable enough. So, when she was 31 years-old, she decided to study optometry and by the time she was 36, when she graduated from the University of Auckland, her partner had had a baby.
Q. How did you go from being a stuntwoman in New Zealand to working as an optometrist with Stacey & Stacey in Townsville & Ayr (FNQ)? 
Stunt work was great but there would be busy periods followed by long lulls, and the money I earnt went to support my boxing. My partner and I wanted to start a family, we wanted to own a house, so I needed to do something more financially stable.
I'd always had an interest in health and science, but I knew I didn't want to be a nurse – that was too hands-on, or a doctor – there would be too many long hours. Originally, I wanted to try for the police force but my amblyopia had me fail the eye exam. I had plenty of personal experience with optometrists and it suddenly dawned on me – optometry was the perfect career.
At the end of my first year studying health sciences at the University of Auckland, I marched into the faculty offices and demanded they let me study optometry (at that time they didn't interview for places). They found me a place.
By the time I had graduated, my partner had given birth to our first child, and I started looking around for a job. I saw an ad in Townsville and, because we'd missed the property train in the places that interested us in NZ, we thought, why not? let's give it a try for a few years.
Q. What were your first impressions of Townsville? 
I think Townsville has a bad rap. We already had a preconceived idea of what to expect but moving here actually was the best thing we could have done in our situation.
Townsville is an army town so there's plenty of money pumped into the economy. It's a great place to bring up kids (sixteen months ago I gave birth to our second child), and it's very affordable – in fact it made more financial sense to buy a house rather than pay rent, even though we were only planning to stay for a short time.
The scenery is stunning and when we walk the dog, we nearly always see wallabies and kangaroos. It's also easy to get around – no great lines of traffic – you jump in your car and you're at your destination in minutes, rather than an hour or more.
Q. As a same sex couple, did you feel welcomed in Townsville? 
Absolutely. We have always been accepted and looked after here. I have actually come across more homophobia in the cities. It was our own insecurities that made us a little uncomfortable at first, but that went away really quickly because there are plenty of us here. There is just this old school silence around it.
I couldn't go back. I couldn't stand living back in the city where it takes forever to get anywhere
We moved here shortly after the referendum (for gay marriage) and I remember there was one Irish Catholic friend who came up to us and said, "I have to tell you, I voted no in the referendum, but if I could change that I would – I just didn't know anyone who was gay. You've opened my eyes."
The attitude towards us has not changed, it has always been positive, there just needs to be more minorities to move here to create the relationships within the regional community to make people aware that we exist.
Q. How have you enjoyed your work as an optometrist? 
Stacey & Stacey has provided plenty of variety as I have worked in Townville, in Ayr and in Charters Towers, all of which have completely different demographics. In Charters Towers you're working with many elderly, so we get a lot of complicated pathologies which is challenging and fascinating. There is also the Indigenous population to monitor. In Townsville, it's more refraction, which essentially gives you a bit of time to breathe. Because of the complicated pathologies we see, there is a lot of report writing to general practitioners and ophthalmologists.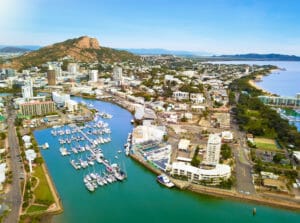 Being small towns, word of mouth is extremely powerful – it can make or break your business. You need to make an effort to really know your patients, to understand their lifestyle and their budget so that you can make appropriate recommendations for frames, lenses and treatments.
Q. What are some of the challenges? 
It can be hard to find experienced optometrists to work in regional areas – by the time a person has the experience we need, they're well established in their community and not about to pack up and move out of town. So we rely on employing graduates, with great success. There are very few young optometrists who move to Townsville who don't stay.
There's actually a good network of them here – they all get together socially and attend monthly CPD evenings.
I don't understand why more young people don't move to towns like this – the pay is amazing, and the cost of living is less so you can buy a large house and have it paid off by the time you're in your 40s. That's not something you'd ever be able to do in Auckland.
References 
www.health.gov.au/health-topics/rural-health-workforce/ about 
https://www.aihw.gov.au/reports/rural-remoteaustralians/ rural-remote-health/contents/access-to-healthcare 
www.theguardian.com/australia-news/2022/may/05/ nsw-health-system-failing-rural-and-regional-residentsreport- finds