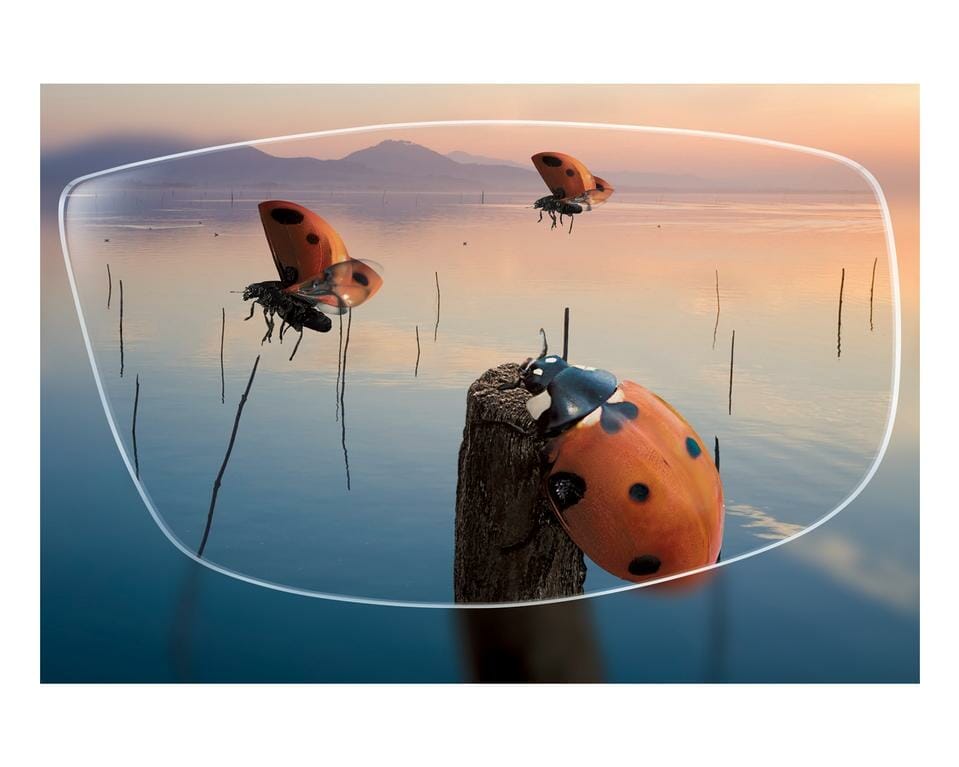 Encompassing a wide range of designs, Essilor's Varilux 360º enhances the current market of lenses with the latest technology. Its local 'Advanced Digital Surfacing' capabilities present a distinct range of core, performance and elite progressive products, targeted to expand the Australian progressive market.[/vc_column_text][/vc_column]
The eye is a complex data processing system, constantly on the move, even during sleep, taking in its surroundings for evaluation by the brain. Visual ability is subjective, as everybody sees differently. Despite the anatomy of the eye being universal, our view of colours, accounts of sports events and assessment of art works, all vary according to who is viewing them.
While some of this is a psychological interpretation of one's world, part is physiological. Humans and animals do not look at a scene in a fixed way. Instead, the eyes move around, locating interesting parts of the scene and building up a corresponding mental map. It is with this knowledge that Essilor has devised a means of interpreting an individual's particular way of physically evaluating everything and the way they use their eyes.
"Double-blind clinical trials have shown that even the
non-digitally surfaced Varilux Physio was preferred 4:1
over a competitor's premium digitally surfaced PAL."
Recreating natural vision
In its new consumer campaign Essilor uses the term 'natural vision' to refer to the recreation of 'natural vision', by taking into account the physiology of the eye and then using it to create advanced lens technology.
The goal of Varilux progressive lens designs is to be as close as possible to the wearer's natural vision before they became presbyopic.
The individual and their visual needs have been at the heart of Varilux's creative passion for half a century. The brand is celebrating its 50th birthday this year and has some remarkable achievements to its credit, including the launch of the very first progressive lens in 1959 designed by Bernard Maitenaz. Today worldwide there is one new Varilux wearer every ten seconds1.
Progressive generations
A series of major advances in physiological optics and mathematics, in addition to increasingly innovative and refined manufacturing processes, have enabled Varilux to launch six successive generations of lenses.
The first generation was born in 1959 from the idea of Bernard Maitenaz, a French optical engineer trained at Arts et Métiers (the National Institute of Arts and Trades) and the École Supérieure d'Optique. His aim was to improve visual aids for presbyopes. Maitenaz wanted to create a lens to replace bifocals, and half eyes which broke up the visual field. Varilux, meaning, variable light, was named by Maitenaz to demonstrate the progressive power of his invention.
In 2005, 1.04 billion people were presbyopic2 – so this invention stands to help a lot more people regain their youthful visual ability.
Natural vision via innovation
In order to continue with its tradition of innovation, Essilor's research department concentrates on advancing two complementary disciplines: advanced optics and the physiology of the eye. At Essilor's Research and Development Centre, virtual reality is taking centre stage. Virtual reality is not only confined to computer games and sci-fi movies, it is also a simulation tool that makes it possible to perceive and interact in a three-dimensional environment in a multi-sensory way. It has opened up vast areas for research in the field of ophthalmic optics.
Developments in neuro-science and progress in medical imagery have enabled researchers to discover more about the eye/ brain link and to translate this knowledge into solutions to correct presbyopia. The Varilux dynasty has, with each generation, revolutionised progressive addition lenses.Varilux Ipseo 360° is the first to have been designed and tested in a virtual reality simulator3. The value of this simulator lies in its capacity to reproduce real optical effects of the lenses.
The sixth generation, Varilux Physio, including Varilux Physio, Varilux Physio 360° and Varilux Physio 360° Short, achieve High Resolution Vision, via wavefront analysis known as WAVE Technology, together with an exclusive calculation methodology. The package is protected by five patents.
Varilux does a 360°
Traditional lens designs have been the standard for most progressive lenses available today. However, there has always been a compromise in the optical performance, as best form lens shapes could not be supplied for the individual prescription of every patient4.
Over the past three years, digital surfacing technology, formerly reserved for highend products such as the Varilux Ipseo, has become a benchmark on the market5. However, this benchmark has now become available on all traditional Varilux designs and is applied using Essilor's 360° Advanced Digital Surfacing Technology6.
Anne Guethoff, Product Manager of Varilux at Essilor, says the Varilux 360º Series provides practitioners with all their trusted Varilux designs plus the latest in digital surfacing technology. "There is now a Varilux 360º product available for all progressive patients from the elite and highly personalised Ipseo 360º, to the performance product Physio 360º and Physio 360º Short, not forgetting the core products Comfort 360º and Ellipse 360º." This digital design and manufacturing process uses computer modelling to create the optimal lens design, for each wearer's prescription and is a performance booster specific to Varilux.
Varilux equals natural vision
It was only six years ago, in 2003, that individualised lenses took into account the difference between patients who are 'head movers' and those who are 'eye movers'. This was also the year the Varilux Ipseo was introduced to the market.
The new edition Varilux Ipseo 360° unlocks the link between lens power and the management of prismatic deviations by incorporating an image stabiliser.
"To activate the image stabiliser, the addition is split between two progressive surfaces, according to the head/eye coefficient. The image stabiliser reduces swim for head movers by applying more addition on the back surface. For eye movers, more addition is applied on the front surface to increase magnification. The effect minimises retinal image displacement as the eye moves," says Anne Guethoff, Product Manager for Varilux.
Varilux Ipseo 360°, has an optimal surface made according to the wearing position of the frame, taking into account five essential parameters: back vertex distance, pantoscopic angle, wrap (dihedral) angle, monocular pupil distance (PD), and heights.
While developing the software to incorporate these parameters Essilor's researchers used the virtual visualisation system, mentioned earlier, to vary the optical properties of the lenses tested, study optical effects and immediately gauge wearer satisfaction7.
WAVE technology
Varilux Physio 360° and Varilux Physio 360° Short are the first progressive lenses using Wavefront Advanced Vision Enhancement (WAVE) Technology, to reduce higher order aberrations8
Double-blind clinical trials have shown9 that even the non-digitally surfaced Varilux Physio was preferred 4:1 over a competitor's premium digitally surfaced PAL. The Varilux 360° process allows for further expansion of the available Physio range.
Varilux Physio 360° Short has a minimum fitting height of just 14 mm and is a dualdesign lens with both surfaces enhanced via wavefront technology. The on-order calculation10 can deliver over five million different surfaces per index with exclusive characteristics in each part of the lens.
Essilor's patents mean other short progressives can't produce the same softness and short progression11 required to respect the wearer's natural behaviour when wearing a small frame.
Natural vision, natural enhancement
Varilux Ellipse 360° provides an enhancement to this popular short corridor PAL. With a minimum fitting height of 14mm and its 140° of acuity in the far vision field, for a long time Varilux Ellipse was the shortest and widest progressive on the market, claiming 'Natural Vision in small frames', which translated into immediate success sparking yearly sales in the millions12.
Natural vision in small frames, covers two main characteristics: a large near vision zone accessible with 18° down gaze, and a wide distance vision (angle of acuity of 140°).
Varilux Ellipse 360° lens design takes the maximum vision that Ellipse provides and enhances it with 360° digital surfacing to give specifically designed lenses the best performance for frames with a depth from 23 – 30 mm = fitting height from 14-18mm.
The Varilux Ellipse 360° front-surface PAL design is accurately aligned with the back surface using the Point-By-Point Prescription Mapping system resulting in 145° of visual acuity, regardless of the prescription.
The position of the NV zone is calculated according to the prescription – 85 per cent of the reading addition is reached at 9.5mm below the fitting cross, making Ellipse very user-friendly and the widest of any short corridor progressive lens Intermediate vision is not compromised.
Varilux Ellipse and Varilux Ellipse 360° are not compressed designs or the adjustment of an existing product, but are designed for the specific way wearers naturally move their eyes when they wear small frames.
Compared to the Varilux Ellipse the Ellipse 360° is more precise, as the calculation and production of a 'best-form' prescription can produce more than three million possible optical surfaces per index (ranges in dioptres 4 steps of 0.25 D 6D cylinder * 4 steps of 0.25 D *180 axis 10 additions).
Revamped comfort
Essilor has also updated its standard progressive – the popular and widely-sold Varilux Comfort, adding a 360° version for sharper vision with wider fields.
The new Varilux Comfort 360° delivers the same superior standard of patient adaptation and ease of fitting for which Varilux Comfort is renowned. Both Varilux Comfort 360° and Varilux Ellipse 360° are available in the same materials as the traditional versions and add to Varilux's comprehensive range.
The Varilux 360º Series is Varilux's latest digitally surfaced range and is now available in Australia and New Zealand.
Laura Macfarlane is a professional journalist, trained ophthalmic nurse and member of the Australasian Medical Writers Association.
In the digital surfacing market, Essilor is different in three critical areas
1. Design
Digital surfacing is only as good as the lens design it is applied to. 360° technology considers lens design and production from every angle. This comprehensive approach maximises the benefits the patient will receive from digital surfacing. These include 30 per cent wider fields of vision, letting the wearer use more of the lens, crisper acuity and increased contrast.
2. Surfacing tools
Many manufacturers are content to use 'off-the-rack' digital surfacing equipment, Essilor has created its own, patented equipment. For example, an Essilor digital generator has more facets than a standard generator, so it crafts a more precise lens surface.
3. Surfacing calculation
Essilor's Point-By-Point Prescription Mapping, is a patented algorithm that analyses the front-surface design and calculates a unique, complementary back-surface. The progression and the prescription are tailored via a series of optimal back-surface curves, peripheral clarity is maximised increasing the facility of the lens. This 360° digital surfacing is applied with pinpoint accuracy.
When a distance prescription is added to a lens, the periphery changes, potentially affecting the visual field. However, by using Point-By-Point Prescription Mapping this problem, typical of complex prescriptions, is eliminated. In fact, the more complex the prescription, the greater the improvement is for the wearer.
Endnotes
1. Based on Essilor's international sales figures for Varilux.
2. Global Vision Impairment Due to Uncorrected Presbyopia, Brien A. Holden, PhD, DSc; Timothy R. Fricke, MScOptom; S. May Ho, PhD; Reg Wong, MBA; Gerhard Schlenther, MPH; Sonja Cronje´, MPhil(Optom); Anthea Burnett, BSc(Hons);Eric Papas, PhD; Kovin S. Naidoo, OD, MPH; Kevin D. Frick, PhD, Arch Ophthalmol. 2008;126(12):1731-1739
3. This is proprietary equipment and follows on from similar simulations performed with the University of Montreal Canada.
4. Best form lenses are based on specific parameters defined by Tscherning, Wallaston and others. Each prescription requires a specific curve to minimise certain peripheral characteristics such as power error or oblique astigmatism. This is only possible for a few lenses in a range when using traditional surfacing. However, with digital surfacing it is possible for all lenses.
5. Based on an internal survey of Essilor customers and Essilor International research in 5 countries.
6. ibid.
7. ibid.
8. Patented product technology.
9. Double Blind clinical test conducted at University of Valencia, Spain, School of Optometry 2004 – 05.
10. The number of possible surfaces is calculated by the number of sphere powers in 0.25 dioptre steps, multiplied by the numbers of possible cyl powers in 0.25 dioptre steps, multiplied by 180 degrees for all the different axes, multiplied by the number of additions.
11. Essilor holds a patent on the ratio of average surface softness versus the length of the progression.
12. Based on Essilor's sales figures.