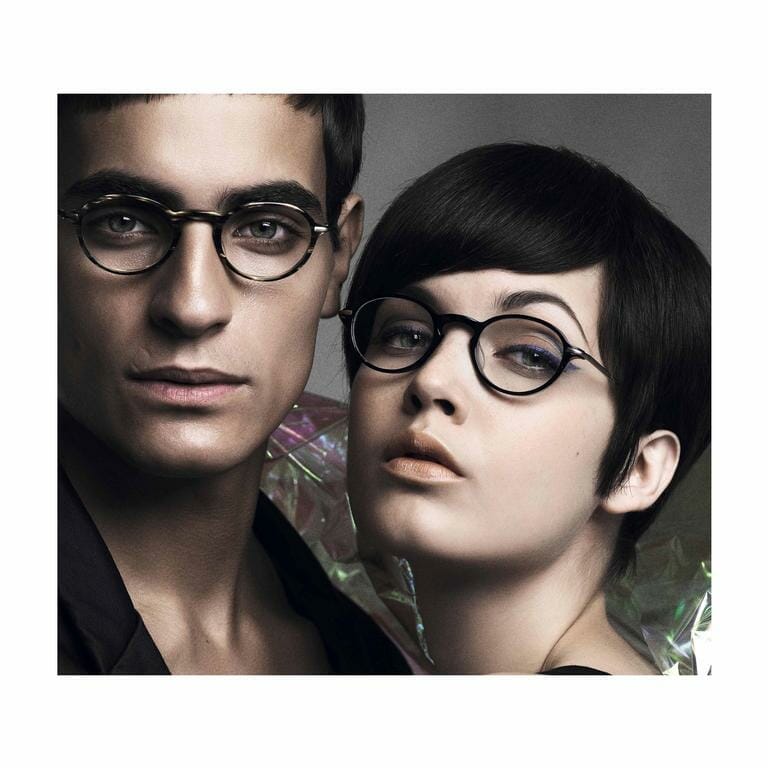 For Office professionals comes the re-emergence in frame design of austere and refined styling.
Over the last few seasons, fashion eyewear frames for the office have been largely heavily designed and retro in style. As I look over the range of professional eyewear for this coming season, the styles are a lot lighter acetates and metals, but still largely retro. Those that stand out to me include a more subdued geek-chic look, refined (not heavy) modern vintage and some classics. The new season's designs are a breath of fresh air.
Across all trends there is a focus on a natural colour palette. Colours include smoke, chrome, horn, Havana brown, cream and berry, with minimal splashes of bright colour. Louder colours are softened with layered acetate of complementary shades, soft brush metal trims and softened cat's eyes or oval lens shapes.
For masstige fashion brands, the modern vintage style can be referenced by brands watering down the edgier designs into smaller lenses and mixed metal/acetate frames. The luxury/street, fashion/ alternative set, however, continues to be inspired by Hollywood's love of classics.
"This season's collections are evolving – frames are more finely attuned to quality, beauty and modernity. Overt branding has taken a back seat to minimal logos (or none at all), allowing focus on the frame design."
With the designer's flair for using acetate in strongly designed frames with heavy temples, this season's collections are evolving – frames are more finely attuned to quality, beauty and modernity. Overt branding has taken a back seat to minimal logos (or none at all), allowing focus on the frame design.
In a styling compromise across all spectrums of eyewear, it's good to see some old classics return. This season, a half-rimless frame with a heavy plastic brow made famous in the 1950s by Malcolm X, has made a giant comeback, offering style without falling prey to becoming a fashion victim.
Luxottica are making a move towards sleeker frames. Modern corporate optical frames are characterised by a timeless, modern, architectural look of cool, clean lines and detail in its simplest form. Slick shades in simple silhouettes and classic hues for a sophisticated finish, to chic, tailored work-wear looks. Logos are refined or absent, while shades of black, grey, plum and tort dominate.
l.a. Eyeworks
Positioned at the luxury/alternative end of the fashion eyewear industry, l.a. Eyeworks offers stylish, modern men's frames that are thinner than we have previously seen. The modernised Horn Rim shape with ultra deep lenses, look right at home on the catwalk, with tort and black frames highlighting, rather than dominating, fashion's current tailored work-suit styling.
(Distributor: Eye Candy Optics (AUS) 02 9331 2655)
ProDesign
Stand out frames from the always innovative and provocative ProDesign include the PD7607 acetate frame from the Zense series and the halfnylon PD4359 collection from the 4th Dimension series. These acetate frames have brilliant colour laminations. This is a brand that is not afraid to mix colours, from horn and tort, to electric blue and copper, utilising special screws and hinges that take several years to perfect.
(Distributor: Eyes Right Optical (AUS) 03 9763 1333)
Derapage
Another trend that continues to be a blend of fashion design with eco-friendly materials and manufacturing practices is newcomer, Derapage. Derapage's Tornado frame is an un-welded multilayer of three different ultra-thin, 100 per cent steel strips, secured by an original system of micro-riveting, developed straight from the micro-technics of top jewellery design and car manufacturing. This produces a totally steel frame, which is non-allergenic, incredibly light and offers indestructibility. The metal needs no protective coating, colour or paint. This patented product is 100 percent Italian in style, workmanship and assembly, and even comes in a novel gel case. This frame has it all – sexy, sleek and corporate, hi-tech and futuristic, and is ideal for the gadget-conscious and corporate man who is searching for something unique.
(Distributor: Frames Etcetera (AUS) 1800 708 771)
Calvin Klein
Calvin Klein's new season collection offers austere and ultra-wearable frames for the workplace. Stand out models for women include the Baguette series, which features a small metal modern rectangle frame and subtle rhinestone temple decoration. Colours include gun/choc/sand and plum.
The male Notch collection features a very stylish, half-nylon frame in gun/chrome/ espresso and slate. For a more classic men's metal frame, the Sculpted Men's Facet series celebrates simplicity with its modified rectangle shape in brown, blue, silver and gold.
(Distributor: General Optical (AUS) 02 9697 8020)
LaFont
Healy Optical Group offers several brands including LaFont. This year, LaFont offers classic vintage styling (think Cary Grant and Audrey Hepburn). Corporate professionals are opting for the chic geek look – stylised and bold, such as LaFont's Baryton for the men and Burlesque for the women. For a real statement piece, see LaFont's Breloque – a heavy layered acetate frame featuring strong crystal temple design.
(Distributor: Healy Optical Group (AUS) 02 9420 3200)
Jono Hennessy
Australia's beloved eyewear larrikin Jono Sceats has designed the brilliant Jono Hennessey mens range. The key look for inspiring authority is the updated retro-inspired styles, with a colour palette including subdued, classic tortoiseshell or dark horn colours. For women, he has kept it stylish and gone back to classic modern retro.
(Distributor: Jono Hennessy (AUS) 02 9362 4941)
Deborah Hutton and R.M. Williams
Translating worldwide trends Sceats Optical Group have produced the iconic Deborah Hutton and R.M. Williams ranges. These are suitable for those wanting something fresh which reference fashion trends, yet are classic enough for an everyday office frame. Deborah Hutton's collection has been specifically created for the 35 plus multifocal patient, and offers great splashes of colour for women seeking stylish office frames. D145 offers a plum, brushed metal frame front with Pucci-esque, swirly complementary plastic temples. R.M. Williams offers a moderate take on the classic half-rimless, heavy brow and coloured metal RM124 in splashes of cobalt and ocean blue.
(Distributor: Sceats Eyewear (AUS) 02 9519 0022)
Dolce & Gabbana and Prada
Masstige designers such as Dolce & Gabbana and Prada have strongly supported the minimal sculptured trend in their latest eyewear collection using classic, angular shapes and simple yet elegant materials, while diffusion brands such as D&G and Miu Miu also offer a selection of on-trend frames, minus the designer price tags. D&G 5059 blends a bronze, brushed metal frame front with slim honey tort plastic temples. Miu Miu's MU14FV is a feminine frame in twotoned acetate in deep berry.
(Distributor: Luxottica (AUS) 02 9815 2333)
Porsche Design
Rodenstock's luxury men's marque, Porsche Design, continues to inspire with their optical collection combining functionality with timeless design. Rodenstock's own brand has several great offerings for men and women. The standout men's range is the more sophisticated and modern R4777b Rodaflex – this striking half-nylon metal frame typifies the new subtle mood of fashion for the mainstream. For women, it doesn't get much prettier for an everyday office-wear frame than Rodenstock's R4556g – gold, modified cat's-eye frame featuring creamy mother-of-pearl and gold trim temples.
(Distributor: Rodenstock (AUS) 02 9748 0988)
Mimo
With this new move back to the classic rimless, half-rimless and metal frames, comes the re-emergence of Silhouette from Mimo. Silhouette's Class range of men's rimless models, offering the benefits of maintenance-free style – such as screwless hinges, are likely to be popular this year. The lens shapes available for the four Silhouette Class models are distinctively masculine; the high-quality titanium temples are timelessly elegant. The Gold Havana colour combination is inspired by a luxurious 1920s colonial style, while Ruthenium Frost conveys cool sophistication. For women, Silhouette have weaved their design magic and created the new Silhouette Embrace. The rimless models have been designed with setting accents that embrace the wearer's eyes. An elegantly intricate titanium clasp holds the lenses, and seamlessly blends into the stylishly decorated temples and metal bridge.
(Distributor: Mimo (AUS) 02 9970 1800)
Oakley
The Metal Plate (due for release in June) is fabricated from ultra-lightweight and durable strip titanium and featuring heavy duty spring hinges for fit and comfort, the Metal Plate has an industrial feel with retro styling that is right on-trend. The story that was started with the Ratchet collection and continued with the Dictate collection has been modified and refined with early indications predicting this will be the best selling Oakley premium frame to date.
(Distributor: Oakley (AUS) 03 8598 3100)
Sover
Italian eyewear powerhouse, Sover, ranks among the top ten Italian manufacturers of optical frames and is the license holder for Alviero Martini, Mariella Burani, Baldinini and Kiton products. Made in Italy, Sover specialises in precious and natural materials such as leather, is aimed at the luxury market with high-profile products, undisputed quality and is regarded as possessing a special touch of class, elegance and originality for those who are looking for something really beyond the usual eyewear.
(Distributor: Opticare (AUS) 02 9748 8777)
Seiko Eyewear
Specialising in quality materials, superior production techniques and conservative though contemporary designs, Seiko Eyewear, uses up to 100 per cent pure titanium, one of the lightest and strongest metals, in the construction of their eyewear. This combined with high-tech soldering techniques, which requires an oxygen-free environment, reaching temperatures in excess of 900°F, ensures that it is one of the most durable brands on the market. Seiko Eyewear promises optimum fit and the best possible wearing comfort, hand in hand with en vogue understatement. The results are timeless, yet extremely functional designs.
(Distributor: L'Amy (AUS) 02 9428 1500)
Anne et Valentin
If you want to be noticed in the office, then Anne et Valentin's are the frames for you. In the world of spectacles, the models created by Anne et Valentin distinguish themselves from others at first glance. Anne et Valentin frames are playful, original and rich in colour, which all contribute to distinguishing an individual from the office crowd. Anne et Valentin cellulose acetate frames are proudly designed and made in France. No less than 30 operations must be carried out produce each Acetate frame.
(Distributor: Eyemakers (AUS) 02 9960 7766)
Ted Baker
Ted Baker Eyewear took the UK by storm and has also taken Australia by storm. The collection is quirky and distinctive. Ted Baker's eyewear is very much a part of his fashion collections, co-ordinating beautifully with the concept of the clothing and other elements of the brand. Wearing a 'Ted' frame is just like putting on a 'Ted' suit, created by good taste and the desire to look and feel good! The eyewear includes many acetate, metal and mixed models, as well as rimless, supra and titanium styles. The collection has cleverly combined modernity with elements of retro styling to lend authority.
(Distributor: Mondottica (AUS) 02 8436 6666)
Hackett
Hackett's optical ranges have been created in two distinct collections; Hackett and Hackett Bespoke, each targeted towards a different customer. The Hackett Collection is a contemporary men's collection. Hackett Bespoke is a collection of higher value, more classic styles. The eyewear collections draw their inspiration from Hackett clothing, reflecting the range of attire, including suits, formal wear and tailoring. Hackett Eyewear embraces the inspiration behind the brand by creating a range of frames that are distinctive without being ostentatious, providing a smart accessory for the man who understands that style is about detail.
(Distributor: Mondottica (AUS) 02 8436 6666)