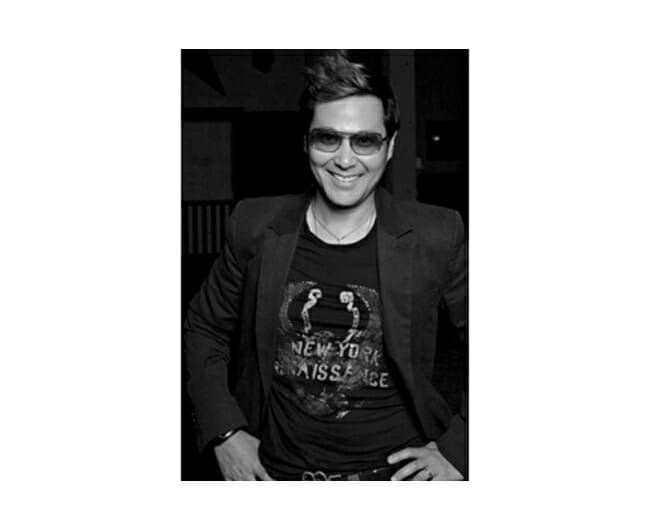 Recognised as one of the pre-eminent designers in eyewear today, Blake Kuwahara's collaborations have made him a favourite of celebrity elite and a darling of the fashion media.
"Eyewear should enhance a person's look and personality, not be a substitute for one. The first thing people notice on you, shouldn't be your sunglasses, but rather how your eyewear accentuates your overall look and sense of style," says Blake Kuwarhara. This is the credo by which master eyewear designer Kuwarhara lives and works.
Inspired beginnings
After completing a Doctorate of Optometry from the University of California, Kuwarhara's creative yearnings led him from the scientific side of eyecare, to the creative side of eyewear design.
He has created eyewear for designers including Isaac Mizrahi and Hanae Mori and the exclusive Kata Eyewear brand. He has designed eyewear for the iconic brands Converse, Liz Claiborne, and Jones New York.
'…there is always an underlying design foundation to everything he does; taking vestiges from the past and putting them in a modern context."
Kuwahara's use of texture and detail for Kata Eyewear has reinvented the way eyewear design is approached today and it's this experimentation with bold elements that has made him a darling of the fashion media. He is a member of the prestigious Council of Fashion Designers of America (CFDA); he has collected numerous awards for his designs – most notably, the 'Silmo d'Or – Prix Special Journalists de Mode' and has been awarded Silmo's highest honour for Technology and Fashion on three occasions.
Since joining REM Eyewear a number of years ago as the company's Creative Director, Blake has developed signature eyewear collections for famed designers John Varvatos and Carolina Herrera.
Kuwahara's Process
The starting point for any collection is the concept and these concepts for Kuwahara starts with hand drawings.
"I prefer to work with hand sketches rather than computer drawings for the first round of the design process because you can realise much more of the nuances and subtleties.
"Once the drawings have been finalised, they are rendered in the computer to establish exact measurements and technical specifications. Prototypes are then made by hand which can take a month or more. Once we have a 3-D sample in hand, we can evaluate its form, fitting values and comfort," he says.
John Varvatos
Kuwahara's most recent collaboration with New York fashion designer, John Varvatos, is a very close one. At the start of each design season, Kuwahara and Varvatos discuss the overall concept of his next apparel collection and then delve into specific design elements such as the colour palate, fabrics, and finishes. The creative partnership between Kuwahara and Varvatos is symbiotic -Kuwahara the master of reinvention and Varvatos' penchant for putting a modern twist on vintage pieces.
"The design of menswear is much more of an 'evolution' rather than a 'revolution' so there is always an underlying design foundation to everything he does; from taking vestiges from the past and putting them in a modern context," Kuwahara says of their collaboration.
"We incorporate fine filigree detail from the 20s and 30s, coining and even leather details but juxtapose those with modern and sleek silhouettes. What separates a fine suit from an ordinary one is the cut, materials used, and the subtle, tailored details. Likewise, we pay particular attention to the bevelling and skiving of front and temples, use rich Italian and Japanese acetates, and have added hallmarks inspired by English sterling on the inner temples and tips for a signature look. It's all about the subtle details that make a big difference.
"Sometimes, the germ of an idea can come from a flea market find. Most recently, I found an old pair of injection moulded safety glasses from the 30s or 40s. It was quite deformed and worn out, but had the beginnings of what I thought would be a great sunglass.
"I showed John my 'find' and he, too, agreed that it was something great to build upon. I modified the facial curvature and fit of the frame, but kept the thicker temples. The original frame was clear and now had the yellow patina of decades gone by. But, what was also great about the frame was the translucency which belied its heavier presence.
"We handmade each piece out of tan and grey translucent acetate and gave the temples a sculpted profile. What was once used for protection in a lab now was enhanced and made its debut on the New York runway," he says.
Carolina Herrera
Kuwahara's collaboration with Carolina Herrera is very different but no less intriguing. Kuwahara says Herrera's design precepts draw from specific visual imagery and her inspiration "can be as tangential as the colours of a painting, a picture of Charlotte Rampling in repose on a couch, or a picture of a woman whose face is covered by a veil. The last inspiration was particularly intriguing".
Kuwahara says: "In order to capture this feeling of anonymity and allure, I took a bolt of the actual lace that Mrs. Herrera was using in her collection and had the factory laminate the fabric between sheets of different coloured acetate.
"Rather than milling out the area of the lens, the acetate was sculpted to give the illusion of a lens, but was actually a single piece of the laminated acetate. Although not practical to wear for everyday use, it made quite an impression on the runway and on fashion editors and were produced in a limited edition. A more conventionally milled version with sunglass lenses (replacing the laminated lace 'lenses') actually made it to the retailers."
To arrange a viewing of the John Vavartos and Carolina Herrera eyewear collections, contact General Optical on (AUS) 02 9697 8082 or visit www.generaloptical.com.au.