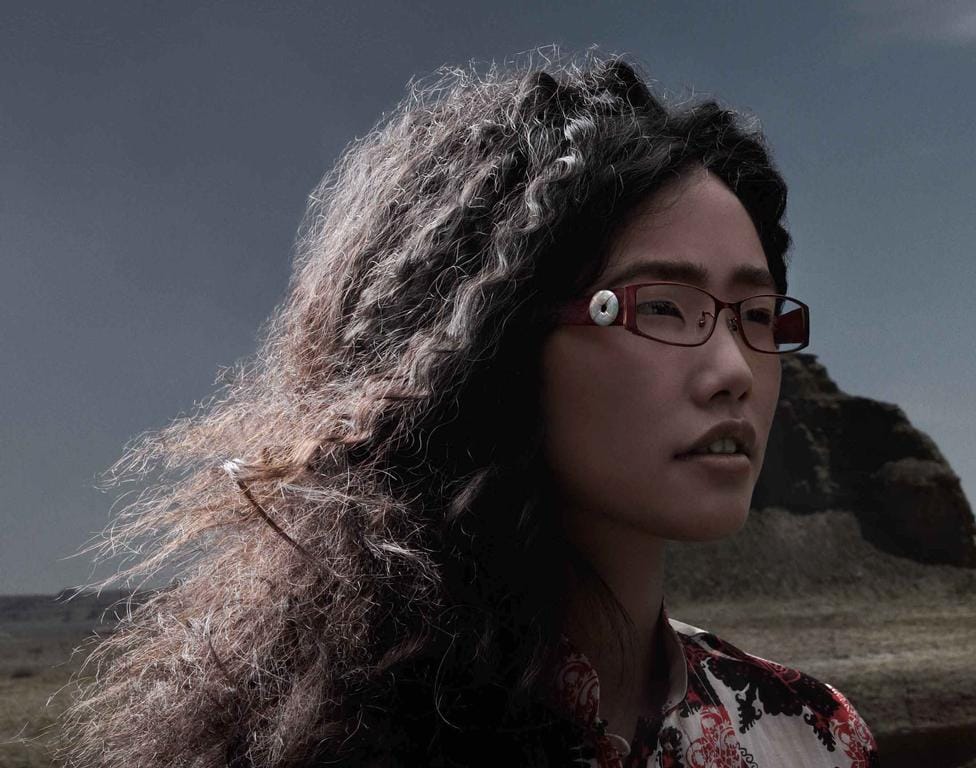 China has developed from a country famous for its poor imitations of designer labels, to one that not only is striving to generate its own trends and unique brands, but one that acknowledges European excellence and inspiration.
By the end of the late 1990s, Chinese made frames dominated the lower price/ quality end of the international eyewear market. Eventually this saturation led to increased labour and material costs and many manufacturers were unable to sustain the level of supply and price.
In order for Chinese manufacturers to keep growing and maintaining market share, there was an opportunity within the mid-high end brands, to offer better quality, closer affinity to international trends and required more investment into research and development.
[/vc_column_text][/vc_column]
'Developments in chinese eyewear manufacturing have paid off, bringing about a huge increase in quality and styles coming out of China"
Developments in Chinese eyewear manufacturing have paid off, bringing about a huge increase in the quality and styles coming out of China. The 'Made in China' marque is now becoming synonymous with exciting and innovative eyewear. A genuine alternative to established European brands, or as some in the industry call this trend, with tongue firmly planted in cheek – 'Chitaly'!
In fact, during the Fashion Shanghai Expo (part of the Shanghai International Fashion Culture Festival), the theme 'Green Fashion and European Style' was very much a reflection of the multicultural influence of international trends on China's new manufacturing sensibilities.
Rebranding a Reputation
Fashion conscious Chinese eyewear consumers are demanding better quality, trendier frames, with European influenced style. While the traditional Italian, French and Japanese brands still lead international high-end markets, many new brands are forming within the next tier of fashion/price point. Chinese eyewear manufacturers are sitting up and noticing this driving trend, and are delivering a greater diversity in production, innovation, sales, circulation and market development.
Not all suppliers are happy with this national 'marketing strategy' with many feeling that 'Made In China' still represents an inferior quality to that of European or Japanese manufacturing. However, I think there is a real energy being fostered to offer the world something that is uniquely Chinese – whether branded under a Chinese logo or for an international fashion brand that is offering genuine competition to other manufacturing countries.
Word of Warning
A critical element to quality is materials. Some Chinese acetate can be too soft for the harsh Australian sun which may jeopardise the frame shape, or experience excessive shrinkage or poor colourfast performance. For this reason, acetate from Mazzucchelli (Italy) or Daicel (Japan) are still widely used in Chinese factories as may be requested by a designer.
Shanghai Tang
Taking the concept of 'Made in China' to a new level, high-end clothing and accessories label Shanghai Tang has positioned itself as the nation's first global luxury brand. The name 'Shanghai Tang' evokes the elegance and charm of fashionable Shanghai in the 1930s. The 'Paris of the East' and 'the New York of the West'. The brand was first launched in 1994 in Hong Kong by businessman David Tang, who sold a majority stake to Swiss luxury-goods giant, Compagnie Financière Richemont, in 1998.
Creative Director, Joanne Ooi's creative vision for the label has involved merging references to Chinese culture and history with elegant contemporary fashion, as well as establishing Shanghai Tang as an ambassador of Chinese style. Her mandate has been to put a modern, hip flair to traditional Chinese fashion, and to change the global perception from 'Made in China' to 'Designed in China'.
Each item from the range of eyewear, clothing, furnishings and luggage has been created to integrate the best quality materials and craftsmanship with vibrant colours and Chinese motifs.
The Chinese symbols express blessings of longevity, well being, peace, harmony, wealth and prosperity. They have been woven into the fabric of the frames to produce a subtle, yet striking impression, while some models have real silk interlaid between the acetate layers to create a unique frame. All of the models within the eyewear collection are hand finished. Favourite ophthalmic frames include 3079, 3072 and 3053. Glam sunglasses include 8035, 8058 and 8061.
(Distributor: Mondottica (AUS) 02 8436 6666)
Coco Song
The luxury brand Coco Song has an unmistakable European feel. Coco, meaning 'ancient' joins the name of the Song dynasty, founder of the city of Hong Kong in 976 A.D.
Produced by Italian company Area, and designed by Elisio Tessaro and Brenda Choy, the collection was inspired by its director's wife's Asian heritage. The frames are produced in limited quantities and several of the manufacturing processes are carried out entirely by the skilled hands of master craftsmen.
What makes this brand special is its references to the golden age of Chinese culture and art. The collection features real feathers, leaves and silk encased in the temples, while every component of these frames is hand-made. The bright colours of the acetate styles are created by the insertion of pure silk fabric. Decorative trims are crafted from aluminium, titanium and sterling silver.
These are combined with symbols of 'long life' or 'longevity' or 'double luck'. Favourites of the latest collection include the beautiful leaf frame – exquisite in its simplicity and reference to the natural world and environment.
(Distributor: Mimo (AUS) 02 9970 1800)
Isson Eyewear
For Australian boutique label, Isson Eyewear, manufacturing in China makes a lot of sense. With more than 20 years experience in the industry and having toured numerous factories throughout Europe and Asia, designer Catherine Federici feels that the standard of production available in China is equally matched to that of the highly reputed European industry.
Isson eyewear's unique designs are cut and hand shaped from Italian and Japanese materials and fit with German or French components. During the initial process of development, Chinese (in particular Hong Kong owned) manufacturers consistently maintain a high level of communication, made easier by a similar time zone. This has proven to be incredibly flexible and adaptable when there are any adjustments or changes to designs. This adaptability flows on into sample production, with design-refinements being addressed with precise efficiency, which can sometimes draw resistance or delays from European manufacturers.
(Distributor: Eyecandy Optics (AUS) 02 9331 2655)
Paul Frank
PaulFrank Eyewear creators also manufacture their longstanding eyewear label out of China. Paul Frank Eyewear produce high quality, limited quantity frames and confidently commit their custom made acetates and retro designs to the hands of highly experienced technicians.
Pricing is now not too dissimilar to European manufactured goods and understandably so when quality is as good (if not better), service is amazing, communication is fast, delivery is timely and from a designer's perspective, their willingness to bring your designs to life is vital. Look out for Paul Frank's Lost in The Library, Blues Explosion and Fountain of Truth from their latest range of ophthalmic frames.
(Distributor: Eyecandy Optics (AUS) 02 9331 2655)
AM Eyewear
When it comes to style and substance, AM Eyewear offers both. For the past six years they have manufactured their frames in China, with all their frames created using their trademark Italian scratch resistant military grade APX Nylon lenses with AR coating. AM Eyewear only uses the highest grade Italian cellulose acetate in the manufacturing of their plastic frames – chosen due to a more organic feel and better fit on faces. Metal frames are plated nickel free to prevent allergies through chemical irritation and they rely on French spring-loaded hinges to avoid stretched frames. Favourites in the latest sunglass collection include Jamo in Cobra, Cobsey in Black, Chezza in Black & Gold, and Bruce in Shell.
(Distributor: AM Eyewear (AUS) 02 9357 4550)