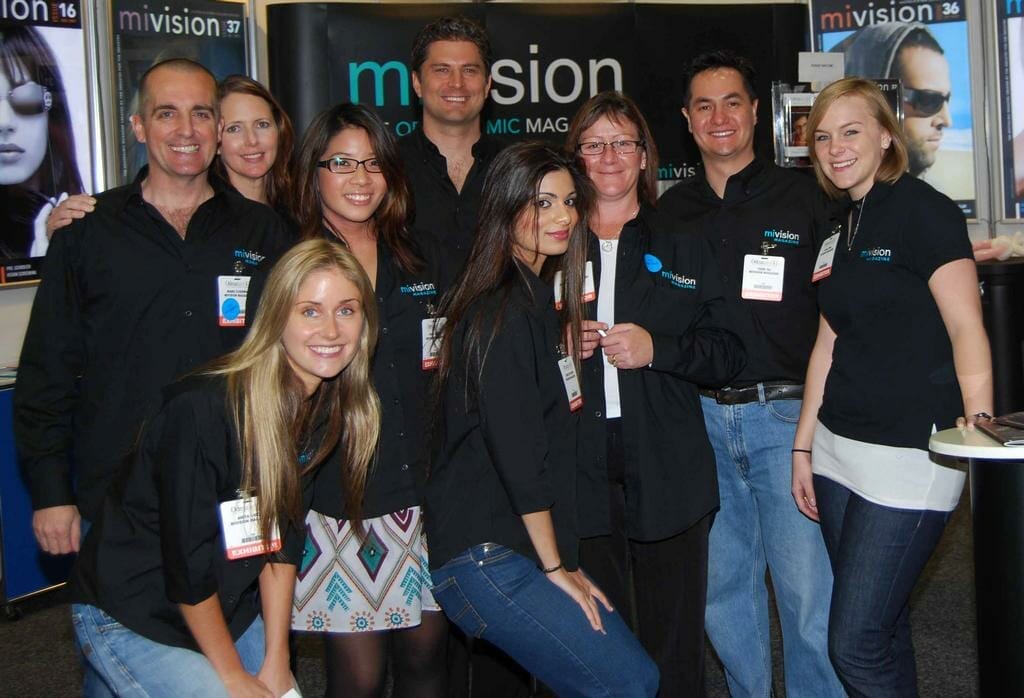 This year, the largest optical show in the Southern Hemisphere – the eye into the optical industry – was under its biggest stress-test. Before Odmafair 09, there had been a lot of talk and rumblings from various quarters of the optical professions and associated industries, about the rise and possible fall of Odmafair.
The first thing you noticed about Odmafair 09 was the space. Lots of space. Lots of space to walk around, to throw a Frisbee, to hang out in, and off your stand, and for the kids to run around without running into anything. In fact, there was so much space at Odmafair 09 you could create a Lamborghini parking lot. Hold on, they did!
With the big frame exhibitors like Sunshades, Oakley, Healy, L'Amy, Mondottica, Inta Optical, Apollo and Sceats not at the show, the three Odmafair halls looked a little light-on.
Luxottica wasn't there last time. Then again, Luxottica and the Safilo Group, who were among the first to pull out this year, arguably don't need to be at Odmafair, as they both have vertically integrated businesses.
The entrance to Hall 1 was sparse with few people electing to use this door, however, the Transitions stand, right in front of the Hall 1 entrance, was always abuzz and had a great energy with people talking to reps, having their photos taken, etc. If you have a stand at Odmafair it helped to have an offering or something to engage visitors.
Facts and Figures
In all, there were 120 exhibitors this year (20 per cent down from the 2007 record of 149) with a visitor attendance over the three days of 5,438 (slashed by 25 per cent from the 2007 record of 7,365 visitors).
We were told the reduction in exhibitors was due to: "issues with the organising bodies"; "poor return on investment"; "the movement of tradeshows around the world to line up with MIDO moving from May to March" and the general economic downturn.
Despite the general downturn however, feedback from exhibitors, across the halls at Odmafair 09 was unanimous: "The decision-makers turned up this year and sales were up".
[/vc_column_text][/vc_column]
There were fewer kids with the child centre well utilised. There were fewer students and as one of the equipment companies pointed out: "We weren't inundated by students wanting to test equipment."
All the instrument and equipment companies had a successful Fair. Optimed said they had "a very successful Fair despite fewer visitors from Victoria."
This was, in part, due to optometrists opting to purchase equipment instead at the Southern Regional Congress (SRC) in Victoria to take advantage of the Government tax rebate before the end of financial year.
On the eve of SRC, the Treasurer Wayne Swan, announced in the budget, an extension of the rebate to the end of December 2009. This decision was a saving grace for instrument and equipment companies exhibiting at Odmafair.
After walking the halls, Jim Kokkinakis, mivision equipment expert and Optometrist said: "Instruments were well represented and seemed to be doing a roaring trade on the back of the 50 per cent rebate."
Exhibitor Response
Anne Guethoff, Marketing Manager, Essilor Australia, said: "Odmafair 2009 was a great success for Essilor Australia. The fact that most decision makers attended, made it a great opportunity for us to launch two new lens designs to a lot of key customers at the same time. A trade show that can attract this amount and level of attendees is, and will remain critical for the industry, and its suppliers."
Brad Bairstow, Hoya Lens Australia, Sales and Marketing Director said: "While the numbers were down, overall I believe the number of decision makers that attended was on par with previous years."
Annette Guilfoyle, Sales Director, Johnson & Johnson Vision Care said: "Although the attendance and traffic to our stand was down on previous years, we believe that Odmafair is an important industry event. We were happy to fly the flag for Contact Lenses; in the absence of other manufacturers, and it was a great opportunity to show-case our latest product."
George Nasser, Managing Director, Opticare said: "Overall, the show was smaller than past years, but we still found it very exciting and we definitely got a return for the efforts. For Opticare, it's not about making direct sales at Odmafair, rather, it's about getting the profession to get to know us better, to learn about what we can do as a local independent business and overall for the profession to accept us. From that perspective Odmafair 09 was a great success.
"Whilst there were less people there, especially students, the people who were there were definitely the decision makers." he said.
The frame companies agreed.
"We are happy with the results of Odmafair 09 as we achieved our objectives and feel that all our new initiatives in brands, products and technology were very well accepted," said Jonathon Lewis, Managing Director, General Optical.
"Despite the fact numbers were down, Odmafair 09 worked for us because we still had the decision makers in attendance, but without the entourage. We made good sales at Odmafair 09 and I believe we are going to have a good flow on effect," said Sean Rosenberg, Managing Director, Frames Etcetera.
A first time exhibitor with her own company, Jacque Katsieris, Managing Director, ProOptics, which won this year's Best Galleria Stand at the Fair, said: "This was my fifth Odmafair, but my first on my own so it was a totally different experience from previous ones. Customers were excited and supportive of my new venture and I think Odmafair is a great platform in which to launch a new brand or company into the eyewear industry," she said.
Other companies had a different response suggesting "the organisers (of Odmafair) work with the smaller companies a bit more".
This year, the aisles were wider than other years with a lot of space allocated to 'rest areas'.
Faraz Darabi, General Manager, Piranha Eyewear, which exhibits its celebrated Ugly Fish sports eyewear label at over 15 events a year, including International Boat Shows, Moto GP and Formula One Grand Prix, said: "Other organisers usually offer the exhibitors in areas where space needs to be filled; the opportunity to expand their size without additional cost, as it is beneficial for both parties to do so and avoids the unnecessary emptiness that was evident at Odmafair with less than necessary wider aisles and rest areas."
The economic downturn also meant a lot of practices sent fewer people to the Fair.
One practice from Tasmania which normally brings 20 people, brought six. Another practice which brought six people last time, only brought two, and there were not as many big groups of people from the big chains. One of the chains, Specsavers, had a stand and by all accounts "had a good show". It wasn't a big stand, but their presence was felt none-the-less by both exhibitors and visitors, who questioned why "a company who buys nothing from local suppliers" was allowed to be there.
Among the throng who were taken aback at Specsavers presence was Sean Rosenberg, Managing Director, Frames Etcetera who said: "I was surprised to see Specsavers there. I think this upset many optometrists."
The Taj Mahals
Given the spaciousness of the Fair there didn't need to be anyone in a bad position, yet there were. Some exhibitors were squeezed around the border of the show away from the action, while others where barricaded in, by the 'Taj Mahals'.
Peter Smith has taken his fashion forward label Colab Eyewear, to fashion shows all around the world in the last few years and said: "Only a few of them have the huge displays like we build at Odmafair. Even if there are some large displays they are usually all in one hall and the rest of the Fair is shell scheme.
"We have exhibited at Bread and Butter in Barcelona and it is about 95 per cent shell scheme, so little Colab Eyewear can appear alongside Polo Mens Apparel and have an equal footing. Similar in Las Vegas with the MAGIC Trade Show. Both of these shows attract in excess of 200,000 visitors.
"What I like most about this concept is that when all of the glitter and glam is ripped away, the purchasing decision actually comes down to the product, which it should always be about anyway.
"I always laugh at the Odmafair exhibitors who complain about how much the show cost them! It was their choice to build a Taj Mahal! No-one forced them into it! If Odmafair was all shell scheme it wouldn't cost much at all," said Peter Smith, Managing Director, Colab Eyewear.
The Fashion
The latest fashion eyewear trends caught the eye on Mimo's catwalk as models enticed visitors with pair after pair of soon to be released eye candy.
Fashion eyewear expert and mivision writer Sharon Smith was pleased to see the smaller companies making their presence felt.
"Without the big contenders dominating the floor space, it gave presence to the smaller independent companies who have long lived in the shadows of the international monoliths.
"This year's Fair was less about brands and logos than it was about personality, individuality and craftsmanship. Visiting international guests gave brands added credibility, while removing most of the gimmicks relied on in the past, ensured the frames remained centre stage.
"A couple of highlights for me included the Eyes Right Optical stand with Face A Face, Pro Design and Ora providing almost a "best of European" design and, at OP's Optical Products, the Escada ladies gold metal frame front with pink and amber snakeskin actetate temples and subtle sparkle.
"Naturally I was drawn to the Luxol Eyewear Merchants cylindrical cardboard tube stand which, ended up being voted one of the Best Stand winners. I loved their innovation and style in setting off the European designed frames including Exalto with its carbon fibre, nanoflex and rubber designs, while ByWP, Wolfgang Proksch (recently received the Red Dot Design award for the new beta-titanium OXY model) comprised of five mono components which just snapped together without hinges, screws or pins – definitely, one to watch."
Chill Out
There was plenty to do at the Fair with the Chill Zone well used, the internet café surfed and parties well attended, but there were very few giveaways at the stands, except for coffee – some good, some very good, some very, very ordinary.
The pamper zone was a big hit for tired feet … and shoulders … and back … and heads …. Then there were the parties … the champagne flowed at the Mimo stand; Essilor put on drinks at their stand and drew a huge crowd to celebrate the 50th birthday of Varilux and their continued support of Optometry Giving Sight; Carl Zeiss Vision threw an amazing party on Saturday night; Opticare took friends out on the harbour for a few hours; while Hoya invited us to share an intimate dinner with the team, customers and media, at the world-renowned, Guillaume at Bennelong..
Odmafair Renegades
There were a number of optical suppliers (no names, no pack drills) who decided not to exhibit at Odmafair, but instead, ran their own events while Odmafair was on.
Obviously, these companies could put an event on at any time and invite customers but decided to piggyback on the goodwill of Odmafair to draw a crowd.
A number of visitors vented their frustration at everyone not being under the one roof, with Optometrist Janey Alderman from Paddington, echoing the sentiments of her colleagues with her feedback:
"As an optom I would have preferred that everyone was under the one roof. I don't know who it's down to but they need to do something. Everyone needs to be together because they should all be there supporting each other. If it's easier for us to run around and see the exhibitors, we'd buy more product.
"I went to see the others who were exhibiting in different locations, because I needed to see the product but it was a pain in the butt. Socially, we missed seeing our friends because people were all over the place. They all need to just get their act together."
From a supplier's perspective, Jacque Katsieris, Managing Director, ProOptics has a "concern for the continuity of the Fair" with so many big companies no longer finding it necessary to support the event.
"I feel there needs to be changes in the set up to promote the ongoing inclusion of these companies and listen to reasons why they find it unnecessary for their businesses to be part of the Fair. The industry is changing and ODMA and businesses need to work together to support these changes and move ahead together positively and proactively to keep up," she said.
George Nasser, Managing Director, Opticare suggests that, although there were fewer exhibitors this year, "we still had three halls. You can't make people exhibit if they don't want to be there. The industry is changing so perhaps it's time for Odmafair to go to two halls."
The Final Word
Richard Grills, the ODMA Chairman was vocal in his praise for the organisers of Odmafair 09.
At a function after the Fair he also had this to say about Odmafair and its relationship with ODMA: "Our industry needs a strong ODMA and ODMA cannot be strong and functional without a successful Odmafair.
"ODMA could not function without the funds raised by Odmafair and therefore the industry in general would not receive the benefit of the services and activities conducted on behalf of all the member companies.
"Without ODMA the companies in our industry would only have an individual voice and the whole optical industry would suffer.
"It is extremely disappointing that member companies chose not to attend Odmafair and some actually set up in opposition to our event. I firmly believe that these companies are very shortsighted and ODMA should encourage them to rethink their participation in the next Odmafair in two years time."
His statement resonated with suppliers and key opinion leaders.
"ODMA is a valuable organisation in our industry and while I understand that investing in an event like Odmafair might be a difficult decision in times of economic uncertainty, I firmly believe that this is actually the time that we should be investing in our industry and banding together
Brad Bairstow, Hoya Lens Australia, Sales and Marketing Director said: "I encourage all members to support ODMA moving forward and work on ways to ensure that everyone can be involved in future events."
The final word comes from Jim Papas, Optometrist, Eyeclarity, Melbourne, Victoria who said: "Odmafair 09 is an important part of the Australian optical industry.It is important that it evolves in these changing times to becoming a dynamic showcase of our industry."
And the Winners are…
Best Stand Award Winners:
Best stand over 54sqm (custom). Winner: Hoya
Best presented stand up to 54sqm (custom/enhanced DBS). Winner: Luxol
Best presented in DBS (9 or 18sqm). Winner: Occhio Group
Best presented Galleria Stand. Winner: ProOptics
Silmo Prize Winner:
Ms. Vicky Tranis, Optometrist, St Kilda Eyecare, St Kilda, Victoria
Kingfisher Bay Resort Prize:
Practice Staff Winner: Mrs. Naomi Arnold, Toowoomba, Qld
Ophthalmologist Winner: Mr. Ross Ferrier, Gosford, NSW
Dispenser Winner: Mrs. Deborah Hammond, Nambour, Qld
Optometrist Winner: Ms. Margaret Lam, Sydney, NSW
Sunglass Retailer Winner: Mrs. Karen Sullivan, Ballina, NSW
The 'Optical Industry Monthly Trade Publication Survey 2009′ iPod Winner:
Mrs. Faith Davey, Highett, Victoria