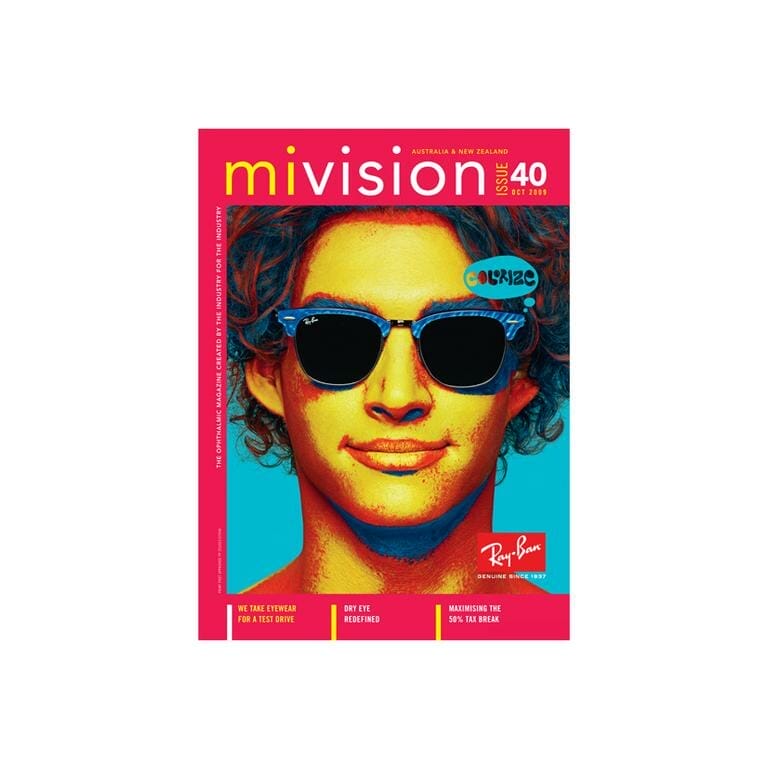 There are very few true blue heroes in life – you know, people whose deeds so inspire you, that it puts all your trials and tribulations into their proper perspectives.
Well, in this issue of mivision, we introduce you to a true hero – a bloke who, thanks to his twinkle toes and a national television program, has become a household name in Australia.
He is Gerrard Gosens and we all know him for his amazing role in the Channel Seven blockbuster Dancing With The Stars, in which Gerrard and his fantastic partner Jessica Raffa made it through to the final four before being eliminated. What made this so special to Australian audiences was the fact that Gerrard was totally blind and had been so since birth. Never having seen dance, the task for him and his magnificent partner in performing complicated steps such as the Rumba, Tango, Salsa, Paso Doble, Cha Cha and Quickstep seemed beyond comprehension.
But there is so much more to Gerrard Gosens. He is a loving husband and father. He is an accomplished athlete. He is a daring adventurer. He is a fearless competitor. Gerrard's life has been full of contradictions. Blind, but played footy. Blind, but ran 2,000 kilometres. Blind, but climbed mountains … the list goes on.
Gerrard works as projects manager for Vision Australia and as so, is invaluable to the organisation. He's a role model not only to the blind, but to anyone who suffers a disability … and even those who do not.
We at mivision have no hesitation in labelling this man a hero and his list of achievements remind me of an adage I once read in a city donut store many years ago which goes:
"As you wander on through life
Whatever be your goal
Keep your eye upon the donut
Not upon the hole".
Also in this issue we focus on the allergy season, with the main story by Dr. Colin Chan looking at ocular allergies. We carry that theme through to mieyecare where Nikki Peng covers the International Dry Eye Workshop, including the redefinition of 'dry eye'.
In milenses we showcase the lens technology and frames for behind the wheel in our feature on driving eyewear. In addition, we feature the impact of the work of the Fred Hollows Foundation on children's eyes in Vietnam, a place where approximately 23,000 children are bilaterally blind.
There is all this and so much more in this issue of mivision.
Enjoy.
Mark Cushway
Managing Editor
—————————————————–
Contents – October 2009 mivision
| | |
| --- | --- |
| | minews– mivision presents all the news both locally and from around the world. |
| | mistory – Eyeing off Spring – a Time of Ocular Allergies: For many, Spring signals a season of ocular allergies.Dr. Colin Chan explaining the condition and the best way to treat it. |
| | mifeature – Gerrard Gosens: We profile Gerrard Gosens, the inspirational blind dancer from hit show Dancing With The Stars. |
| | mifeature – Andy Nilsen reports on the ongoing Fred Hollows Foundation work in Vietnam. |
| | micolumn -As I see it Fair Game: View of the world from optometrist, former cricketer and former coach of the pakistan cricket team, on one of the leading issues in world of sport today:The Rural Challenge. |
| | mioptometry – OAR Optometry Association Reports. Happenings and events from Australia and New Zealand's optometry divisions. |
| | miequipment – How to Be 50% Better off: Andre Karney takes you through the Federal Government's 'Investment Allowance'. |
| | miophthalmology – Ocular Herpes Simplex – Part 2:We bring you the second part of a two-part series on Ocular Herpes Simplex – the most common infection of the cornea. |
| | mieyecare – The Dry Eye Workshop Report: We take a detailed look at the outcomes of the Dry Eye Workshop, including the redefinition of 'Dry Eye' and we showcase the Air Optix Aqua Multifocal. |
| | mieyecare – Air Optix Aqua Multifocal: Results of the Australian/NZ pre launch evaluation. |
| | milenses – In the Drivers Seat…Driving eyewear has become a lucrative market in recent times. mivision takes a look at the lens technology and different frame styles used behind the wheel. |
| | mibusiness – The Pay to Play Factor :Leading business consultant John Lees talks about the 'Pay to Play' factor, and how this often ignored concept can ultimately benefit your organisation. |
| | miproducts – New Products Featured in October 2009, issue of mivision. |
| | mifashion – Bollé Eyewear: We profile Bollé; its history and enduring popularity amongst today's world-class athletes and review L'Amy's tenth anniversary party and TAG Heuer's Avant-Garde party. |
| | mievent – L'Amy Turns 10: L'Amy recently celebrated its 10th birthday at the Senate Bar in Sydney. |
| | mievent – Tag Heuer: The mivision team was invited by Tag Heuer to celebrate the launch of the lastest additions to hte Avant-Garde collection. |
| | The Last Word – The Third Place. Do you have a third place? If you dont, it's time you created one, writes Mark Cushway. |
[/vc_column_text][/vc_column]