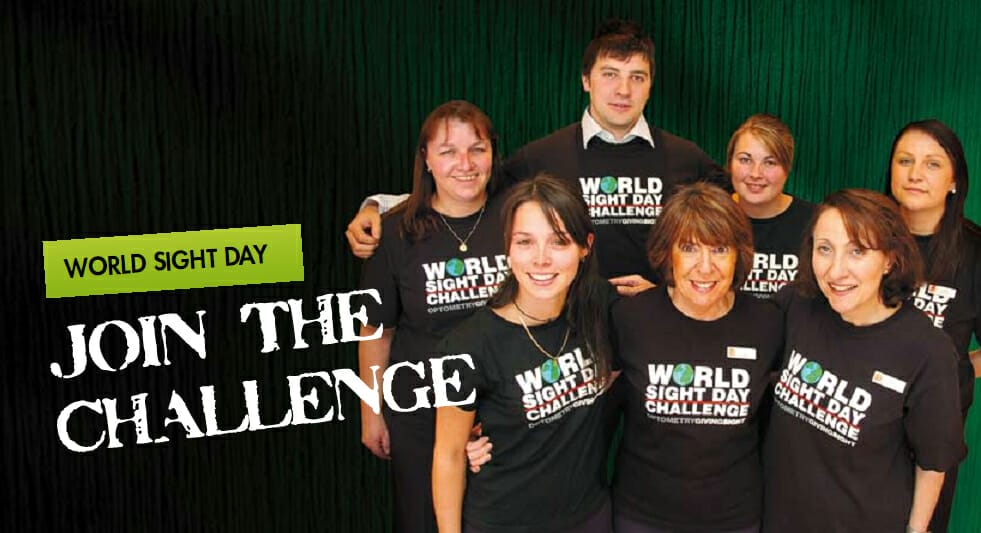 World Sight Day, Thursday 8 October, is the day many optometrists participate in the World Sight Day Challenge (WSDC). This global campaign will help raise funds for sustainable projects that provide eye care in developing countries that lack basic vision care services.
[/vc_column_text][/vc_column]
The WSDC is an exciting opportunity for optometrists to not only help millions of people in need, but to highlight to the local community the profession's commitment to helping eliminate refractive error blindness around the world.
"Will I participate in the WSDC again this year? Yes, of course!" commented optometrist Nick Hansen.
"My colleagues in all three practices have also participated in WSDC for the last two years – it's an easy way to make a difference. Plus, my staff really enjoy participating; they appreciate the opportunity to help such a good cause while at work.
"Many of our patients asked what the WSDC was when they saw us in our t-shirts and noticed the posters around the practice. They thought it was great that we were helping people who weren't as fortunate and who didn't have access to an eye exam and glasses. I was impressed at how many people were happy to make a donation into the box," he said.
The WSDC 2009 was launched at Odmafair in Sydney and already hundreds of optometrists have already registered to "give something back", as Darryl Wilson of Darryl Wilson and Associates in Wendouree, Bacchus Marsh and Daylesford, Victoria said.
Last year the WSDC raised AUD$500,000. What happened to that money? Did it really transform lives? Optometry Giving Sight has been funding programs in Sri Lanka since 2004 and this is one example of where WSDC funds were directed.
Ramyalatha's Story
In the remote town of Deraniyagala in Kegalle District, Sri Lanka, Ramyalatha owns a small local store with her husband.
She hasn't been able to read the labels on the goods she sells in the shop for some time and has trouble seeing to do the shop's accounts. The shop is a few minutes' walk from the newly opened Vision Centre, which was funded in part by Optometry Giving Sight.
Ramyalatha was so keen to have her eyes tested she went in on the opening day of the Vision Centre. Until then, residents of the town and surrounding villages had no access to eye examinations and spectacles.
In 2007, the International Centre for Eyecare Education (ICEE) recruited seven students from the district to train as Vision Technicians at the LV Prasad Eye Institute in Hyderabad, India. On completion of the one-year course, three of the trainees were accepted into a four-year B.S. Optometry degree program. The other four returned to Kegalle District where they are now working in three newly-developed Vision Centres in the district.
Piumika, one of the newly trained Vision Technicians, performed an eye exam and prescribed spectacles for Ramyalatha. She explained that her glasses will not only help in her shop but will also make it easier to prepare meals for her family, sew and read.
The Technicians' Tale
When asked if he enjoyed his work, one of the other recently qualified Vision Technician's, Niroshan responded: "Yeah really, because I expected to serve my people in our country and as a Vision Technician I like to give my best service to people. I like to examine people – that is the best part for me."
It's not just the lives of Niroshan and Piumika's patients that have been transformed. Niroshan explained how this opportunity has impacted on his life.
"Regarding my family, I mean, we are poor people. So after becoming a Vision Technician, I have a good salary and a good job that is very…. how do you say… it is very professional; and as a professional life, it is a very good life for me. In every area it is very helpful for me," he said.
Like many people in Sri Lanka, Niroshan's home is off a dirt track, surrounded by paddy fields. He lives in a small house with his parents, two brothers, sister-in-law and two-yearold niece. His grandmother lives next door with his aunt and her family.The electricity supply to the area is intermittent at best and they spend most evenings by candlelight. His mother draws water from the small well in the garden for drinking, cooking and washing and cooks over an open fire. Niroshan's salary will make a big difference to his whole family.
The glasses prescribed by the Vision Technicians at all three centres are made by two newly-trained Spectacle Technicians. They work in the Optical Workshop in the Yatiyantota Vision Centre. One of the Spectacle Technicians, Apsara explained:
"This job is very important, because I am the elder of my family. I have one sister and three brothers and I want to help them and also I want to develop my education.
" The program in Sri Lanka is a great example of the impact sustainable vision care services can make on an entire community.
Making a Difference
By the end of 2009, Optometry Giving Sight will have distributed USD$3 million through their partners to help screen and provide basic eye care services to more than 1.7 million people, train 1550 midlevel eye care personnel and create 101 vision centres/optical workshops.
Funds are being directed to programs in indigenous Australia, Sri Lanka, East Timor, South Africa, Zambia, Malawi, Mozambique, India, Peru, Nicaragua, Mexico and Papua New Guinea.
Australian optometrists can participate by donating their eye exam fees on World Sight Day, 8 October; making a practice or personal donation; and by celebrating in their practice.
Practice staff, staff at optical companies and optometry students can also help transform more lives by participating in the World Sight Day Challenge.
Optometry Giving Sight will supply a free pack of materials including posters, counter cards, ideas for celebrating in practice and a donation box (on request) to help you celebrate throughout October. Practices can purchase World Sight Day Challenge t-shirts for staff to wear on 8 October and throughout the month.
A template press release can be used with local newspapers to promote the practice's involvement to the local community. Optometry Giving Sight can even assist with securing placement.
"Why wouldn't I participate again?" asked Joanne Thomas of Special Eyes in Canberra. I got some great media coverage for the practice last year, my staff enjoyed taking part and above all, it gives me an opportunity to help people in need. Running for just one month, with a big focus on World Sight Day itself, it's a really easy way to give people sight."
Register online today at: www.givingsight.org or call: (AUS) 1300 88 10 73.
JOIN OGS!
World Sight Day was established by Vision 2020 and is held on Thursday 8 October this year.
World Sight Day Challenge Ambassadors and Australian optometrists, cricket legend, Geoff Henry Lawson and singer/ songwriter, Sophie Koh, are pledging their commitment to globa blindness prevention. They invite al Aussie optometrists to join them!
Visit: www.givingsight.org to register today!
Jo Humphries is the Communications Manager for Optometry Giving Sight. Jo has seven years experience working with eye care charitable organisations and is passionate about eye health in third world countries.