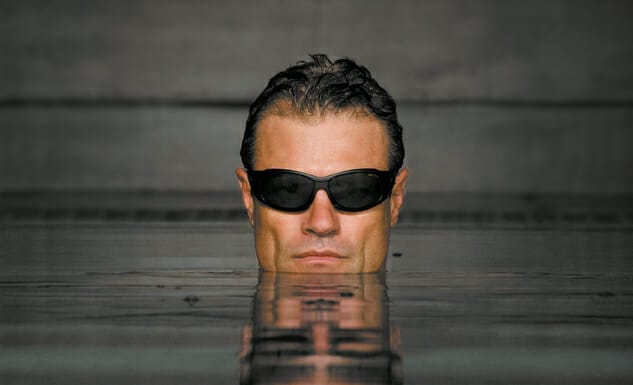 Sports and active eyewear present a valuable opportunity to expand your business and increase profitability. Now, thanks to a new era of purpose designed sports glasses that look great and perform brilliantly under pressure, they're easier to sell than ever before.
There is no question about it: sport is big, it's massive. The impact of it pervades our lifestyle, our home, even our work. Where once a decent pair of runners, shorts and a breathable top were the only essentials for an active day out, these days, it's just as important to wear the right pair of specs. And why not? As Andrew Ettinghausen, former international footballer, profisherman and the legend behind the high-rating shows, Escape with ET and Sportstar Insider, says, "you'd be mad to go without them."
Fashion and Function
Sports eyewear used to be purely about performance. Now, in an era where consumers like to be seen to be sporty, the look must seamlessly flow from street to sport. Consequently, consumers can choose from frame styles and colours to suit their face and some glasses even come with interchangeable temples to suit their mood and dress of the day.
While some frames are designed to take Rxable lenses, others enable interchangeable, scripted optical inserts to be quickly and easily snapped into the frame behind the existing lens. It's a matter of determining what's best for each customer.
…in an era where consumers like to be seen to be sporty, the look must seamlessly flow from street to sport
When it comes to brands there are plenty to choose from. Most traditional optical suppliers are now manufacturing purpose designed sports eyewear, as are high-fashion and dedicated sports labels. Furthermore, they're supporting their product with powerful marketing campaigns and high profile sports personalities to increase brand awareness and drive consumer desire.
Where to Start
The key is to start up a conversation with your customer when they're choosing frames to meet their day-to-day needs. Ask them questions about their lifestyle so you can offer them relevant optical advice. "What are you doing this weekend"… "What sport do you play?"
Dig for detail then lead the conversation on to the importance of protecting eyes from the sun while minimising the risk of sport related eye incidents – after all, an eye injury will prematurely conclude their sporting pleasure. Then its time to point them in the direction of your sports eyewear range, tell them about the frames that suit their sport and encourage them to try them on.
It's All About the Lens
OK, so frames are essential to the look and feel of sports eyewear, but let's not get too carried away… their primary function is to support a high tech lens.
Andrew Ettinghausen says the lens is all important when it comes to fishing or indeed any sport. "A high quality polarised lens can make all the difference between a fishless day and a great day on the water."
He also believes the material from which the lens is crafted is vitally important. "I generally wear lightweight glass lenses when I'm fishing because they're so nice and clear, but if I'm doing something a bit more active like bushwalking or even playing sport like beach cricket and tip football with my family and friends, I will use polycarbonate sunnies because they are lightweight and pretty tough."
To cover all bases, a lens needs to be tinted, polarised, anti-fog and anti glare coated, shatter-proof, scratch resistant and adjustable to changing light conditions. Tall order?
Not these days!
Manufacturers have invested heavily in research and development to create lenses that meet all of these specifications – and more!
Lens Colour
Lens colours make an enormous difference to vision under different circumstances and consequently the colour of lenses used will differ dramatically according to the sport the glasses have been designed for.
When it comes to fishing, Andrew says he generally heads out on a trip with at least three pairs of specs. "In recent years I've started to use different lenses depending on the conditions, which is really starting to show results. On overcast days I use bronze or photochromatic lenses which highlight better in low light. On bright days I use grey lenses with a mirror, usually blue to make sure I don't get tired eyes. And for freshwater fishing I use brown lenses – they seem to really show up fish in this environment."
In general bright, outdoor situations are best managed with more yellow based lens colours while red hues assist wearers in filtered light.
A green tinted lens provides accurate colour transmission and eliminates glare to prevent eye strain – its most suited for city, bush, turf and environmental activities.
A blue lens enhances relief and depth perceptions which allows for transition between sun and overcast conditions.
Orange is the most stimulating colour – it's been found to speed up the motor system – which is why it's used in many high performance sports activities.
For Every Sport
When it comes to eyewear, every sport has its own needs. Here are a few summer sports that your customers may be venturing into over the next few months… and the features they should consider when choosing their next pair of specs.
Swimming
If your customer is a swimmer, talk to them about the benefits of wearing swimming goggles. If they train in a pool, their eyes will be susceptible to irritation from chlorine or salt and infection from micro organisms. If they train in an outdoor pool or the sea, they will also be susceptible to ultra violet light and sun glare – both of which can be protected by quality goggles with tinted lenses. If they wear contact lenses, a pair of goggles will protect their lenses from coming out under pressure. And if they wear prescription glasses, they may not be aware that swimming goggles can be fitted with Rxable lenses.
Diving
Many people who wear prescription lenses avoid scuba diving or snorkelling.
Others simply miss out on the amazing experience because of their inability to see under water life in full detail. If this is your customer, its time to talk to them about mounting prescription lenses to their diving or snorkelling mask.
The important thing is to make sure you understand your customers' needs. If they snorkel, they probably need a prescription that enables them to see at a distance whereas if they scuba dive, chances are they need distance to see underwater life and close up to read gauges. In this case, consider the need for a bifocal or truncated lens. Because the lens will be mounted to the mask, factors such as power differentials should also be considered.
Golf
Your golf playing customers could find both their enjoyment and their handicap improved with the addition of a new pair of stylish purpose designed glasses.
A pair of quality lenses will protect them from ultraviolet light while out on the fairway and the rare chance of injury. Lenses that absorb blue light will enable them to better distinguish fairways and greens, and follow their ball in flight. However, polarized lenses can make it harder to read the greens and they will tend to make surfaces look flatter.
To maximise their line of sight, guide them towards frames without a bottom. You could also suggest wraparounds that optimise vision during their swing. Importantly, when you fit your golfing customers with a pair of glasses, make sure the temples can be adjusted – the last thing they want is for the glasses to slip down their nose as they tee off!
While most golf glasses can be fitted with prescription lenses, golfers who wear bifocals or progressives may find themselves dropping their head further than usual to see the ball. This is because the progressive or bifocal lens interferes with their line of sight. Placing the bifocal very low may assist them on the course while also enabling them to read score cards etc.
Cycling
Cycling can be fraught with eye danger – whether or not your cyclist needs prescription lenses. Wind, flying dirt and debris can causes itchy, irritated eyes and lead to accidents. The good news is that cycling glasses will protect your customers from these dangers as well as shielding them from ultraviolet radiation and the sun. In addition, quality lenses will increase contrast to help them see pot holes, rocks, and other obstacles.
Most cycling glasses can be fitted with scripted lenses and many can have interchangeable lenses clipped into place to help cyclists cope with differing weather conditions and the time of day.
Surfing
While the concept of wearing goggles while surfing may be a little extreme for some customers, there are significant benefits. Salt water can irritate eyes as can the excessive glare of the sun bouncing off the sea. The results are eye strain, fatigue and even temporary blindness.
For those who wear contact lenses while surfing, the chance of losing a lens is high.
Surf goggles are the ideal solution – and they can be worn with contact lenses or fitted with prescriptions. When talking to your customers about surfing goggles, suggest floating goggles or a pair with a strap that can be clipped on to their wetsuit. To maximise success for your customer, it's essential that the fit is right, so before you go ahead and fit Rxable lenses, suggest they try the goggles first, with standard lenses in place, to ensure comfort. Choose polycarbonate lenses to provide good impact resistance against hard falls in the water and be sure to discuss the pros and cons of polarised lenses before you fit them – while polarised lenses can absorb 98 per cent of glare, they can also make it harder to read the depth of the surrounding waves.
Fishing
Sunglasses are essential for fishing. Long days at sea with bright sun reflecting off the water will cause eye strain and fatigue. If your customer fishes for long periods of time suggest they purchase more than one pair, with different colour lens colours to maximise their vision in different weather conditions and at different times of the day. Polarised lenses are a must – they will protect the eyes by reducing glare, and help your customer see into the water with greater clarity. In addition, recommend spring-loaded hinges over plastic hinges that may break, make sure the glasses fit snugly and suggest your customer wears a strap.
The Oakley Pressure Chamber
You can test a sports car to experience its handling and performance – so why not test your sports eyewear?
In a world first, the OPSM Eye Hub concept store located in Hawthorn, Melbourne, has incorporated a virtual reality sports room called the Oakley Pressure Chamber that allows customers to test-drive their sports eyewear.
This room provides sports enthusiasts and pro-athletes with the opportunity to put their eyewear to the test.
The room features exercise road bikes and treadmills, all linked to a virtual reality screen projected in front of you which simulates your travel through an urban environment.
To top it off, there's a wind machine… the faster you go, the faster it blows.
What does it all mean?
Athletes who rely on split second differences in their performance, can now test out different eyewear under the exact environment they experience when participating in their competitive sport… ensuring their ultimate selection suits their needs!
Oakley (AUS) 03 8598 3100
1. Magic
The Magic 7711 is a cost effective prescription-only sunglass. Made from a durable injection moulded acetate with a base curve of 8, the frame wraps to the wearer's head. The insides of the temples and the bridge are made with soft silicone to enhance its non-slip characteristics. Teamed with a polarised (grind) Rx lens, this price conscious option provides amazing non-slip clear vision for the outdoors. (Distributed by Shaan (AUS) 07 3205 3324)
2. Ugly Fish
The Australian brand, Ugly Fish claims it 'proudly supports all those who want to get out and about.' Ugly Fish wrap around sports sunglasses are highly functional – perfect when you want to give it everything you've got, whenever, wherever. Manufactured from high quality, lightweight wrap around frames for comfort and protection, they can be fitted with prescription lenses including bi-focals. There is also an Ugly Fish range for kids. (Distributed by Piranha Eyewear (AUS) 02 4284 7888)
3. Euro Style
Gibson Eyewear's Euro collection presents a stylish range of sunglasses with flexible polycarbonate frames and polychromatic lenses that sense and automatically adjust the shade of the lens to the light. Each pair has rubber nose pads and temple tips to maximise grip and comfort. The range includes full and half frames to suit different sports. (Distributed by Gibson Eyewear (AUS) 03 9581 3666)
4. Mako FLX Titanium
Mako FLX Titanium sunglasses can literally fold in half without damaging the frame. Release the pressure and they pop straight back into shape. The FLX range comes with Mako's new ground breaking HD 12+ lens and optional photochromatic technology. They're the perfect sunglasses for outdoor adventure incorporating a hardwearing frame, the ultimate clarity and contrast, in a fashionable design that doubles for everyday use. (Distributed by Mondottica (AUS) 02 8436 6666)
5. Element
Armoured up and ready for combat, Element's superior premium polarised lenses deliver unmistakable clarity and precision optics. Element strives for its prerequisite to achieve near weightlessness. Its ergonomic design flows seamlessly for absolute comfort on the go. (Distributed by Spotters (AUS) 03 9728 2055)
6. Xtensions
With two great styles and a choice of four popular colours, Xtension frames fit securely over regular prescription glasses, providing high UV protection and an affordable option in outdoor eyewear. Xtension eyewear protects eyes from the sun's UV rays without the need to buy an expensive pair of prescription sunglasses. These unique wrap around frames are robust and durable, built using the best quality materials to deliver both comfort and quality. (Distributed by Optique Line (AUS) 03 9853 0796)
7. Dirty Dog
Dirty Dog Wetglass, with state of the art polarised lenses, are purpose built for watersports. Vents in the frame allow water to flow from the eyes and keep them as dry as possible while a hydrophobic coating on the lens repels water, and a scratch resistant hard coat delivers maximum durability. An elasticised head band keeps them on your face when you need them and can be completely removed for use as everyday sunnies. (Distributed by VMD (AUS) 07 5594 9845)
8. Bolle Satellite
Bolle's new Fusion Nylon collection for men and women features dynamic sculpting with sport inspired detail designed for every day wear. The Satellite features a unique perforated temple that reduces frame weight while increasing comfort. A click hinge at the temple maintains precise fit for the lifetime of the frame. (Distributed by Bolle (AUS) 03 8558 1000)
9. Maui Jim Lighthouse
Maui Jim's Lighthouse sport model was designed for active and sporty people looking for the added protection of a lightweight, eight base frame. The Lighthouse sensibly combines modern style with ultra-lightweight comfort, providing an ideal design for engaging in sports – or hanging out on the beach! (Distributed by Maui Jim (AUS) 9452 5575)
10.Adidas
Kasoto and Naloa Adidas's new kasoto and naloa sunglasses are lightweight, temperature resistant and flexible. Ribbed temple ends keep the eyewear securely in place and a patented hinge mechanism ensures that if they're dropped, the temples detach from the frame instead of breaking. All you need to do is clip them back on again. Lenses are scratch resistant and have 100 per cent UV protection. A polarising filter is available. For contact lenses and corrective eyewear wearers, kasoto and naloa can be fitted with direct glazing. (Distributed by Mimo (AUS) 02 9970 1800)
11. Eyres Modulars Series
After five years in development, EYRES has launched a patented modular frame collection. The 800 Switched, 802 Evermore and 803 Transformer feature ergonomic frame shapes for comfort and a range of lens tints to suit any lighting condition. The modular system enables the wearer to own just one pair of stylish specs that can be adjusted as required to suit the sport or activity of the moment. Rx, plano and tinted lenses can all be locked into place to suit the conditions and a protective lens shield can be applied to cope with higher risk conditions. Frames can be converted into goggles with the simple addition of a strap and ventilated face foam. For absolute convenience, the entire kit can be contained in one protective hard case. (Distributed by Eyres)
12. Tusa Scuba Diving Mask
Tusa's scuba diving equipment is respected internationally. This leading brand manufactures several silicone dive masks that can be fitted with Rx lenses, allowing the diver to choose right and left lens powers in a variety of diopters for maximum flexibility and a custom fit. With Tusa's Hyperdry system, clearing a mask has never been easier. The diver simply breathes out through the nose and any water that has accumulated in the mask is forced out through a one-way purge valve. Once the mask is clear, the valve seals shut. (Distributed by McCann (AUS) 03 8773 4500)