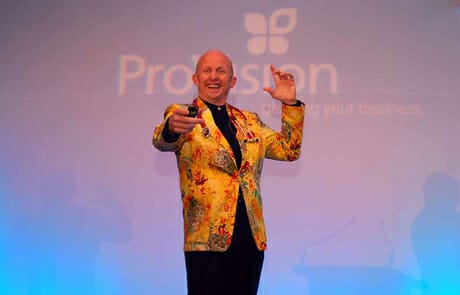 ProVision's national conference has just wrapped up, much to the disappointment of delegates, who left with a full arsenal of ideas to improve their practices and personal lives.
The biennial conference was held this year at the palatial Langham Hotel in Melbourne's Southbank.
The focus has always been on business, but this year's conference even more so, as the theme was 'Focus 2010'.
ProVision's CEO, Cam Battaglia said "The aim of the conference was to focus on key business and retail principles as well as personal leadership style and its impact on business and life success. We wanted to highlight that with the right strategies and mindset, there is a bright and sustainable future for independent optometry and our members".
With the right strategies and mindset, there is a bright and sustainable future for independent optometry and our members
It kicked off on a high, quite literally, with a welcome function at the Eureka SkyDeck, 300 metres above the CBD with sweeping views of Melbourne. This set the tone for the whole weekend.
The Laughing Doctor
The first presenter launched us into fits of laughter. Scott 'The Doctor' Williams passionately believes that "laughter is the best medicine". Scott dispensed an incredibly animated fast-moving and hilariously entertaining motivational message where he discussed the benefits of laughter and how it can transform individuals and their outlook on life as well as reduce stress.
Children, on average, he told the delegates, laugh about 300 times a day. By the time we reach adulthood, we laugh just 17 times a day. If we want to live a prosperous and positive life, laughter is essential!
Power of Words
Following on from Scott was Australia's most in-demand female presenter, Robyn Moore. For over 30 years Robyn has been working in education, advertising and the communication/entertainment Industry.
We were introduced to Robyn as a woman who had been in all of our lounge-rooms. For some of us it was through her voice of Blinky Bill but for most of us it was through the many familiar TV commercial voiceovers including Ajax Spray'n'Wipe.
She spoke about the "power of the word" and how it can have a profound effect on our wellbeing and that of others. Robyn shared her experiences as patron of the Make a Wish Foundation and how she used the voice of Blinky Bill to remind sick children that they "are extraordinary". She said many of these calls had a significant effect on the child's physical health.
In a business context, your words also have a profound effect. How you greet and speak with a customer can significantly shape their experience and their loyalty to your business. Other important messages included the risks of prejudging a person, the importance of growing staff into their 'bigness' and that laughter is the litmus test that tells people we're here.
Robyn reminded us that the word 'Crisis' simply means "a time to sift and separate". There's nothing wrong with that she said "sifting is a good thing".
She said "life is our call and encouraged us to change the words we use, for example, instead of being tired and grumpy, be tired and passionate. She said "we all have a right to be tired" but we can change the suffix.
Only Two Seats Left
After Robyn, the legendary John Anderson stepped up on stage. In a highly charged speech, the emotional and inspiring Anderson retold the story of how he started his beloved company, Contiki Tours with just 25 pounds in his pocket.
He shared some amazing experiences and spoke about how to challenge staff by giving them 'chunks of meat', i.e. more responsibility. Even bus drivers were given a leadership role in his organisation and had to deal with leading tour groups in some very difficult circumstances. Many of his staff had gone on to be successful business people in their own rights.
He encouraged us to not rest on our laurels; try something new – even if things were working, keep trying new things. He talked about the importance of uncompromised product quality and how this became synonymous with his brand. He is now in his late 70's and has never thought of retirement. He has outlined the incredible Contiki story in his new book 'Only Two Seats Left' and is now working on an idea for a new travel company for baby-boomers.
Digital Surfacing
Bruno de Creton from Essilor delivered the only technical application of the conference. He was specifically flown to the conference from Essilor's head office in Paris to make his presentation. He outlined the difference between Digital Surfacing and Traditional Surfacing in an in-depth lecture on advanced progressive lens design.
Bruno made a very clear distinction between what he referred to as budget and online optical 'spectacles sellers' and 'Eye Care Professionals'.
He said that whilst lenses are getting much more complex the point that "at the end we are aiming to give best vision to our patients".
The ProVision Panel
The Panel provided advice and discussion on techniques that they use to make their practice successful. The panel members were Norm Russo (Russo & Associates Optometry, Dandenong Vic); Mitch Hancock (Gulf & Ranges Optometrists, Port Augusta SA); Rowena Beckenham (Beckenham Optometrist, Avalon Beach NSW); Kate Johnson (Gerry & Johnson Optometrists, Brisbane QLD); Shane Tromp (Noosa Optical, Noosa Heads QLD) and John Warren (Kay Street Eyecare, Traralgon VIC).
The Panel consistently highlighted the importance of sticking to your own vision; keep going; be the best you can be; upgrade your practice; innovate; develop your staff continuously; carry out internal and external marketing; just make sure you do something; thank your patients and treat them as you would want to be treated yourself.
It was evident that these practice leaders all had a clear vision and plan for the future, and that this was integral to their success.
Then at 2.30pm we took a break, along with the rest of Melbourne, to watch the AFL Grand Final.
Saturday evening the main Claredon Ballroom was transformed into a busy marketplace, with ProVision's preferred suppliers displaying the best of their products to delegates in a very relaxed atmosphere.
Legendary John Lees
Sunday morning's breakfast session started extra early as we lost an hour because of daylight savings with the highly entertaining and instructional business speaker and mivision columnist, John Lees.
One of the key points John made was that customers (or patients) are people and to focus on the person first, not the buyer.
"Sell far more than you charge for means you not only get involved with the patient / customer but you get involved with the person who lives outside the practice. You live in the practice, they live outside the practice. By doing this you become more valuable to the person, not simply the customer.
"Don't forget that the word customer means buyer, or shopper, that's all it means. Don't have a focus on the buyer, have a focus on the person. All customers are people. For instance, people don't go home at night to customer land, or patient land. They happen to be people, so a very important part of your business is that you must always treat customers as people.
"Always treat customers or patients as people. Never treat people as customers. They are not customers, they are people. They only become customers for a very short amount of their time. Therein lays one of the great mistakes made by businesses. No-one deliberately makes this mistake. We live in our businesses and customers are kind enough to come to us and we treat them as customers and forget that they are actually people. We are contributing to their lives as people. That's the nature of business.
"The purpose of the business is to serve people and make sure their buying experience is as good as it can be. Treat patients as people."
He finished off by unpacking the secret of profit. He said it's "not in charging more than anyone else; it's avoiding the pressure to charge less. Those who charge less are trapped in the lower level of business.
"You don't control transactions, the customer does. This is where you transactions take place. This is where you transcend and surpass the expectations and wants of customers. This is the area of need. This is the future for business and our job is to keep raising this bar. You'll never get the job finished, it's a lifelong journey."
Special Guest Speaker
Homer Papantonio, who posed as an Italian sports psychologist was the surprise guest speaker on Sunday afternoon. He had been invited to Melbourne to motivate the Collingwood team the morning of their AFL Grand Final victory the day before.
His key messages were about peak performance, how to get the best from an athlete, in terms of leadership, commitment, motivation and innovative thinking and how this then relates to business. At the end, to the surprise and delight of guests, and after having everyone up dancing to the zorba!, he revealed himself to be a corporate imposter.
Cam Battaglia said one of the new aspects of the conference this year was a collection of rotating workshops covering leasing and shop-fitting, HR law, succession planning, how to grow a sustainable contact lens business and how not to infuriate your customers. These workshops were facilitated by expert presenters including Roy Tavenor, RED Design Group, Steve Simpson from Simpson Forsyth Property Consultants, Stuart Kollmorgen & Diana Diaz from Norton Rose Australia Lawyers, Frank Sirianni from Medici Capital, Wayne Reuben from CooperVision and Sarah Haggerty from B&L, as well as ProVision's own Retail Team.
The Gala Dinner was hosted by Scott Williams and retail business awards were given to eight practices based on a number of performance factors. The winners were Young Eyes Optometrist, NSW; My Optical Warwick, QLD; Noosa Optical, QLD; Eyre Eye Centre, SA; Richard Lindsay & Associates, VIC; Russo & Associates Optometry, VIC; Aaron Henry Optometrist, NSW; and Wodonga Eyecare, VIC.
At the dinner delegates donated a combined AUD$8,600 for ProVision's charity of choice, Optometry Giving Sight.
Futurist Craig Rispin
On Monday the final presenter was futurist Craig Rispin. He was one of the most popular presenters at the previous ProVision conference in Fiji and his re-appearance was due to popular demand. Craig's key message: "Know first, Be First and Profit First".
He put out the call to delegates to embrace and invest in the latest technologies and infrastructure to ensure consumer relevancy and competitive advantage.
The Congress was wrapped up with a final speech by ProVision Chairman, Ian Bluntish.
Member Feedback
ProVision's Marketing Manager, Sarah O'Connor, reported that many delegates commented that it was probably the best opening day for a conference they'd ever attended. She described the first day as "very emotionally charged" and that everyone was "laughing as well as crying, but left empowered with a revitalised perspective".
"We've been hearing that members haven't stopped talking about the conference with their staff and colleagues, and are already implementing change".
"The conference equipped our members with practical advice and a game plan for obtaining some quick wins and long term benefits in their businesses."
It is important in a marketplace that has become so challenging for independents – and in retail full stop – that people find, develop and maintain a point of difference. "The feedback from our members has been that everyone left feeling very confident about the future."
This year's highly successful ProVision conference, held at Melbourne's Langham Hotel between 1 to 4 October, was attended by more than 260 ProVision members and suppliers from across Australia.