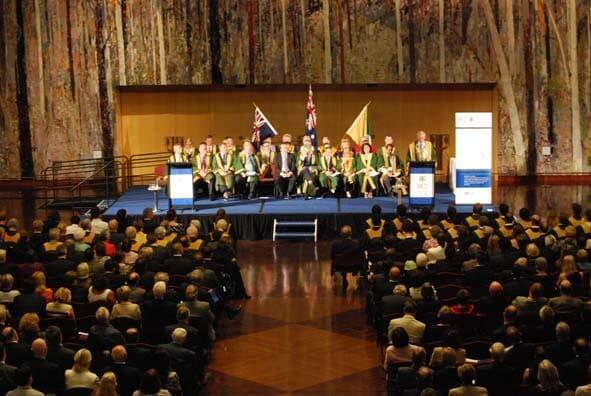 Some of the latest breakthroughs in blindness prevention and eye health have been revealed at the Annual Scientific Congress of The Royal Australian and New Zealand College of Ophthalmologists (RANZCO) in Canberra this week (19-22 November).
Congress Chairman, Dr. Iain Dunlop said, "In eye medicine and surgery, all our efforts are targeted at individualised treatments arising from better diagnostic technologies and specifically tailored treatment programs. This will be the future for eye care. It's especially important for patients with multiple interconnected eye and general diseases."
More than 900 delegates, predominantly ophthalmologists, from around Australia and New Zealand, attended the 43rd RANZCO, which offered a stimulating program of symposia and workshops as well as key addresses from leaders in the field.
Challenges and Issues
The challenges facing the paediatric ophthalmology workforce were among a number of issues discussed. Delegates heard that there are currently 4.23 million children under the age of 15 in Australia – which is 18.9 per cent of Australia's total population. With a workforce equivalent to only 20.5 full time paediatric ophthalmologists, that equates to one medical eye specialist for every 206,000 children. Other issues surrounding paediatric care included vision screening for pre-schoolers, and the need for more training posts for paediatric ophthalmologists in public hospitals.
This is the first time the impact of blindness on health services utilisation has been quantified…
In an insightful session Sydney based ophthalmologist Dr. Mitchell Lawlor shed light on why individuals refuse cornea donation.
Perth-based ophthalmologist, Dr. Nigel Morlet spoke about a study which for the first time, has revealed that people who are legally blind experience twice the rate of depression, 50 per cent more hospital stays, and are twice as likely to have periods of psychiatric care. "This is the first time the impact of blindness on health services utilisation has been quantified," he said.
And in a slightly disturbing session, delegates heard that a "study of 20,963 Australians, who were followed from their 40s to mid-80s, found that drinking more than two standard drinks a day was associated with a 20 per cent increased chance of developing early-stage Age-related Macular Degeneration (AMD)". Dr. Madeleine Adams, of Melbourne said, "all types of alcohol – wine, beer and spirits – increased the risk of AMD."
Other presentations were delivered by Dr. Stephen Best (The Burden of Glaucoma), Prof. Elizabeth Engle, who presented 'Strabismus, Genetics, and the Developing Brain' and Assoc. Prof. Justine Smith who presented on 'Involvement of the Vascular Endothelium in Uveitis. In total, over 32 lectures were presented in just three days.
Also, running concurrently was a series of 11 lectures to help develop and update the skills of Practice Managers. Sessions included a presentation on the Macular Degeneration Foundation by Julie Heraghty, 'Practice Management Cost and the MBS' by Dr. Bradley Horsburgh and 'Where Next with Medicare & Private Health Cover?,' by Dr. Andrew Laming MP.
New Leadership Positions
The Congress also provided the opportunity to announce the election of three new Fellows to its core leadership positions of College President, Vice President New Zealand, and Vice President Australia. Dr. Bill Glasson AO, from Queensland has been appointed President. Associate Professor Mark Daniell from Centre for Eye Research (CERA) and University of Melbourne appointed Vice President of RANZCO Australia and Dr. Stephen Best from Auckland was appointed Vice President of RANZCO New Zealand.
RANZCO's Chief Executive, Susi Tegen, welcomed the appointments: "The College has spent the past four years re-building the foundation and developing new strategies not only for ophthalmic education and training, but also in the international, rural, remote and indigenous eye-health arena. I look forward to working with the new leadership team in 2012."
Innovative Technology
Always at the forefront of innovation, this year RANZCO introduced "RANZCO11", a smart phone application for the RANZCO Congress. Downloadable to iPhone, Android, Blackberry and iPad, the RANZCO11 app contained information on Congress speakers, the program and industry exhibition. It also offered a function that helped users plan their time at the congress by scheduling sessions that catered to their particular interest and providing the facility to take notes and rate sessions.
Socially, the Congress did not disappoint either. The events began on Saturday night with a Welcome Reception and private guided tour of the Australian War Memorial. The Opening Ceremony and the Presidents Reception was held at the magnificent Parliament House, and the official Congress Dinner was held on the last night at the architecturally stunning National Portrait Gallery.
The major sponsors for the 43rd RANZCO were Allergan, Novartis and Alcon.
Next year, RANZCO will be held from 24-28 November, 2012. For information go to: http://ranzco2012.com.au/