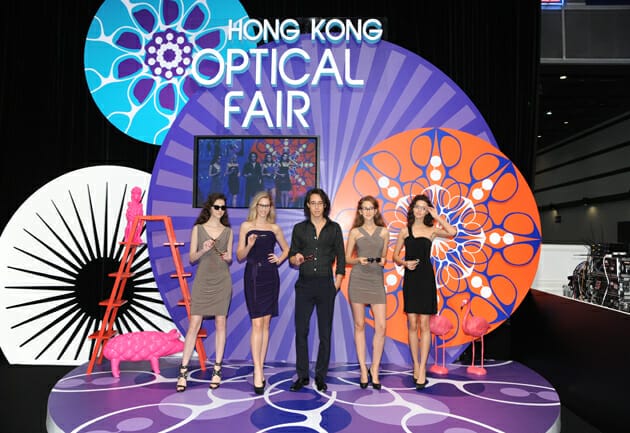 Hong Kong – the new-age island city built on an ancient civilisation – was the destination for international eyewear buyers from 6-8 November. I went along to see how this annual fair stacks up against those in Europe, Australia and other regions of Asia.
From the ultra conservative to the cool and crazy, the Hong Kong Optical Fair, run by the Hong Kong Trade Development Council, has pretty much every frame – sun and optical – and every contact lens – plain, coloured, optical and plano – to suit every customer on the planet.
There are just two halls at this Fair, but they're massive.
As I stepped into the main hall I was hit with aisles and aisles of rows upon rows of frames. The fair featured 700 exhibitors. That's about 20 per cent fewer exhibitors than you'd see at Silmo but they take up about half the floor space and the sheer quantity of frames on show is truly overwhelming. Add to this more than 13,000 buyers and this place is crowded – to the point of being claustrophobic.
You have to start really well in Hong Kong in order to get into the rest of Asia…
So too is the cacophony of noise – the competing calls of the local merchants standing outside their stand ready to drag you in, eager to sell, sell, sell. Models pranced, music blasted and placards, bearing brand names and stall locations held high for the lines of po-faced young men and women, wove their way through the crowds.
Buyers… 'buyers', it's all about the buyers. With their blue 'buyer' labels swinging from their lanyards. There are clumps of them everywhere. It's a sea of people. It's like walking through the streets of Hong Hong – you can't move for people.
Business Time
This isn't a fair you just rock up to and hope to find something. Neither is it a fair devoted to image, champagne and canapés – the likes of which you find at Silmo and Mido.
There is a huge mix of booths. Large stands were grouped together like bookends around the hundreds of small booths clumped together in their country of origin to create a village-like atmosphere.
No prizes for guessing which country had the strongest turn out. The showing from mainland China and Hong Kong was massive. Between them they made up 60 per cent of the exhibitors and about 80 per cent of the floor space.
The stock is packed in and the message is clear. From the exhibitor's perspective, this fair is all about business. Serious deals are done by the minute. Big orders. Big money.
As a buyer you really need to do your homework, make appointments and brace yourself for the sales pitch.
Brand Name Gallery
One of the highlights of the show was the Brand Name Gallery which showcased a record number of 180 brands from 22 countries and regions.
This is where all the big overseas brands were on display with dedicated areas for eyewear from France, Italy, Japan, Korea, Taiwan and Visionaries of Styles (where the smaller countries like New Zealand and Australia collected).
People I spoke to in the aisles told me the representation of eyewear designers from overseas has grown over the past few years and is something that has made the fair "much more diverse and interesting".
There's a reason why there is a growth of eyewear designers carving out their niche at the Hong Kong Optical Fair – Hong Kong is considered the gateway to mainland China.
Carry Tse, Director of Concept Eyewear knows this only too well. He spends his life traveling throughout Asia to sell the European and Japanese brands he represents to optical retailers.
"You have to start really well in Hong Kong in order to get into the rest of Asia," he says.
"Most of the Asian countries like mainland China, Taiwan, Singapore, etc. follow the optical trends set by Hong Kong. That's why the Hong Kong market is so important. If you're not doing so well with your image in Hong Kong and you try and run with the other countries, you won't be successful."
There were just a few Australian designers on show – Simon Ponnusamy from AM Eyewear, Dave Allison from Sunday Somewhere and Nick Jahns from Onkler who was exhibiting for the first time at Hong Kong. When I spoke to him, Nick said he hadn't known what to expect, but he'd found Hong Kong to be a great place to kick off his fashion brand into the Asian market.
It was interesting to see big name designers from around the world, like JF Rey, Yves Cogan, Robert William Morris, Annette from Fleye, and the guys from Bevel, all on hand for their Asian distributors to talk with customers on an equal playing field. Unlike the European shows, these guys were all exhibiting from tiny 3 x 3 booths but it didn't make any difference to the level of business they were bringing in. Everyone was busy with appointments. It was bustling.
On the Catwalk
The Brand Name Gallery was right in the middle of the main hall and the focal point for fashion shows that just kept rolling. Over the three-day show, pretty much every brand and designer label at the Fair was showcased by strutting models carrying signs that detailed the brand and stand location.
The catwalk itself was Z-shaped and the models had been choreographed to stop at each turn to pose for long enough to allow anyone who wanted a snap to get one – whether they were professional photographers or amateur iPhonographers.
15th Hong Kong EyewearDesign Competition
The winners from the prestigious 15th Hong Kong Eyewear Design Competition – themed Craft of Paradise – were also on show at the Optical Conference and they were beautifully presented in transparent boxes in the Brand Name Gallery Wine Cellar.
The Open Group Champion was Ho Ming Hong from Optical 88 Ltd. His frame, entitled Flower Secret was inspired by nature and featured sparkling cubic zirconia gemstones. Unusually, these frames incorporated two cream perfume containers hidden under hummingbird motifs at the temple. Wearers were to lift the hummingbirds to enjoy their favourite fragrance. Flower Secret also took the Creativity Award and the Made-to-Sell Award.
Runner up was a frame entitled Love Embroidery, inspired by Guangzhou embroidery. One of China's four famous embroideries, Guangzhou embroidery is renowned for gaudy colours, vivid patterns and realism.
The Love Embroidery frame was designed by Chan Ho Yin from Okia Optical, a company we frequently feature in mivision's fashion news section.
The third runner up in the competition was Screwless by Tam Wing Kay of Keen Brave Development. This more conservative frame, with interchangeable temples, has been created with no welding or screws
and connects "much like Lego".
Students were also recognised for their creations which, as you'd expect, were extreme in design and fascinating to observe. I particularly liked the winner, 'Prime', a metallic black and silver frame which folds into a slim, flat case the size
of your palm.
Seminars
The Hong Kong Optical Fair is unbelievably well organised. As a representative of the media, I was formally invited to attend a number of seminars that provided industry information, not just on the local Asian optical market but on the entire global industry. In a session entitled 'Optics Global Outlook and Retail', Gianni Cossar, Global Director Optics and Eyewear, GfK Retail & Technology Italy, and GfK Consumer Choice presented a fascinating insight, from his firm's surveys, into market share and predicted growth. He said within the global market, spectacles comprise 75 per cent of market share; sunglasses 12 per cent and contact lenses 8 per cent.
At a seminar entitled 'Opportunities in Overseas Eyewear Markets', we heard from Sharon Oliverio a supply chain director from the United States company Society43 and New Zealand's David Betham who is a director at Pacific Eyewear Enterprise.
These seminars were open to buyers and sellers as well, along with presentations on branding, fashion trends, quality compliance and winning strategies to enter the Chinese mainland eyewear market, to name just a few of the many topics covered off.
Hong Kong Eyewear Industry
It's apparent from the effort put into building this fair and opening it to the world, that eyewear is a valuable industry for Hong Kong and this is backed up by the numbers. In the first nine months of 2013, this special administrative region of the People's Republic of China, exported HK11.1 billion (US1.4 billion) in spectacles, lenses and frames, up marginally, year-on-year. Hong Kong's top export markets for optical goods were the United States, the Chinese mainland, Italy, Australia and France.
The 2014 Hong Kong Optical Fair will be held from 5 to 7 November. For information go to: http://www.hktdc.com/fair/hkopticalfair-en/
Thank you
I'd like to thank the Hong Kong Trade Development Council for hosting me at the Hong Kong Optical Fair. In particular, I'd like to thank Cloris Long and Mandy Wong from the HKTDC for organizing my flights, accommodation, itinerary and anything else I needed to cover the fair. Their level of professionalism and organisation was world class and very much appreciated.