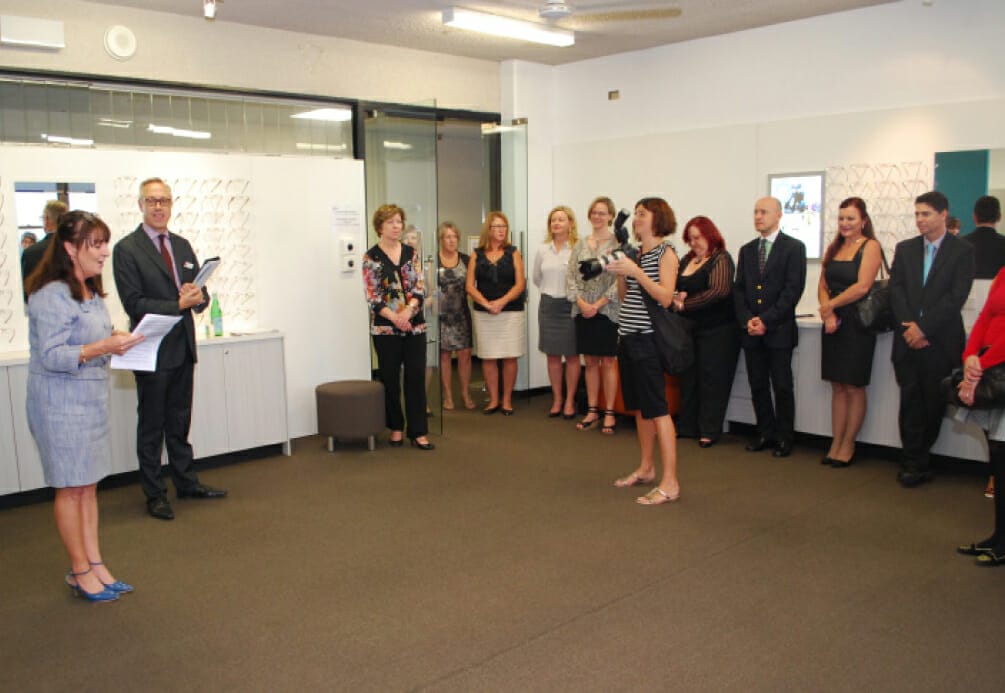 Sydney TAFE has celebrated the launch of new optical dispensing facilities – a retail dispensing show room and a dedicated edging facility – at its Randwick College, saying it is "worth every dollar".
Sydney TAFE Director David Riordan said the new facility was the result of a strategic plan to develop a Randwick Health Precinct, with strong connections to the University of New South Wales and the nearby Prince of Wales hospital. The new facility was opened in March.
Speaking at a celebratory launch, Mr. Riordan said Sydney TAFE had changed the way it delivered optical dispensing education.
He said when licensing of optical dispensers ceased in 2010, many predicted the end of specialised optical dispensing education opportunities.
…contrary to the gloomy predictions, enrolments in optical dispensing have quadrupled…
"About 18 months ago, we had discussions on whether we would continue with optical dispensing," Mr. Riordan said.
The decision to continue with the course was "a decision based on evidence and data" that followed an "enormous amount of consultation and negotiation".
Sydney TAFE this year moved the Certificate IV in Optical Dispensing from its traditional home at the Ultimo College to Randwick
TAFE says contrary to the gloomy predictions, enrolments in optical dispensing have quadrupled. There are currently 24 face-to-face students studying the one year condensed course, with a second cohort starting in July.
"The fact that our enrolments have increased, and that we have moved (the course) from Ultimo… is an indication of our commitment to the industry. Having state-of-the-art facilities such as these is part of what all TAFE students should have," Mr. Riordan said.
The new optical dispensing facility was "part of the strategic growth of the college", he said.
Mr. Riordon acknowledged the support of the industry – and in particular ODMA and ADOA – in establishing the new facility at Randwick.
Synergies
ODMA Chairman Richard Grills also spoke at the launch, reflecting on the changes in the industry since the 1960s, when the first courses in "optical mechanics" emerged.
Mr. Grills said there was "great support" from ODMA for the changes in venue and structure instituted by Sydney TAFE, describing the health precinct as a "great idea" that would lead to the "development of synergies" between allied health professions.
James Gibbins, full-time teacher of optical dispensing at TAFE, said face-to-face students had one full day of study each week plus the option of a second tutorial support day. TAFE also offers distance education with 45 students now enrolled online.
Mr Gibbins said TAFE would soon offer an introductory three-unit online course, designed to suit practice assistants. It would also provide "a taste" for potential students, unsure about committing to the full optical dispensing course, he said.
"We've got a new energy: new staff, new premises; new management who are incredibly progressive and supportive."
He said TAFE had poured "tens of thousands" of dollars into the facility, which had also received "incredible support" from ODMA, ADOA and the Optical Dispensers NSW Education Trust Fund. As well, the course was receiving donations of equipment and products from industry and suppliers, he said.
Enrolment inquiries should be directed to Head Teacher Jennifer Smith on (AUS) 02 9469 8680.