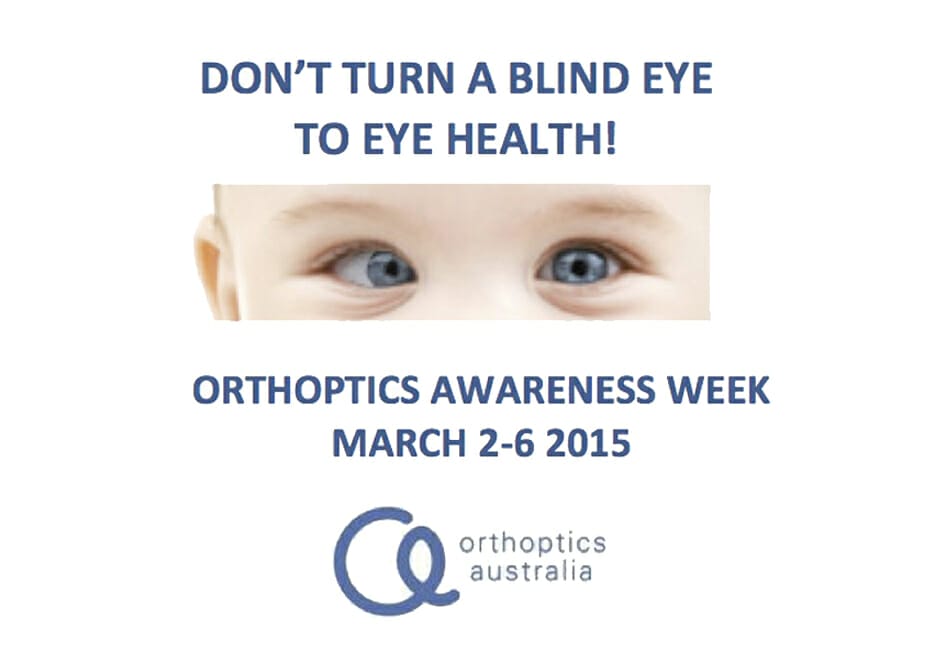 Othoptics Awareness Week March 2-6
Orthoptists in Australia will take advantage of the 2015 Orthoptics Awareness Week (March 2-6) to generate awareness of orthoptics as a profession as well as to promote eye health.
That's because, despite orthoptics beginning in London in the 1920s and the first orthoptist being employed in Australia at The Alfred Hospital in the 1930s, according to Orthoptics Australia, many people still do not understand or know what an Orthoptist is.
There are currently 700 qualified orthoptists in Australia, and Orthoptics Austraila says demand for their services is increasing, as is the scope of their work.
"Although orthoptists commonly work alongside ophthalmologists, recent research has found orthoptists have the necessary skill sets to effectively diagnose and detect an array of ophthalmic diseases such as diabetic retinopathy, cataract, glaucoma and macular degeneration," said a spokesperson from Orthoptics Australia. "This is an exciting time for orthoptists as this new and developing research will no doubt encourage and expand orthoptists' scope of practice to effectively and efficiently run orthoptic-led clinics in the future."
As allied health professionals, orthoptists specialties include eye movement disorders and ocular motility, diagnostic procedures associated with ocular conditions and providing eye care to patients with a range of eye diseases. Orthoptists are able to detect, diagnose and manage a variety of conditions in both adults and children, as well as provide low vision services and rehabilitation. Orthoptics work in a variety of settings including ophthalmic private, public hospital outpatient departments, low vision clinics and orthoptic-led clinics.
A growing level of interest in orthoptics is evidenced by the ATAR for entry to the orthoptics study program at La Trobe University (Melbourne) in 2015, which was 88.20 – the highest it has been. A new orthoptics course will commence at University of Technology Sydney in the first week of March.