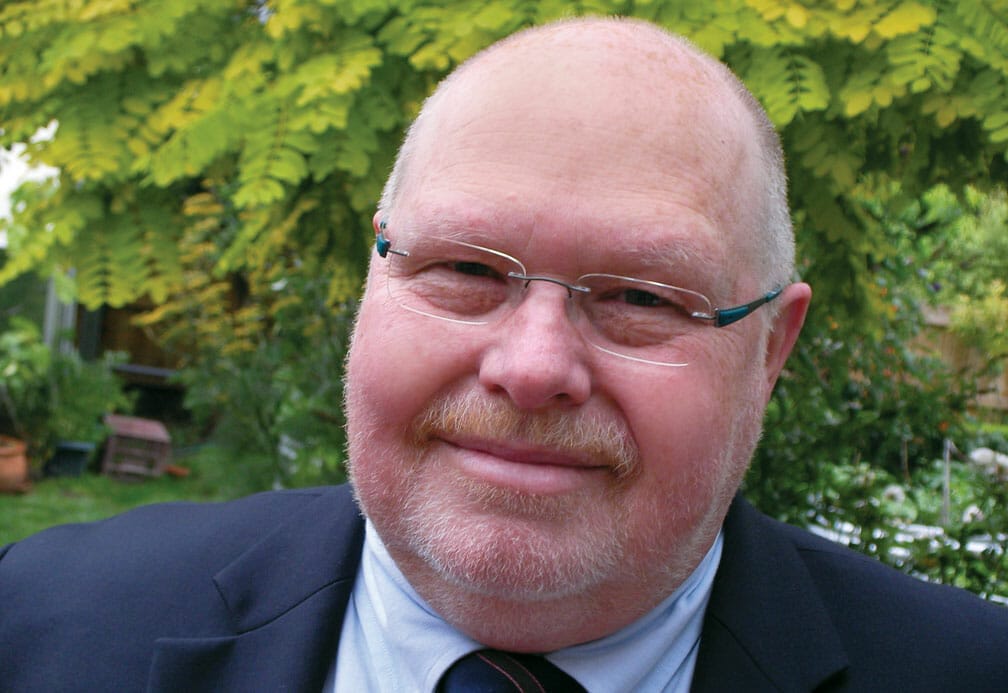 When Micheal Knipe was recently invested as a Member of the Order of Australia for his lifetime commitment to optometry in Australia and overseas, he said it was "unexpected and humbling". He is likely to be the only one in the profession who was surprised by the recognition – after all, Micheal's contribution to the region's eye health is nothing short of exceptional.
There's never a dull moment in the life of Micheal Knipe AM. When I caught up with him, it was via email and phone, as he commuted between East Timor and Sri Lanka, via his home town of Hobart. He was looking forward to (briefly) catching up with family members and colleagues from his practice, Total Eyecare Optometrists.
The optometrist, business manager and eye health volunteer lives and breathes matters of health and personal justice. His wife, Caroline, is a senior radiation therapist at the Holman Clinic, Royal Hobart Hospital, and past board member and treasurer of the Australian Institute of Radiography. Their son Henry works as a radiology registrar and daughter Elle, a registered nurse, currently resides in Sweden. Then there's Sophie who works as a legal advisor in East Timor.
Sophie's station in Dili is fortuitous because Micheal spends plenty of time up there himself, working with the East Timor Eye Program (ETEP), which was founded by Dr. Nitin Verma in 2000 to restore eye sight and improving eye health in Timor Leste.
I didn't think that people were paying any attention to what I had been involved in over many years
The most common eye problems in Timor Leste include refractive error, cataract, vitamin A deficiency and trauma. While these problems are all either preventable or treatable, the most significant hurdle has been access to trained eye health professionals.
The East Timor Eye Program, Micheal included, is training local doctors, eye care nurses and eye care technicians and providing outreach services to five districts.
Micheal said his role in ETEP has evolved over the years and been the source of enormous personal satisfaction. "Initially I was asked for support by Dr. Nitin Verma. My practice funded an optometrist to participate in one of the visits. Seeing how profoundly my colleague Andrew Maver was affected by the experience,
I approached ProVision for ongoing support. ProVision members rose to the challenge not only providing resources but many ProVision optometrists volunteered their time and expertise to help.
"In time, Optometry Giving Sight became ProVision's charity of choice and ProVision members donated to Optometry Giving Sight who in turn funded the continuing effort in Timor Leste.
"Until 2006 my role was one of support behind the scenes. Then I began to participate in the eye team visits and more recently I have been involved in administering the ProVision Optometry Team Program that operates within the coalition 'East Timor Eye Program'."
Having started from 'ground zero' – with no trained personnel, no facilities and a non-existent infrastructure – Micheal said ETEP's achievements have been considerable.
"Now there are trained primary and tertiary eye care personnel with more in the pipeline. A national eye centre has been established at the national hospital in Dili and there is a network of vision centres throughout East Timor, staffed by trained East Timorese, and supported by visits from the national eye centre. Progressively, equipment has been provided and people have been trained to use it. There are now a number of locations in Dili where people can obtain spectacles. Spectacle supply outside of Dili is still very restricted and efforts are ongoing to address this."
A Way of Life
On a personal level, Micheal said volunteering has become a way of life. "Volunteering wasn't and isn't a conscious thing. I was asked and, at the time, I could contribute so I thought why wouldn't I? After a while it developed a life of its own and my involvement has just continued.
"The saying that you get more than you give is very true – I feel I have certainly gained more than I have given… To be blunt it feels good to help, people are often generous and kind to you and the recipients of my help are often very grateful.
"I get enormous satisfaction in seeing those I've helped develop and succeed. I get a buzz from seeing something that was only an idea come to fruition and actually work. And I like the idea that in the near future I and the ETEP will no longer be needed as the East Timorese become self-sufficient.
"Along the way I've met some great people and developed some deep friendships. Priceless! So I give my part-time attention and provide my experience and knowledge and I get all those things in return… This is all about what you value."
Practice in Hobart
It's interesting to discover, when you take into account the lifetime of service Micheal has dedicated to eye health, that optometry was an accidental occupation.
"I didn't know what I wanted to do when I left school but I was interested in science subjects," he said. "I enrolled in first year optometry with limited knowledge of optometry but with the idea of transferring out to a broad based science degree if I had a change of heart. That never happened and I continued in optometry."
Running his own practice, on the other hand, was always firmly in mind and so, having graduated with a Bachelor of Optometry (Hons) in 1977, he moved from Cessnock to Tasmania to join Ken Iredale and Brian Sims in the independent practice Total Eyecare Optometrists.
"My plan was to be in Hobart for 12 months then move on, without any clear plan about where I would end up. Anyway some 38 years later I'm still in Hobart! I've not regretted staying here. I have enjoyed the opportunities and lifestyle Hobart offered. My optometry colleagues were very welcoming and supportive. It was a great environment for a new and then not so new graduate."
Micheal continues to work with Total Eyecare as a partner, director and "fiercely independent" optometrist. Additionally, he is a senior optometrist at the Royal Hobart Hospital Eye Clinic. He said over 38 years in practice, the changes he has seen have been tremendous. "From not having access to diagnostic agents to now routinely prescribing therapeutic agents… from a direct ophthalmoscope, retinoscope and refractor head to digital imaging, OCTs and corneal topographers, I am now able to offer my patients better outcomes that improve their quality of life.
"Even practice systems are unrecognisable – we've gone from patient cards to a paper free clinical system with remote access to clinical data across a dedicated local area network. We now have fewer staff involved in administration and more involved in patient care."
Lauded and Awarded
Micheal Knipe's achievements and commitment to optometry have been widely recognised with awards that include Optometry Giving Sight's Chairman's Award and the Certificate of Merit from Optometry Tasmania. In 2011 he was inducted into the Cessnock City Hall of Fame and on Australia Day 2015 he was invested as a Member of the Order of Australia. Ever unassuming, he said the awards surprised him because he didn't realise anybody had noticed what he'd been doing.
"Being inducted into the Cessnock City Hall of Fame felt awkward! It was genuinely given and with great sincerity. It's hard not to be touched by such generosity. But it was worth it for the joy and happiness displayed by my folks and wider family who still live in Cessnock… I'm amused when people don't believe that there is a plaque in Cessnock's main street in my honour. It's very funny to watch. One friend even hopped in a car and drove from Sydney to Cessnock just to make sure he wasn't being conned!"
When he found out about the Member of the Order of Australia honour, Micheal said he experienced a number of mixed reactions. "I was happy, awkward (again) and proud. I didn't think that people were paying any attention to what I had been involved in over many years. For people to be aware of it and then have others agree was special.
"I'd like to make the point that I could only have done those things with the example and support of my family – my wife, Caroline, and children. There were times when I just wasn't at home when I really needed to be. I need to acknowledge their support and sacrifices.
"Then my optometry partners. What a generous lot they have been and continue to be! Such a fantastic group of colleagues! I am very fortunate to have a supportive and loving family and to have optometry
colleagues who share my values and are prepared to add their material support. Then there is the wider community: many, many people in optometry and optical companies have been fantastic in giving encouragement and support."
Moving into the Future
Having achieved so much, Micheal said there remains plenty to do and despite often being asked, he has no plans for retirement. "Just about every day I get asked when I'm going to retire. Do I look that old and tired or are people desperate for me to move on?
"A few years ago my youngest daughter had her photo in the local newspaper – it was a good photo of three young, happy attractive ladies. The occasion was her school leavers' dinner. On the day it was published I was in a coffee shop and a fellow came up to me, took me by the elbow and said 'I just want to let you know that it's a lovely photo of your granddaughter in the paper'. In my shock I thanked him and left without my coffee! And that was years ago.
"All factors being as they are now, I expect to continue in private practice as well as specialist optometry clinics at the Royal Hobart Hospital. I may reduce my hours in the coming years but I'll make a decision about that at the time."
In the meantime, he said he has ambitious hopes and aspirations for the profession as a whole. "I'd like to see the profession, through Optometry Australia, more involved in building the eye care capacity in the region. Several organisations are very committed and active. Optometry Giving Sight and the Brien Holden Vision Institute stand out but there are others. They are involved in service delivery and training. I also think there is a role in encouraging a self-sustaining framework within those countries that unify and allows eye care workers to support and encourage each other."
Ever on a mission to improve the region's eye health and his own capacity to help, Micheal was gearing up, as we spoke, to head to Sri Lanka to participate in an optometry study tour. "Apart from experiencing Sri Lanka I'm interested in how they provide eye care, spectacles and their training programs. If I'm lucky there may be lessons that I can return with and apply elsewhere," he said.
All in a Name
No it's not a typo, Micheal really is spelt Micheal, a little trick he said his parents played on him that continues to plague him today.
"There's probably a reason why a parent should never get 'original' when naming their children," said Micheal. "It's caused me no end of grief. Half my 'official' documents are 'eal' and half 'ael'. I think people are either blind to it or just assume I don't know how to spell my name.
"In hindsight I should have just changed it to 'ael' years ago. It would have saved me so much time. My folks would have been upset though which is the reason why I haven't… It's not something I'm sensitive to and it doesn't worry me either way."
Whew! I know I've made the mistake often enough.