Eye care practitioners and patients alike are faced with a plethora of spectacle lens design choices. Making the correct decision through informed choices is critical for a number of important reasons.
Hi, my name is Alan and I'm a presbyope. This may sound like an introduction at an AA meeting and indeed for some presbyopes, admitting to and dealing with the condition seems almost as hard!
Although modern progressive lenses are quite fantastic in their technology, design and function they still have their limitations. Over the years I've seen hundreds of unhappy patients who've come to see me for the first time, citing dissatisfaction with their current progressive spectacles and by association, their previous practitioner or provider.
Their reasons can usually be distilled down to a few items. Many are frustrated by the narrowness of their field of vision stating that they can only see a very narrow part of their computer screen or document. Some mention that their monitor appears distorted, curved or twisted, while others state that some parts of the screen are clear while other parts are fuzzy. Quite often we also hear complaints about posture and associated sore neck or back, or having to lift their chin, requiring them to gaze through the very lower edge of their spectacle lenses to see anything clearly.
It astounds me that many optometrists and dispensers don't seem to get the concept of recommending and prescribing additional 'office' lenses
It's Astounding
I can't think of anything better than Riff Raff's lyrics from the legendary Rocky Horror Picture Show, 'The Time Warp' to address some of these issues so let's get to it;
"It's astounding,
Time is fleeting,
Madness takes its toll…
But listen closely,
Not for very much longer…"
It astounds me that many optometrists and dispensers don't seem to get the concept of recommending and prescribing additional 'office' lenses or as I prefer to call them, 'occupational lenses'. In the absolute majority of cases, bar the very rare and occasional patient, occupational lenses solve the majority of problems that patients experience. They often provide the 'wow factor' we all seek when dealing with patients and cement that all important 'patient for life' relationship we need.
The financial benefits are also considerable, often leading to two or more pairs of quality spectacles with high end occupational lenses, as well as the necessary anti-reflection and blue blocking filters. Patients will often tell you how you have solved their neck and back problems while saving them considerable money on physiotherapists, osteopaths and chiropractors. Importantly, these professionals will often become great referral sources, as do the patients, who tell their colleagues in the office how you not only 'fixed' their eyes but their neck spasm too!
To me it seems mad that optometrists and dispensers miss this golden opportunity to discuss such options that are a win-win-win for all concerned.
Time is Fleeting
I was taken aback last year when a dispenser co-owner of the practice I was working in told my colleagues they should take a leaf out of my book! She explained how my patients were very well informed. When handing over for dispensing it was so much easier and time efficient in that they were already convinced they needed an occupational lens and special coatings, in addition to their general progressives and some dedicated sunglasses too.
Listen Closely
It doesn't take much to pay attention to your patients – both in what they say and by observing their posture. If they are lifting their head and peering through the lower part of their spectacles to read, you know straight away they probably have a long channel generic progressive that is ill suited to even the most basic near vision tasks. You may also observe them sitting in your chair rubbing their neck or shrugging their shoulders trying to get rid of their postural tension. Of course listening to what they tell you in the case history and the course of the examination is often very revealing. They will often tell you they can only see a tiny part of their spreadsheet or that they have multiple monitors and that it's driving them crazy through frustration.
Not for Very Much Longer
I won't keep you for much longer, I promise.
In essence many such lenses are what I like to regard as 'degressive' lenses. Essentially the designers have removed the 'distance' part of the lens, allowing for a much wider field and a smoother change in near addition, while minimising distortion. The lens essentially starts with the full add in the lower portion of the lens while very gradually 'degressing' to a lesser add, allowing for more intermediate vision at, for example, the typical 55–80cm range that most people use for viewing their monitor.
Skilled prescribers and dispensers can also tweak the heights and lens designs to suit individual screen heights and monitor positions, while allowing for taller or shorter people who have different postural needs. Some use specialised measuring instruments to aid this process. Some of the manufacturers use sophisticated manufacturing processes to individualise the lens form based on such things as the patient's age, posture, pantoscopic angle, head position and so on.
Today specialised progressive lens designs and trifocals as well as those for pre-presbyopes – tailored for digital devices and the alleviation or asthenopia – are also classified as occupational lens designs.
I guarantee that if you increase your prescribing of occupational lenses, you, your staff and patients will all be a lot more satisfied and your accountant will give you good news at your next financial review!
Occupational Lenses: A Boon for Tired Eyes
Bonastar
Bonastar has several solutions for patients who spend a long time at work where their visual tasks are predominantly based around near or intermediate tasks.
Digital Office provides users with more freedom of movement in the office with no need to change glasses for different tasks. It provides a smooth transition from intermediate to near vision. Besides, it can offer up to four metres of distance vision as well.
AFPro is designed for single vision wearers under age 45, who complain about tired eyes at the end of work days. The new anti-fatigue progressive technology provides variation in power in the near zone. This assists the normal binocular function of eyes during work with computers, relieving patients from digitally induced eye strain and other visual stress.
Both Digital Office and AFPro lenses can be prescribed with blueEase coating, which blocks out UV and the harmful blue-violet light, while allowing beneficial blue-turquoise light to pass through.
Eyezen digital screen protection lenses are created by Essilor and designed to reduce eye strain. Eyezen is now available from Bonastar.
Contac:t Bonastar (AUS) 02 9310 1688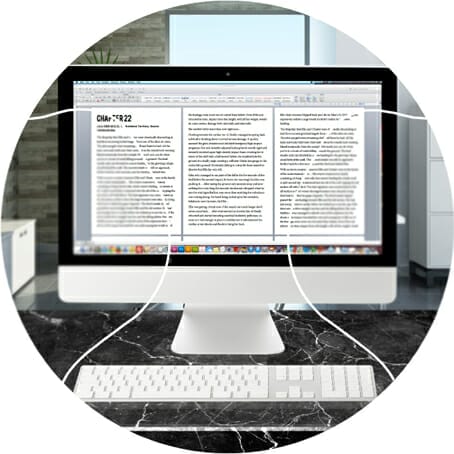 CR Surfacing
The Signature iT is the next generation occupational lens delivering unparalleled near vision performance in both office and classroom environments. The proprietary design of the Signature iT gives the practitioner the freedom to prescribe the correct amount of digressional power to suit and customize it to the individual needs of the patient.
Contact: CR Surfacing (AUS) 03 9878 7599
Essilor Eyezen
Eyezen is a new, innovative, 'digital screen protection lens' designed to reduce stress on the eyes from digital screens. It introduces a new range of prescription and stock lenses with two new, exclusive technologies; Light Scan and Eyezen Focus.
Eyezen focus technology features an enhanced lower portion of the lens, designed to ease eyestrain caused by close reading distances and viewing fine text on handheld devices. Eyezen's light scan technology allows for the filtering of 20 per cent of harmful blue-violet light emitted from digital screens. The new WAVE technology (Wavefront Advanced Vision Enhancement Technology), which is used in manufacturing the Eyezen Rx range, identifies and eliminates all distortions, whatever the wearer's Rx. Eyezen lenses will provide comfortable, relaxed vision in front of screens throughout the day. Contrast is enhanced on digital screens regardless of brightness, eyes will be protected from blue-violet light emitted by digital screens and sharp, clearer vision will be restored in all directions. Targeting digital users aged 20 to 40, Eyezen is a perfect value option to trade up from single vision designs in this digital age. Now available in clear, Transitions, and a wide range of stock and Rx options.
Contact: Essilor Account Manager

Essilor Varilux Digitime
Varilux Digitime is the perfect solution for modern presbyopes, allowing clear vision for all digital activities, while maintaining comfortable posture and visual freedom beyond standard reading or progressive lenses.
An Essilor consumer study on digital behaviour and visual impact found that 75 per cent of interviewees suffer from visual fatigue, 67 per cent felt that digital screens require additional effort to see, and 70 per cent complain about neck and shoulder pain.
Using digital devices results in specific downgaze when using tablets and smartphones and specific working distances when using these devices.
To match these demands, two innovations have been built into Varilux Digitime:
Ultra Near Vision – gives additional power below near vision to match the focus required for digital devices.
Screen Distance personalisation to individualise the lens design to the wearer's specific screen activities.
In addition to Rx distance and add, monocular heights and PDs, measure the screen distance and select the appropriate style from near (computer + phone and tablet, mid (computer + around the desk), or room (computer + across the room).
Contact: Essilor Account Manager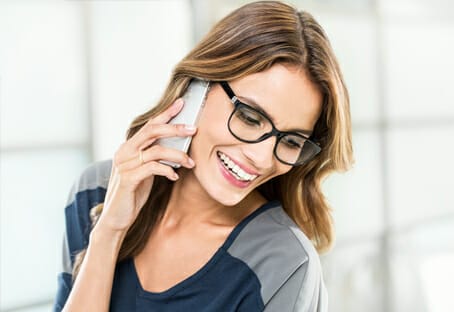 Hoya
When peoples' accommodative systems are working overtime due to the amount of time spent in front of screens, even emmetropes can benefit from some assistance in reducing the amount the eyes have to accommodate.
Children and young adults through to pre-presbyopes will benefit from Dynamic Sync which is designed to relieve the symptoms of Digital Eye Strain via a small near boost in the lower portion of the lens.
For presbyopes, we can offer incredible customization to the individual's working conditions through iD WorkStyle V+ Space, Screen and Close.
A key feature of the iD Workstyle V+ Space, Screen and Close designs is Hoya's patented Binocular Harmonization Technology which performs individual calculations, ensuring the correction is appropriate at each point of the lens and exactly measured according to the needs of each eye.
In today's screen-based society, both at work and home, many people even those with mild cases of anisometropia can benefit from binocular harmonization due to heavy near demand on their eyes
iD Workstyle V + Space, Screen and Close have customisable fitting values to ensure each individual's work space is part of the lens design.
Hoya Sensity light reactive and Diamond Finish BlueControl Coatings combined with these advanced lens designs provide a solution for all age groups to reduce Digital Eye Strain and to mitigate the effects of blue light.
Contact: Hoya Account Manager

Rodenstock
It is now rare that one simple vision solution is acceptable. There are many different visual solutions available for virtually all occupations. Amongst the Rodenstock solutions are a series of vocational lenses called 'Ergo'.
The Ergo Book extends the focal length of a near add by about 40cm. The obvious use is for working at a desk on a laptop or tablet as the widest working area is in a head down position. However, also consider tradespeople working in a confined environment, needing to work overhead and needing a high add. Consider an electrician or plumber working in a cabinet, who now needs a +2.50D add but requires a greater working distance than that add provides in single vision designs.
The Ergo PC provides the widest field of view for a lens at a computer working distance. It is ideal for office workers who use a desktop computer as it allows for an ergonomically correct head position for prolonged PC work.
The Ergo Room is an 'indoor progressive' lens that allows clear vision up to four meters, whilst having large useable areas for intermediate and near work. This lens is ideal for an office worker who is mobile and needs more than just a 'desk distance'. It also suits reception, restaurant and shop workers and is an ideal replacement for single vision reading spectacles: Ask the question, "Do you want reading spectacles that allow you to see across the room"?
Contact: Rodenstock Account Manager

Zeiss
Zeiss Office Lenses provide better vision and more comfort at work. Not every lens allows relaxed and clear vision for people who spend a lot of time in enclosed areas, such as working in an office or doing tasks at home. Unsuitable lenses can constrain vision and can cause symptoms such as tired eyes, eyestrain, headaches, neck and back pain.
Zeiss Office Lenses are designed for indoor use in situations where near to intermediate vision is important. Maximum Intermediate Distance (M.I.D.) technology allows you to customise the necessary intermediate viewing distance as required by your patients, ensuring more of the lens can be used, giving your patients the best visual performance in their workplace.
According to Zeiss, these office lenses provide:
Relaxed vision for improved natural head and neck posture while working long hours with digital screens
Zeiss Digital Inside Technology provides optimised vision for a dynamic, multitasking, digital lifestyle and frequent device usage
Zeiss DuraVision BlueProtect can help to reduce Digital Eye Strain.
Contact: Zeiss Account Manager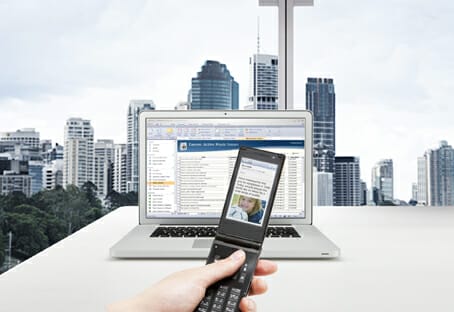 Nikon
The Nikon e-LiFE series offers a range of choices to accommodate specific needs induced by the increased usage of digital devices.
For presbyopic wearers, DigiLife is a generalist progressive lens design, which offers a wider intermediate vision zone for computer users. As a primary multifocal, it is suitable for indoor and outdoor activities, including driving, for seamless far to near vision.
For intermittent wear, Nikon offers two extended focus lens options.
H&O (Home & Office) is designed for indoor activities, and favours intermediate vision
Soltes for near at hand activities
For non-presbyopic wearers, Relaxsee is designed for those who read and work with close-up materials extensively.
All e-LiFE series lenses are proposed with Nikon Seecoat Blue UV premium coating, which enhances contrast on digital screens, reduces level of high energy blue light and provides full UV protection.
Contact: Essilor Account Manager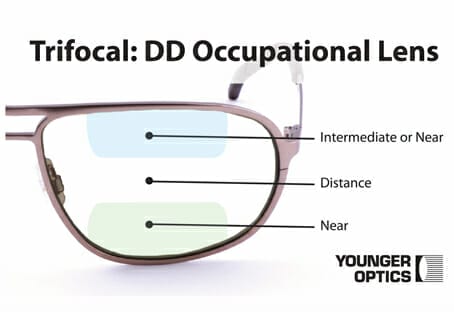 Younger Optics
When we talk about vocational lenses, we automatically think of sitting in front of a computer screen. However, there are many other occupations that don't involve extended screen time but have similar specialised visual requirements.
The DD Occupational Trifocal lens is manufactured by Younger Optics, the experts in speciality lenses. The flat top 28 lens features a D-shaped bifocal segment at the bottom of the lens and an upside down D-segment at the top of the lens. The bottom of the lens is for near vision, with the top of the lens for near or intermediate vision. The remainder of lens surface provides correction for distance vision.
Examples of professions that benefit from a DD Occupational Trifocal lens are mechanics, pilots, professional painters, carpenters, and clerks or librarians. Presbyopic mechanics need to look down to read or write, but also repeatedly look up at the car undercarriage. Pilots look at overhead controls, painters continuously look up when doing ceilings or cornices, carpenters also work overhead and clerks or librarians frequently file or read items overhead.
Contact: Younger Optics (AUS) 08 8241 9800