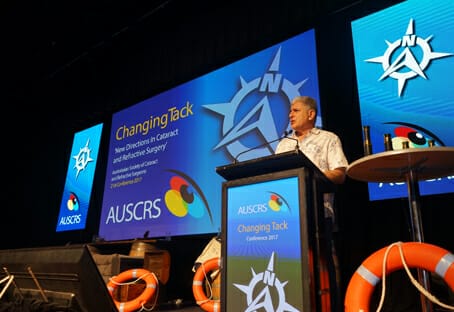 The 21st Annual Conference of the Australian Society of Cataract and Refractive Surgeons (AUSCRS), took place at the fabulous Hamilton Island from 2–5 August 2017.
Twenty-one years is a coming of age for AUSCRS – one to be celebrated – and it was with a nautical theme and pirate flavour.
The focus of the 21st AUSCRS conference was relaxed learning and collaboration, with everyone on first name terms. There were twin tracks for doctors and support staff, as well as shared sessions. The meeting was well attended by 121 ophthalmologists, 61 support staff and 92 industry supporters.
Inspiration
A high impact session delivered by Sam Bailey opened events for support staff. Mr. Bailey was injured in an accident, resulting in life changing quadriplegia. He shared how he was able to return to farm life, drive tractors and learn to fly a micro-light plane. His next goal is to be the world's first quadriplegic helicopter pilot.
Mr. Bailey shared the highs and lows of his journey over the past thirty years and how he went on to become happily married, write inspirational books and become an acclaimed public speaker. It made us all appreciate what we have and the power of the human drive to overcome obstacles and achieve dreams.
In the doctors' session, invited speaker and world authority, Dr. Sri Ganesh presented the AUSCRS Gold Medal Lecture on the latest in ReLEx Small Incision Lenticule Extraction (SMILE) surgery. He suggested surgeons take the time to look beyond LASIK to consider the clinical advantages of SMILE surgery, which he described as an "elegant, short procedure" that is minimally invasive. He said over five years he had performed SMILE on nearly 7,000 eyes. He said patients treated with SMILE experience less dry eye, with better biomechanical stability, excellent long-term stability and less spherical aberration compared with LASIK.
Rapid-fire sessions gave each of the sponsors, among them platinum sponsors Alcon, B+L and Zeiss, the opportunity to share their key areas of specialty, while an in depth session dealt with the perfect storm of complications associated with SMILE. Dr. Michael Lawless, the first Australian invited speaker at an AUSCRS meeting, shared his experience of managing a SMILE surgical procedure when a loss of suction compromised the situation. He terminated the procedure and in consultation with Zeiss, repeated it three weeks later, by creating a new access cut. A good outcome was achieved. He said, "SMILE is the most exquisite, beautiful procedure". A calm, educated approach finally led to a good outcome.
Dr. Dean Corbett from Auckland NZ, home of the America's Cup, detailed the case of a toric multifocal IOL that was decentred by a haptic encroaching on the angle. He went in to remove the IOL and perform a lens replacement. While removing fibrotic tissue, he noted that it modified the positioning of the lens, created perfect centration and the case resolved with an excellent outcome. The point Dr. Corbett made was that sometimes, less is more. He noted one should be ready to manage complications as they arise, without letting adrenaline panic set in.
Dr. Yuri McKee, a former F115 fighter pilot from the USA told the story of noting problematic zonules while performing a seemingly routine IOL procedure. He removed the nucleus and capsule, as there was no zonular adhesion and inserted an IOL, stabilised via the scleral tunnel technique. He showed how a surgeon can bury the haptic in the scleral tunnel to stabilise the IOL, without suturing and long-term complications. An elegant procedure avoiding more complex suturing rings, hardware in the bag and so on. Dr. McKee demonstrated how a multi-talented surgeon, who can also perform vitrectomies and the like, can enhance long term outcomes and minimise repeat surgeries.
Dr. Detlev Beyer from Germany shared the case of a patient he called "Diederich ze German". Recognising the patient's picky nature, he tried to talk him out of a multifocal (MF) IOL. Despite this advice, the patient, who had a low-grade corneal dystrophy, wanted to go ahead with a MF IOL and he used a trifocal design with a good outcome. Dr. Beyer made the point that patients with night-time scotopic vision issues should avoid a diffractive IOL and rather go for an EDOF (extended depth of focus) low add, trifocal IOL.
In a similar vein to the 2016 AUSCRS conference, significant discussion and debate arose over SMILE vs. LASIK and regarding the choice of monofocal IOLs, EDOF lenses and multifocals.
The majority consensus was that IOLs must be chosen to suit the patient; EDOF trifocals seem to be the best choice with less photic phenomena; there's increasing demand from modern patients to be 'spectacle free' post IOL surgery but top up spectacles may still be needed.
Dr. Jagadesh Reddy from LV Prasad Institute in India discussed epithelial ingrowth resulting from LASIK and various management strategies and techniques including flap lift/scrape, flap amputation, Femto-Assisted Anterior Lamellar Keratoplasty (FALK), replacing the flap with donor cornea and the challenges that arise. He concluded that lasers can fix lasers!
Foresight and Hindsight
A panel session, at which contributors discussed the most impactful innovations in technology, was enlightening.
Legendary AUSCRS President, Dr. Graham Barrett chose phacoemulsification as having the biggest impact. It was interesting to note that phaco celebrates its 50th year since being developed. Dr. Barrett is also the creator of the Barrett IOL calculator, which is now internationally regarded as the most accurate for calculating IOL powers.
Dr. Detlev Beyer chose the femtosecond LASER and Dr. Mark Lawless chose imaging systems as the most impactful. Dr. Yuri McKee picked MIGS (minimally invasive glaucoma surgery) as having the biggest impact for its major improvement over previous methods of IOP reduction. Although primarily a cataract and refractive surgery meeting, other speakers shared a variety of stent procedures, trabeculectomy, canaloplasty and other techniques and combinations for managing IOP.
High definition (HD) surgical displays, virtual reality (VR) surgery via headsets and other remote and robotic surgeries were also discussed. Currently latency is an issue with such HD video systems; quality optics and systems are still critical to virtual 3D video systems.
the bottom line is to listen to your patients
A Dry Subject
When the panel discussion switched to dry eye, Dr. Barrett said, tongue in cheek, "don't you want to be surgeons?"(rather than being focused on treating dry eye). However he, and numerous other presenters, reinforced the necessity of a stable ocular surface, functioning as well as possible, before biometry is done because a poor tear film can have major impacts on biometry and IOL outcomes.
Intense Pulsed Laser (IPL) was discussed for managing ocular surface issues such as meibomian gland dysfunction.
Co-founder and organiser of AUSCRS, Dr. Rick Wolf, mentioned that eye drops were typically used for mild cases of dry eye, but questioned their benefit. He suggested pre-treating LASIK patients to pre-empt and minimise post LASIK dry eye. Dr. Yuri McKee, who practices in hot, arid Arizona, said with 100 per cent of patients there having dry eye, he uses a variety of methods to routinely treat before surgery. Various others thought this was potentially a good idea but noted that blanket treatment is not yet the norm.
Fine Tuning
Using the best modelling systems and toric IOL calculators were also considered as having a massive impact on improving post surgical emmetropia or the targeted end points. The panel felt you would be hard pressed to find more bang for your buck than from toric IOLs. Australia is a world leader and user in the field but toric IOLs are much less popular in Europe, the USA and NZ, for example.
Dr. Dan Black shared using markers to enhance toric IOL alignment. Ink marking was considered the gold standard until 2014 but since then iris recognition alignment was considered superior. Such digital systems shone, allowing greater accuracy and higher probability of having 0.50DC or less residual.
Friday morning kicked off with the traditional AUSCRS no-holds-barred session 'Head to head, over the top'. This was an arm wrestle where each presenter could say what they like about their colleagues or manufacturer's products. It focussed on their favourite bifocal, trifocal or multifocal lenses.
Dr. Joe Reich kicked off. The incidence of glistenings seems to be on the decline due to better material (surfaces) and lens designs. Zeiss LISA was the only non blue-block lens of those he discussed, so those paranoid about the effects of blue blocking on biorhythms could use this. Those concerned with blue light damage to the macula would choose one of the blue-block lenses. Dr. Barrett compared it to the antivax debate.
Dr. Reich showed that there's not much difference in the focal range among the IOLs discussed. Hydrophilic IOLs are more likely to discolour or opacify, especially if gas is put in the eye. They should, therefore, be removable. The design/material may limit the successful ability to do this after a period of time.
Dr. Zoltan Nagy from Budapest covered a hydrophobic trifocal IOL with no glistening issues. He said good visual range was possible with this lens; the FineVision EVO vs. FineVision had similar profiles, good contrast sensitivity and results and were better than previous generations.
Dr. Anton van Heerden representing Zeiss, covered the Zeiss platform evolution based on its plate haptic, square edge design, which provides a good, stable range of vision. The panel noted that hydrophilic IOLs rotate more than hydrophobic IOLs.
Why use a trifocal? Range of vision is the key reason in those wanting to be relatively spectacle free. The panel stressed that the bottom line is to listen to your patients.
Dr. Reich was voted the best presenter in this session.
In the next session Dr. Suman Shree from India discussed the impact of 'Lean Thinking' – a method to speed up processes, reduce waste and increase efficiency. She showed how this had improved her practice's surgical outcomes and refractive endpoints.
Dr. Sri Ganesh shared his experience on the receiving end of refractive surgery for presbyopia, as a patient. He decided on Presbyond because its easily adjustable and reversible. Presbyond is a laser refractive surgery procedure using a fine-tuned form of blended vision. He's happy with the result, with a reading range of 20cm to 80cm and emmetropia in the other eye. Over time he now has less haloes and rarely uses spectacles.
Dr. Minas Coroneo discussed FLAPS (femtosecond laser assisted pterygium surgery) while Dr. Oded Hauptman shared the need to avoid neurological surprises. Use of fields, magnetic resonance imaging, optical coherence tomography and other tools were shared.
Interestingly, Dr. Kate Clezy showed that povidone iodine was not always sterile and one should be concerned as iodine was often syringed onto the eye from the prep! Specialised sterile forms of povidone iodine should only be used, and pharmacy compounded syringes of iodine are a recommended option.
21-Up
21-Up was a session where ophthalmologists could share some of the techniques they've used in the 21 years of AUSCRS and how things have evolved. Intra capsular cataract extraction (ICCE), rendering patients aphakic, was still being done when some of the surgeons qualified. In 1996 astigmatism was the thing to consider, as was how to reduce it in cataract surgery.
Presenters shared an amazing review of various procedures used, including all sorts of now defunct instruments. Astigmatic Keratectomy (AK), epikeratomileusis (lathing tissue and suturing this back onto the cornea), early, microkeratomes, phaco, fluidics and other things were shared. They showed how far we have come and how elegant modern IOL surgery is.
Success fatigue and compassion fatigue were covered by Dr. John Kennedy.
Excellent outcomes, few complications and a degree of complacency could lead to success fatigue. The biggest challenge is looking after the patient, yet chronic stress and burnout are an increasing issue.
Future Trends
Dr. Michael Lawless peered into the future and reviewed forthcoming trends in refractive surgery. He mentioned new and rehashed versions of wavefront laser refractive surgery and SMILE being tweaked, as there's a need for aberration controlled options and iris locking to control astigmatic axis due to cyclorotation. He noted that demographics guides decisions. A new boom of refractive surgery patients in their late 30s has occurred in Sydney in the past year or two, which relates to census data – it has been linked to Chinese immigration.
Dr. Lawless predicted that the use of pinhole IOLs will increase and said Zeiss is positioned to disrupt the status quo in coming years with new technology. Nano-laser may be the basis of cataract surgery down the track, and new true-accommodating IOLs – Powervision/FluidVision and others – will change cataract surgery and presbyopia.
He feels that 'replaceable optics' IOL systems won't take off as they require a second surgical procedure and surgeons try and avoid that.
Dr. Lawless also spoke about electro-accommodating CLs and IOLs currently being developed. He said liquid crystal IOLs triggered by ciliary body action, picked up electronically and transferred to the IOL, will be a breakthrough.
Meanwhile, the ability to 'grow your own lens' from equatorial stem cells in the lens capsule has been demonstrated but clinical application is likely some years away.
He went on to label new patents describing integrated 'ocular-smart' implants, with a camera connected to the Internet via IOL implantable chips, and spoke about a sequential, dropless, immediate surgery with a 'just in time' philosophy coming to the fore, with optional postop visits! These are done on the same day as diagnosis with no scheduled follow-up.
Robotics and AI (artificial intelligence) can be scary and again, Zeiss is leading the field in robotics, which may make surgeons better due to finer motor control. Dr. Lawless cautioned, it could also render them obsolete.
In Closing
Dr. Andrea Ang gave some good tips on making the correct decision regarding toric vs. spherical IOLs, post corneal transplants, so as not to end up with a complex refractive surprise and nasty residual astigmatism.
Dr. Sri Ganesh presented 'Initial results with an innovative capsule fixated swivel IOL'. He developed a swivel IOL after placing his motorcycle on its swivel stand. These IOLs use 'hinged, swivelling PMMA location clips' that are rotated radially to the IOL and placed over the capsule at the edge of the rhexis. They are stable with no decentration or tilt, with no patient reports of glare, haloes, reflections or negative dysphotopsia. These IOLs are easy to manufacture with a simple design and can be used with various IOL materials.
To close AUSCRS 2017, surgeons shared their surgical videos in a competition for the 'AUSCRS Film Festival Trophy'. Many of the videos related to scleral tunnel fixated IOLs based on the Yamane technique. The deserving winner was Dr. Jacqueline Beltz from East Melbourne.
Credits
All in all, for those seeking a relaxed conference with superb presentations from local and international leaders in cataract and refractive surgery, the annual AUSCRS conference is the place to go.
Hats off to AUSCRS founders and programme organisers Dr. Graham Bennett and Dr. Rick Wolf who, along with conference organiser Jenny Boden and her amazing team from Corporate Communiqué, 'Events Outside the Square', have excelled over the past 21 years.
Here's looking forward to the 22nd AUSCRS in Noosa, October 2018.