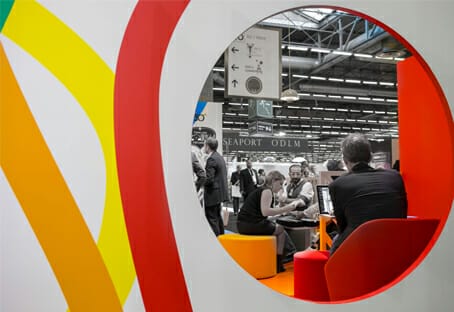 As Silmo Paris celebrated 50 years of history, the emphasis was on the future with many eyewear brands showcasing innovative technology incorporated to differentiate their frames.
There was a solid balance of acetates and metal frames on show at the 50th Silmo Paris in October, with noticeably more metals than in previous years and a strong emphasis on technology.
The boundaries of shapes, structures and finishes have been pushed. It was common to see frames within frames (mixing metals with acetates), hexagonal and triangular shapes, perfect rounds and increasingly, ovals.
In the main, tones were more muted than before yet still strong and acetate finishes were more complex with some brands experimenting with tumbling and minimal polishing to create a more industrial look.
We started with an eye catcher piece to explain the concept and from there, created more every day easy wearing frames
All About the Hinge
Many frame designers have been exploring new technologies, most noticeably in the hinge. Guillaume Thuau, founder of French eyewear Baars, has pursued magnets. "We focussed on the hinge because that's where all the issues come from – they break, they get loose, you lose the screws. We've replaced it with an incredibly powerful magnet that's warrantied for 100 years." said Mr. Thuau. He's now working on a variety of interchangeable temple designs for different looks and purposes – for example, enabling the frames to be worn comfortably under a helmet when riding a motorbike.
Mirko Forti, founder of Hapter, creates beautifully light, textured frames in Italy. Right now, he's combining stainless steel and cotton fabric from Cheruti in a new patented fusion process, and a textured combination rubber and stainless steel frame. "We have developed a new patented process – a special texture on the surface on the rubber, made from asphalt which is applied using a press."
With no hinges, the frame structure is flexible and easily adjusted to fit by bending. The pantoscopic angle and curvature can alsi be adjusted in this way.
Christophe Kozma CEO of Von Arkel, Switzerland, presented his brand's new range, which represents a colourful departure from previous collections. Mr. Kozma explained the technology has been inspired by the "magic and tricks" of Swiss watch making.
The highlight of this collection is the interchangeable hinge – a piece of jewellery in itself – which connects the frame front to the temple and can be updated without changing the optical componentry. There is no screw, no glue, no rivet; the hinge and temple are released from each other with a tiny – but expert – amount of pressure and a click. Cleverly, although the hinge can be quickly interchanged, an optometrist is required to do the job.
Rolf Eyewear won the 2017 Silmo D'Or for innovation with a wooden frame that has a multidirectional, shock absorbing hinge made from a rubber ring. A spokesperson at the Rolf stand told me, "The main idea was to build a hinge that doesn't break easily, but we were also focussed on natural materials, so we made the frame out of wood and the hinge from natural rubber. It's possible to change the rubber ring – we have three different sizes – a larger ring for a lighter temple that moves freely, or shorter rings for a more stabilised frame." All Rolf frames are made from wood, stone or horn.
Inspired by Art
Harry Skinner, lead designer at ic!Berlin introduced me to his brand's latest collection, influenced by the 1920s art movement, Suprematism. "I'm most proud of this theme within the collection… We started with an eye catcher piece to explain the concept and from there, created more every day easy wearing frames, still with the concept in mind. We played with geometic shapes – circles, squares, lines, a ring within a ring, and strong exaggerated frames, which maintain a sense of minimalism.
Design Elegance
French eyewear designer Caroline Abram was proud to show me two of her frames which made the final cut in the Silmo D'Or Awards; Witty and Widana.
Ms. Abram firmly believes that everyone needs multiple frames to express their personality and emotion of the moment. When designing eyewear she said, "I always think: what does a woman want, what do they want to show, how do they want to feel when people see them… In the evening, you might want to look a little sexy, and during in the day you may want to look serious or strong, or tender as a mother… changing the frame changes everything."
Blake Kuwahara is expanding his collection to appeal to a broader customer base. "My first collection was dramatic, and now that we've established that part of the collection, I want to include frames that are more familiar," he said.
Mr. Kuwahara showed me his latest frame, a unisex metal 'shield' designed as a frame within a frame within a frame, and nominated for a Silmo D'Or award. "We're all here to create something interesting and pragmatic, so designing this frame was about creating a sense of artfulness while ensuring it was wearable."
Speaking of what's to come, he said, "I think we've finally moved on from rectangles, rounds are trending – big and small; vintage has been a trend for a few seasons and I think its peaking a bit. I think the next wave is going to be oval."
Australians Building Business
As one of the biggest international eyewear events on the calendar, Silmo is all about business. Several Australian eyewear designers I spoke to said the mood had shifted a little this year. Jonathon Sceats said rather than taking orders at the show, customers were asking representatives to visit their stores.
Simon Ponnusamy from AM Eyewear said Silmo had been successful for his brand. "It's been a good show, it feels busy, but people are very cautious… I'm noticing they are almost picking specific frames to style particular customers, rather than buying a broad selection." That said, one new customer with 300 doors placed an order with Mr. Ponnusamy, making the entire show worthwhile.
Sunday Somewhere, which announced its acquisition by Mondottica at Silmo, said it was important to be at the show, even though the selling doesn't necessarily happen on the spot. "We have to be here to create the Sunday Somewhere experience… we offer all the brand's touch points; it's about relationship building," said Marketing Director Cameron Parker.
British designer Robert William Morris agreed. "I love the shows, it is expensive, but we would never talk about not coming. People love to see the frames and meet the designers. We've just put orders in for our Spring Summer collection that we'll show at Mido, and now we're working on Autumn/Winter for Silmo Paris 2018. It's an evolution of the new gold collection we've showed at Silmo this year, so nothing technically new but it's exciting. It will be exciting to be back next year to show it."
An International Leader
Silmo 2017 welcomed 37,337 visitors, a 10.5 per cent increase on 2016, with 57.4 per cent travelling to the event from 148 countries (+12.9 per cent). There were 957 exhibitors (78 per cent international from 42 countries) among them 154 new companies.
Silmo 2018 takes place in Paris from 28 September – 1 October.
Silmo D'Or Awards
The annual Silmo D'Or awards were presented at a lavish event at the Grand Palais in Paris, on Saturday 7 October.
The 2017 Silmo d'Or winners were:
Lenses Essilor Varilux X Series
Contact Lenses Novacel with Binova Iflex
Material / Equipment Nidek with TS 310
Low Vision AB Vision with SeeBOOST
Children ADCL APlus with Piwatoo 261
Trend, Optic Frame Marchon with Chloe Palma CE 2134
Design, Optic Frame LIO with IVM 1048
Trend, Sunglasses Grossfilley with Aari Bostroem
Design, Sunglasses Veronika Wildgruber with Arthur
Sport SK-X Optical with SK-X Optical Solutions
Innovation Rolf with Deville
Premier Class Prize Fleye Copenhagen with Fox
Jury Special Prize Blackfin with Arc