Prescription sunglasses can protect your patients' eyes from UV damage and provide greater visual comfort. There are plenty of options on the market and it's a great idea to discuss them with your patients – they are guaranteed to appreciate your care and attention, and the health benefits you recommend and provide.
Wherever I travel in this great country – even in the most remote national parks – it's increasingly clear that health messages relating to sun damage are getting through.
People of all ages are wearing sunglasses in addition to a hat, protective clothing, and applying sun block.
A significant proportion of the population is satisfied with the eye protection and vision comfort provided by nonprescription or plano sunglasses. These can be obtained almost anywhere these days; at two dollar shops, on the beach, in supermarkets, pharmacies, and at surf, hunting, camping and fishing stores.
before having a prescription filled, it may be advisable that patients view their screens, and devices such as GPS systems and fish finders, with an off the shelf pair of polarised lenses from the same provider
There are however, increasing numbers of people who require prescription eyewear. This results partly from the myopia boom but also from the increasing longevity of people who, despite eventually requiring cataract surgery, also require sun protection. In fact, many post cataract patients are very aware of their increased photophobia after their old, hazy semi-opaque natural lens has been replaced with a highly transparent intraocular lens (IOL).
An increasing number of speciality sunglass manufacturers, as well as traditional frame and lens manufacturers, now offer bundled prescription sunglasses. For some, this involved strategic alliances in sourcing sunglass frames from one party and fulfilling the Rx from a lens manufacturer or vice versa. Other companies, like Maui Jim are able to complete prescription sunglass packages in house, with single vision and progressive options.
POLARISED PRESCRIPTIONS
While fishermen are among many spectacle wearers who love their polarised lenses, they don't suit everyone. Our increasing interaction with digital devices – which by definition have optically polarised screens – can cause the screen to dim or 'black out' when viewed at certain angles.
Modern device manufacturers are increasingly aware of these issues and are polarising their screens at angles that do not greatly interfere with typical polarised sunglass lenses (polarised sunglasses typically deal with reflections off water and sand, along the X –Y axis rather than obliquely, which is typically the angle of digital screen polarisation).
However, before having a prescription filled, it may be advisable that patients view their screens, and devices such as GPS systems and fish finders, with an off the shelf pair of polarised lenses from the same provider. The same applies to drone pilots, cyclists, drivers, and many other sports and occupational users of digital screens. If the polarised sunglasses don't interfere with screen visibility, then there are significant benefits to be had.
PHOTOCHROMICS
There are many wearers who want the convenience of a single pair of spectacles that 'do everything'. They dislike swapping glasses to read, drive, work on devices, and wear in bright conditions. For these individuals, photochromic lenses will usually suffice. Single vision designs work very well for younger patients, and progressive versions can save presbyopes from having to lug around as many as six pairs of spectacles. The Transitions brand is now almost synonymous with photochromic lenses, however individual specialist lens manufacturers also have their own versions.
Modern photochromic lenses are now excellent but there are at times super bright conditions when they are just not dark enough. When driving in a car, there's typically not enough triggering light to get them dark enough to totally combat photophobia, but such issues are being worked on. We should encourage our photochromic wearers to also carry a dedicated darker pair of sunglasses, for use when needed.
REASONS TO BE CAREFUL
Apart from irritating and debilitating glare and resultant photophobia, there are many other more important reasons to wear sunglasses, including the prevention of pingueculae and pterygia (also known as 'surfer's eye').
Kwok, Kuznetsov, Ho, Coroneo and others have demonstrated how the peripheral light focussing effect (PLFE) is related to the development of these generally nasal, unsightly, non-cancerous conditions. Essentially, light that strikes the temporal limbal area of the cornea is 'focussed', via internal reflections within the cornea, and concentrated at the nasal limbus. This works along similar principles to roof mounted 'light pipes' that transfer skylight into rooms or basements that have no windows.
As a result, sunglass wearers and frame manufacturers are becoming increasingly aware of the need to wear 'wrap' style sunglasses or those with side-shields. Such designs prevent light entering behind traditional and aviator styles, and block the PLFE.
Older practitioners will tell you that in the past, it was very rare to see neoplasia of the cornea and conjunctiva, but this appears to be changing.
On social media pages dedicated to the anterior segment and general eye care we increasingly see posts that relate to the detection, removal and treatment of these abnormal tumours.
UV is the prime culprit of much of the aforementioned damage to the cornea, conjunctiva, lids, adnexae, lens, and ultimately the retina. Although the cornea filters most UV, being high-energy radiation, every photon is potentially damaging, so it's best to block all of it, or as much as we can. Fortunately all sunglasses sold in Australia and New Zealand must comply with UV and safety standards, but that's not to say some are not smuggled into the country. If smugglers can get methamphetamine in by the ton, sunglasses can probably also sneak in. Hence the need to deal with reputable companies and brands.
Zeiss, by way of example, recently launched the 'UVProtect Technology' range of lenses with enhanced blocking of the UV spectrum.
High-energy visible light in the blue spectrum is also thought to be damaging, though this is still being debated. 'Blue blocking' lenses may offer protective benefits, right back to the sensitive macula area of the retina, as well as preventing light scatter and therefore, improving visibility. Some wearers swear by them.
In our product section that follows, you can see some of the fantastic options that are available. Get involved, discuss the options with your patients – over time I'm sure you will notice that custom sunglasses can become a significant portion of your bottom line, for very little extra effort. Work smarter, not harder.
Lenses for Sun Seekers
Rx Programs 
The following companies are able to provide their own frames with prescription sun lenses fitted, either from their own laboratory or from a partnering laboratory.
rocco by Rodenstock
Rodenstock frames fitted with Rodenstock RX sun lenses increase contrast and protect against disturbing glare and damaging UV light. rocco by Rodenstock frames can be matched with premium Rodenstock lenses at competitive prices.
Contact: Rodenstock Account Manager 
VSP Australia
VSP Australia's Sun Rx program means quality tinted or polarised scripted lenses, including Unity Via Elite progressives, can be fitted into frames from brands that include Calvin Klein, Nike, Lacoste, Nautica, Nine West, Dragon, Anne Klein and Cole Haan.
Contact: VSP Australia Account Manager 
Bollé
Bolle claims its Rx programme uses freeform technologies, combined with a proprietary lenticular free form design, enabling the largest prescription range on the market for high wrapped sport and lifestyle frames. Suited to 99 per cent of prescription wearers and now available for B-Rock, Aeromax, 6th Sense, and Vortex shields for unique precision, comfort, and a wider field of view.
Contact: Bollé (AUS) 03 8558 1000 
Bonastar
Bonastar prescription sun lenses are available in all lens materials, including CR-39, high-index, polycarbonate, Trivex, and glass. For presbyopes, there are tinted, polarised, photochromic bifocal lenses and free-form progressive lenses. Featured highstyle mirror coatings are available in silver, gold, blue, green, purple, red, and pink. Crizal Forte UV transition lenses are also available.
Mars fashion and Paul Hueman sun collections can be completed with Bonastar's sun Rx lenses.
Contact Bonastar: (AUS) 02 9310 1688 
Ugly Fish
CR Surfacing Laboratories has teamed up with Aussie brand Ugly Fish to provide a range of prescription frame and lens packages.
Contact: Piranha Eyewear (AUS) 02 4284 7888 
Maui Jim
MauiPassport prescription sunglasses deliver the widest possible field of view and visual acuity across the entire lens. According to Maui Jim, prescriptions are 10 times more accurate than those of conventional labs.
Additionally, MauiPassport eliminates 99.9 per cent of glare; enhances colour and contrast, and promotes eye health.
With an ABBE value of 56, MauiBrilliant offers optics nearly as clear as standard glass with only one-third the weight. This makes MauiBrilliant the lightest, highest-clarity prescription-ready lens available.
Contact: Maui Jim (AUS) 02 9452 5575 
Oakley
Oakley Prizm lens technology was born of the understanding of how the brain functions in conjunction with the eye to create the perception of colour. Prizm lenses fine tune specific wavelengths of light that make the eye perceive colour more vividly. Prizm technology is now available in prescription in the most popular tints, including Prizm black, tungsten, ruby, jade, and sapphire.
Contact: Oakley (AUS) 1800 625 539 
Spotters
Spotters specialises in high wrap prescription sunglasses, which provide the best glare reduction and superior comfort. Spotters prescription lenses are available in its crown glass photochromic, mirrored lenses, and CR-39 lenses.
Contact: Spotters (AUS) 03 9728 2055 
Aarons Eyewear
Land Rover Sunglasses are not only fully Rxable, they can be sold right off the shelf thanks to their CAT 3 Obex polarised lenses. Some models also feature a flash mirror coating which has a hydrophobic and oleophobic coating on both the front and back sides of the lens.
Contact: Aarons Eyewear (AUS) 07 3367 8447 
CliC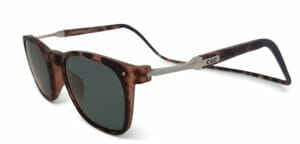 CliC has four frames that are suited for custom sunglass lenses and uses a local lens supplier. Additionally, the company has a limited stock in a choice of single-vision polarised or bi-focal lenses in a limited range of powers. Purchase the product complete from CliC or purchase the frame for a more customised optical solution. All CliC sunnies come with the travel/storage case.
Contact: Clic (AUS) 02 9969 5053 
The General
The new General family features a softer, square-edged shape than the original General yet has the same striking flat metal double bridge and temples.
Contact: Luxottica Account Manager 
Sunglass Lenses 
The following companies are able to fit sunglass frames with quality prescription sun lenses.
Sensity
Sensity Dark is a new addition to Hoya's Sensity family, providing comfort for wearers who are often outdoors or drive in the day with a strong tint intensity.
Sensity Shine offers the benefits of Sensity Dark and comes with a mirror-coating, barely noticeable when unreacted and transforming to a fashionable mirror coated sun lens when in the sun.
Sensity, Sensity Dark, and Sensity Shine are available in grey, brown, and green.
Contact: Hoya Account Manager 
Serengeti
Photochromic and spectral control technologies in every Serengeti Vario Drive Thin Design lens deliver infinite colours in any light condition with stunning visual clarity. Optional polarisation technology eliminates surface glare from these lightweight lenses.
Contact: Serengeti.com 
Zeiss Outdoor Lens Solutions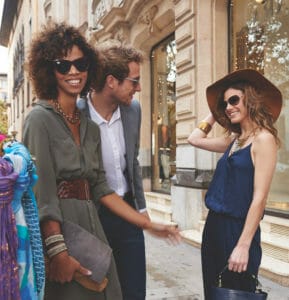 Zeiss Outdoor Lens Solutions offer a choice of tints and coatings that include: Standard tints – solid and graduated, in traditional colours such as grey, brown, and pioneer;
New enhanced tints – over 170 different tint shades and densities;
Match tints – for an exact colour, supply a sample for Zeiss to match to the desired shade;
Zeiss DuraVision Mirror – available in eight colours and standard with Zeiss DuraVision Sun; and
Zeiss DuraVision Sun – a back surface anti-reflective coating with water-repellent, anti-static, and anti-smudge properties for added clarity and durability.
Contact: Zeiss Account Manager 
Shamir
Shamir's Glacier Sun UV coating prevents reflected sunlight from bouncing off the rear surface of the lens, to minimise glare and protect eyes from damaging reflected radiation. The front surface is achromatic AR coated, ensuring there is no change of lens colour, and helping reduce eye strain and eye fatigue to ensure vision is bloom free. Shamir's Power Mirrors are available on any Rx sun glass order in silver, gold, green, blue, red, and orange.
Shamir progressive lenses are designed to fit the largest Rx sun glass frames without 'non-cut out issues' owing to the technology within the design.
Contact: Shamir (AUS) 1300 553 465 
Photochromics 
The following lens companies are able to fit frames with photochromic lenses.
SunSync Drive XT
SunSync light-reactive lenses quickly darken in sunlight and return to clear indoors, combining comfort, clarity, convenience, and confidence in one stylish package.
New to this lens range is SunSync Drive XT, an extra-active, light-reactive lens that gets darker, and stays dark, behind the wheel. In lab testing, SunSync Drive XT outperformed leading extra-active photochromic in three key areas of darkest outdoor colour, best clarity, and fastest fade-back speed.*
Contact: VSP Australia Account Manager 
Reference: * In lab testing, SunSync Drive XT and market-leading extra-active photochromic lenses were analysed in spectral measurements of visible light transmittance from 525nm to 625nm in dark/activated state, visible light transmittance from 450nm to 700nm in clear/inactivated state, and speed of change between dark and clear states at 23°C.
Essilor Transitions Signature
Transitions Signature Style Colours Collection offers four on-trend lens colours; sapphire, amethyst, amber, and emerald. The collection is now also available in the new progressive lens Varilux X series and all lens colours offer patients the same protection against UV as your traditional favourites.
Contact: Essilor Account Manager 
Rodenstock
ColorMatic IQ Sun 2 lenses from Rodenstock have a dark tint in direct sunlight and fade back to a 40 per cent tint in half shade. Trendy tints and the optional Solitaire Silver Moon mirror coating perfect the stylish look.
Contact: Rodenstock Account Manager 
Transitions Signature
Transitions rejuvenated brand and expanded fashion driven range is geared to engage more patients, especially millennials. Transitions Signature is now available in emerald, sapphire, amethyst, and amber, empowering wearers to make a unique statement with individualised eyewear style.
Contact: Transitions (AUS) 08 8238 3257 
Younger Optics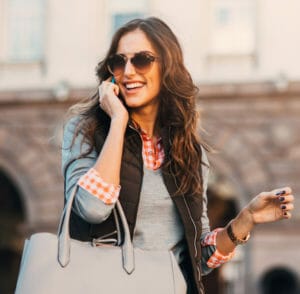 NuPolar gradient lenses deliver the high fashion look patients want, with the quality polarisation they need. Dark at the top, lighter at the bottom, the gradient prescription lenses are available in three colours: grey, brown, and brown/grey.
Contact: Younger Optics (AUS) 08 8241 9800