Let's be honest, satisfying the needs of the over-50s can be tricky. While externally, they might exude confidence about their professional expertise and life experience, inside it's likely they're having a crisis about the wrinkles that seem to multiply overnight. When they turn up looking for a new frame, they are really turning up looking for transformation. They want to look young… and they want you to help them in their quest.
Your mature age market is a lucrative one. Most are freed from kids – or at least the big costs of raising them, they've whittled down the mortgage and they're either still earning a good salary or they're retired and accessing their superannuation.
When it comes to looking after their health, they're happy to pay the price – especially when it comes to their vision – 47 per cent of Australians rate blindness as their number one fear.1
They're also happy to pay the price for spectacles that make them look more youthful and vibrant. And while some will want to age gracefully, others will want to release their inner flamboyance… Helping them find a frame that achieves their personal goals for image and enhances their vision is therefore a key to their happiness.
CHOOSE THE RIGHT SHAPE
Helping your patients find the best frame shape to suit their face and their required lenses is the first step in helping them make a decision with confidence.
A suitably shaped frame can take years off a person by giving them a visual facelift. In general, softer, more rounded shapes will be more suitable to older faces than angular frames. A softened cats eye, for example, will accentuate a woman's cheekbones for an uplifting appearance, while an upswept rectangular frame will be more flattering on a male.
Consider the following frame shapes according to face shape:
Oval 
Almost all frame shapes will suit an oval face with its even proportions and gentle jawline. This is your perfect opportunity to promote some more adventurous frame shapes – deep retro frames can look great on mature faces and bring them to life.
Heart-shaped 
Wider frames suit heart shaped faces with their broader forehead, smaller chin and typically high cheekbones. The good news is that wider frames are also perfect for progressive lenses, because they allow room to maximise the reading zone. Steer clear of cats eyes and top heavy frames that will emphasise your patient's broader forehead.
Rectangle 
Frames with a strong brow line, and deeper frames, are most suited to rectangular faces which feature a deep forehead, longer nose and/or a square jaw. Avoid recommending smaller frames, which will accentuate the face length.
Round 
Having said angular frames can be too harsh on an older person, they can be great to complement a round face and there are some amazing options on the market that are bold, youthful, and exciting. Recommend angular and geometric styles that accentuate the top half of your patient's face and draw attention to the eyes. Avoid circular shapes which will accentuate the roundness of their cheeks and chin.
Square 
Well proportioned faces, with a broad forehead and strong jaw, are best suited to oval or round frames that soften the appearance. Help your customers achieve the best results by steering them clear of angular or geometric frames.
COLOUR
Black is always strong, gold and silver sophisticated… but what many of your more mature market will not realise is these are not the only options when it comes to colour. Recent years have bought about an explosion of colour in acetate and metal frames and it's time you helped them to explore the possibilities. Do them a favour and encourage them to try on a number of different colours while in store – promote colours they would never had gone near in the past. This may be a great way to sell more than one frame as they might fall in love with different looks for different occasions and outfits.
In general, warmer tones – browns and berries – are best suited to mature faces. Cooler tones of blue and grey, and metal frames can be more suited to younger faces. Tortoiseshells, with their flecks of gold, brown, and black, will suit all ages though they can drain the youth from the face of a woman with grey hair. Glossy acetates give the face a lift and draw attention to the eyes, while vibrant reds, oranges, blues, and greens can add warmth, a sense of fun, and make the eyes sparkle.
Rimless and semi-rimless frames are definitely back on trend and there are some beautiful shapes to choose from that are fun and sophisticated. Assist your patients by helping them choose the appropriate shape and size to suit their face and ensure they achieve a contemporary look that flatters their features.
DON'T WORRY, BE HAPPY
Thankfully we're living in a time where trends are no longer dictated, especially to those of us who've passed 50! What matters is that we feel good about ourselves and what we're wearing.
At the end of the day, a frame is an everyday major accessory that needs to suit your patient's personality and fill them with confidence about the way they look. So encourage them to experiment with new styles and colours, offer your considered opinion, allow them time to make their decisions… and ensure they feel excited about the way their new frame looks and feels.
Reference 
www.mdfoundation.com.au/content/foundation-research
Frames to Transform Faces
Louis Marcel

Timeless and elegant, Louis Marcel frames are contemporary yet classic in design. Exquisite Italian acetates, Swarovski crystals and enamel accents lift this collection to new heights.
Contact: Aarons Eyewear (AUS) 07 3367 8447 
Dunhill
Using the finest materials, Dunhill delivers refined luxury with an elegant modern edge. A brand for the distinguished gentleman seeking a charismatic British look.
Contact: De Rigo (AUS) 02 9428 1500 
Brendel Eyewear

Brendel Eyewear's collection for women of all ages includes model 902266 (pictured), featuring a stainless steel front with discrete two tone colouration, and acetate temples with pressed metal decoration.
Contact: European Eyewear (AUS) 1800 818 221 
Ic!Berlin
Like all ic!Berlin frames, Volker is named after a staff member. Volker Beissenhirtz is a lawyer and a member of the ic!Berlin Supervisory Board.
Ic!Berlin glasses and sunglasses feature a screwless hinge, which means there's nothing to work loose or fall out and they can be broken down and rebuilt by hand, with no extra tools, in a matter of seconds.
Contact: Eyemakers (AUS) 02 9960 7766 
Carducci
The Carducci Collection offers a mix of classic and modern styles suitable for everyone. Bringing to life retro designs, this range is perfect for those who want a sophisticated timeless style.
Contact: Juzvision (AUS) 02 4267 5096 
Roger
Roger eyewear comprises frames in an eclectic mix of styles and colours. This season's release draws reference from architecture to create a unique identity with strong colours and a matt finish.
Contact: LBJ Optical (AUS) 1800 146 228 
Rodenstock
Rodenstock's high quality T-Lite Style models have a titanium sheet front and superlight RXP temples. Modern yet timeless and available in a wide range of shapes and colours.
Contact: Rodenstock (AUS) 02 9748 0988 
Safilo
Safilo's feminine rounded optical frames in acetate are subtly decorated on the cylindrical temples' metal core with a textured pattern, hence the name 'Tratto', which refers to the 'graphic lines'.
Contact: Safilo (AUS) 02 9540 0500 
Paul Taylor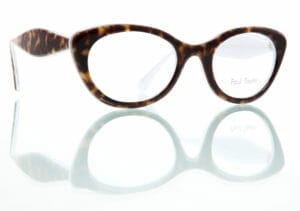 Paul Taylor's cats eye frames have a cult following. Pictured is Tigez, a new take on the cats eye with an elegant sophisticated twist.
Contact: Paul Taylor (AUS) 0458 777 125 
Jono Limited Edition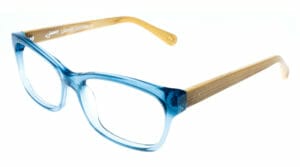 Jono Limited Edition eyewear is Australian designed and produced from Japanese and Italian cellulose acetate, then finished with Japanese polishing and cometec hinges. Each frame comes with a case and cleaning cloth. Pictured is model JHN8449C1.
Contact: Sunshades (AUS) 02 8303 7300 
Maui Jim
Maui Jim optical spectacles are fitted with Maui Jim's proprietary 1.67 high contrast lens, which reduces yellow light by 55 per cent at 585nm – where the red and green photoreceptors overlap and can be perceived as glare. At the same time, it transmits 90 per cent of the primary colours of vision. High-contrast properties are embedded in the lens to enhance vision during the day, indoors, and at night.
During the day, there's more colour contrast and less scatter for better vision at work or at play; indoors fine print is easier to read, reducing eyestrain and fatigue; and at night these lenses reduce glare from headlights and streetlights, making driving safer and more comfortable.
Contact: Maui Jim (AUS) 02 9452 5575 
Paul Hueman
Paul Hueman metal glasses are lightweight, comfortable and cut a professional look for the wearer. Pictured is Paul Hueman PHF- 188D in silver, featuring a curved bridge bar and thin metal temples.
Contact: Bonastar (AUS) 02 9310 1688 
Elizabeth Arden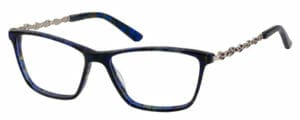 Elizabeth Arden founded her company in New York in 1910 – before women could vote – and she revolutionised the beauty industry.
Her eyewear is elegant, timeless, and as well remembered as her fragrance, Red Door.
Contact: Mondottica (AUS) 02 8436 6666 
Von Arkel
Von Arkel's Caliber 6 was conceived with extreme technicality and durability in mind. At the forefront of innovation, it features the smallest, most mysterious of caliber hinges from the Von Arkel collection. Frictionless assembly assures the hinge a rare longevity.
Contact: MyM Group (AUS) 0429 167 732
Niloca
Niloca is confidence personified, taking the classic round, but adding depth with deep bevels and contrasting matte/polished surfaces. The strong asymmetric profile works in harmony with Parisian inspired fashion cuts of underground labels, complementing the independent individual.
Contact: Niloca (AUS) 0448 881 376 
Pitchman Round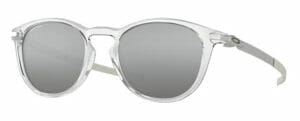 Pitchman Round is made from lightweight 'O Matter' and features a classic notch bridge and a rounded silhouette. Pitchman Round is flanked with sleek stems of stainless steel, encased in Oakley's no-slip 'Unobtainium' and fitted with screwless Hollowpoint hinges.
Contact: Oakley (AUS) 03 8598 3100 
Corgi
Modern, masculine, and clean cut, Corgi combines aluminium and titanium for a smart, contemporary look. Available in a multitude of colours, including brown velvet, black, neutral tones, and bright shades such as deep blue, and burnt orange.
Contact: ProOptics (AUS) 02 8007 6041 
Santini
Santini from the new Fleye Eyewear Collection is a sophisticated optical frame in a feminine butterfly shape. Handcrafted from sleek beta-titanium for an extremely light and comfortable fit.
Contact: VMD Eyewear (AUS) 1800 449 851 
Anne Klein
Anne Klein is recognisable for its sophistication, wearability, and most of all, application to women's lives. For 50 years, this brand has been making classics fashionable.
Pictured is AK5068, a full rim acetate frame with a brown tortoise front over clear crystal taupe.
Contact: VSP Australia (AUS) 02 9697 8080