Vienna, Austria played host for the 19th annual Euretina congress – it was a beautiful setting for an enlightening meeting. I am delighted to bring you a select snap shot of some of what transpired over the four days of the conference.
ARTIFICIAL INTELLIGENCE
Artificial Intelligence (AI) continues to be a hot topic for eye health specialists across the globe. The conference kicked off on day one with an update on where we are at with AI. Dr. Pearce Keane, Dr. Konstantinos Balaskas and Associate Professor Adnan Tuffail from Moorfields Eye Hospital in London, and Professor Ursula Schmidt-Erfurth from Vienna presented their extensive work in this area. A/Prof. Tufail discussed the concept of the "hype-curve" surrounding our interest in AI – currently we are at the peak of the curve and may come down into the "trough of disillusionment" over the next few years. Although interest doesn't seem to be waning!
Dr. Keane discussed the collaboration between Moorfields Eye Hospital and Google Deep Mind – an association that recently resulted in the publication, in Nature Medicine, of their work on Clinically applicable deep learning for diagnosis and referral in retinal disease.1 The need for a good triaging system was highlighted by Dr. Keane as he explained that each year Moorfields receives 8,000 urgent referrals for potential neovascular AMD (nAMD) but only 700 turn out to be correct. Together, ophthalmologists and computer scientists developed an algorithm that can accurately screen for several different eye conditions – for example nAMD, central serous chorioretinopathy, macula hole, retinal vein occlusion (RVO) or geographic atrophy. The algorithm comes up with a referral suggestion based on its assessment and decides whether the patient requires urgent, semi urgent or routine review.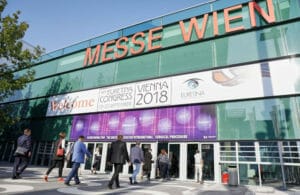 The programme performance was evaluated on 1,000 new patients and then compared to retinal specialists and optometrists who had access to either optical coherence tomography (OCT) only or OCT, fundus photos and notes. Using OCT only, the error rate for the AI model was 5.5 per cent, for ophthalmologists 6.8–13.0 per cent, and for optometrists 10.0–24.1 per cent. This error rate improved when fundus photos and history were included, for ophthalmologists to 5.5–7.4 per cent and for optometrists to 6.5–13.1 per cent. Already the screening algorithm was proven to be as accurate as the best retina specialists. Dr. Keane stressed that this is proof of concept only – there are no randomised controlled trials to show real world efficacy of these platforms yet. These algorithms require further trials and acceptance from regulators before they can be rolled out into clinical practice.
Dr. Schmidt-Erfurth continued the theme and discussed her team's study looking at using machine learning to analyse current imaging biomarkers in retinal disease.2,3 Her group developed an automated method to detect and quantify fluid (intra-retinal, sub-retinal and retinal pigment epithelial detachment) for AMD, RVO and diabetic macular oedema (DME). They found that machine learning achieved excellent accuracy for detection of fluid in different compartments and was able to quantify the amount of fluid in nano-litres. They concluded that looking at central retinal thickness alone, which has previously been used as a biomarker for response to therapies in trials, may not be as informative as volume measurements. When looking at volume of sub retinal fluid in AMD, they found there is a positive correlation with visual acuity, whereas intra retinal fluid shows a negative correlation. They suggest further work to explore new biomarkers for disease using AI is necessary and may have good clinical relevance.
FUTURE DIRECTIONS IN AMD MANAGEMENT
Currently there are no interventions for non-exudative AMD or intermediate AMD (iAMD). It was with much anticipation that Professor Robyn Guymer from the Centre for Eye Research Australia (CERA) presented our results from the LEAD study – a subthreshold nano-second laser (SNL) intervention to slow progression in the early stages of AMD. Patients with iAMD were randomised to either sham or nanosecond laser in one eye every six months for three years. They were followed with multimodal imaging (MMI) for the development of late AMD – either atrophy or nAMD. When all patients were pooled, there was no difference between the SNL arm or the sham arm in the rate of progression on MMI to end stage disease. However, a post-hoc analysis showed that separating patients with reticular pseudo-drusen (RPD) from those without showed differing responses to SNL. Those patients without RPD who received SNL had a slowing of their disease progression to end stage disease compared with sham.4 This is an exciting finding and provides compelling evidence for further study to determine how different AMD phenotypes respond to this type of subthreshold laser.
As in previous years, there was still much discussion on multi-modal imaging and in particular, the role of optical coherence tomography angiography (OCT-A). While day to day, standard OCT still forms the back bone of how we manage retinal disease, OCT-A is proving useful in monitoring the state of activity in nAMD. Dr. Edoardo Midena discussed using OCT-A to guide therapy to render vessels mature without leakage, rather than facilitating the obliteration of new choroidal vessels. There is a theory that subclinical choroidal neovascular membranes may provide essential nutritional support to the outer retina and if they regress completely, the outer retina becomes ischaemic.
In terms of improving outcomes in AMD, Dr. Daniel Martin gave an eloquent talk on where we can hope new therapies will take us. He highlighted the need to prevent macula atrophy and reduce the treatment burden for our patients. There are several new therapies in the pipeline in various stages of Phase 1, 2 and 3 testing. A press release from Allergan regarding the CEDAR and SEQUOIA studies, and looking at the new anti-VEGF molecule abicipar pegol, said the drug given every 12 weeks showed non-inferiority to monthly ranibizumab in terms of best corrected visual acuity (BCVA). However, there was a higher rate of intraocular inflammation in the abicipar group – the details of this were revealed at American Academy in October, post this issue of mivision going to print.
Novartis has also released the results of the Phase 3 study of its new anti-VEGF molecule brolucizumab in the HAWK and HARRIER studies. Brolucizumab was compared head to head with aflibercept for nAMD. After three loading doses, brolucizumab was given every 12 weeks with an option to reduce to eight if there was disease activity. Aflibercept was given in a loading phase and then every eight weeks. The mean change in BCVA in the brolucizumab arm was non-inferior to the aflibercept group.5
Additionally, there are a plethora of other drugs in development, including conbercept, aerpio and faricimab in various trial stages. The goal is for longer duration of action with resultant less treatment burden.
FUTURE DIRECTIONS IN DIABETES MANAGEMENT
Professor Tien Wong gave the 2018 Euretina invited lecture on diabetic retinopathy. He stressed that despite our advances in tertiary management of diabetic retinopathy, such as laser and anti-VEGF, we need to go back to secondary intervention if we are going to stem the tide of disease complications given the number of people expected to be diagnosed with the disease in the next 20 years. He advocated that systemic risk control, national diabetic retinopathy screening services and government guidelines and policy would be as important as new therapies to combat the disease.
The two year follow up data from Protocol T showed that bevacizumab, ranibizumab and aflibercept were all equal at restoring vision for DME. If the starting vision was <20/50 then bevacizumab was less effective.6 This was in contrast to the one year data that suggested if the starting vision was worse than 20/50, aflibercept may be superior to the other agents in terms of visual acuity improvement and reduction in central retinal thickness. Regardless of agent used, the risk of severe visual loss was rare across all groups.
There is still much debate around the role of anti-VEGF alone without panretinal photocoagulation (PRP) in the management of proliferative diabetic retinopathy. The five year data from Protocol S and one year data from CLARITY showed that the rates of DME were lower, vision was better and the rates of vitrectomy less with anti- VEGF. However this needs to be weighed against the cost, number of visits, risk of endophthalmitis and risk of being lost to follow up.7,8 Interestingly the five year Protocol S data showed that visual field loss was equal in both groups – previously the ranibizumab treated arm had superior visual field thresholds presumed due to the destructive nature of PRP. Peripheral ischaemia, even with anti-VEGF treatment, can cause reduction in visual field comparable to that caused by PRP.
CONCLUSION
This year's Euretina congress provided an excellent update on both current clinical practice and cutting edge research. The future looks very bright for management of retinal disease – we look forward to Paris in 2019!
Dr. Amy Cohn is a Melbourne based ophthalmologist with special interest in medical retina and cataract surgery. She is a Visiting Medical Officer at RVEEH and Southern Health and a Senior Research Fellow at the Centre for Eye Research Australia. Dr. Cohn sees patients privately in East Melbourne, Footscray, Glen Waverley and Armadale. 
References 
De Fauw, J. (2018). Clinically applicable deep learning for diagnosis and referral in retinal disease. Nature Medicine. 
Schmidt-Erfurth, U. B. (2017). Machine Learning to Analyze the Prognostic Value of Current Imaging Biomarkers in Neovascular Age-Related Macular Degeneration. Ophthal Retina, 24-30. 
Schlegl, T. W. (2018). Fully Automated Detection and Quantification of Macular Fluid in OCT using Deep Learning. Ophthalmology, 549-558. 
Guymer, R. E. (2018). Sub-Threshold Nanosecond Laser Intervention in Age-Related Macular Degeneration: The LEAD Randomized Controlled Clinical Trial. In press. 
Dugal, P. E. (2017). HAWK and HARRIER: 48 week results of 2 multi-centered, randomized, double-masked trials of brolucizumab versus aflibercept for neovascular AMD. The American Academy of Ophthalmology. New Orleans. 
Bressler, N. B. (2018). Early Response to Anti-Vascular Endothelial Growth Factor and Two-Year Outcomes Among Eyes With Diabetic Macular Edema in Protocol T. Am J Ophthalmol. 
Gross, J. G. (2018). Five-Year Outcomes of Panretinal Photocoagulation vs Intravitreous Ranibizumab for Proliferative Diabetic Retinopathy: A Randomised Clinical Trial. JAMA Ophthal. 
Sivaprasad, S. E. (2017). Clinical Efficacy of intravitreal aflibercept versus panretinal photocoagulation for best corrected visual acuity in patients with proliferative diabetic retinopathy at 52 weeks (CLARITY): a multicentre, singleblinded, randomised, controlled, phase 2b. Lancet, 2193-203.