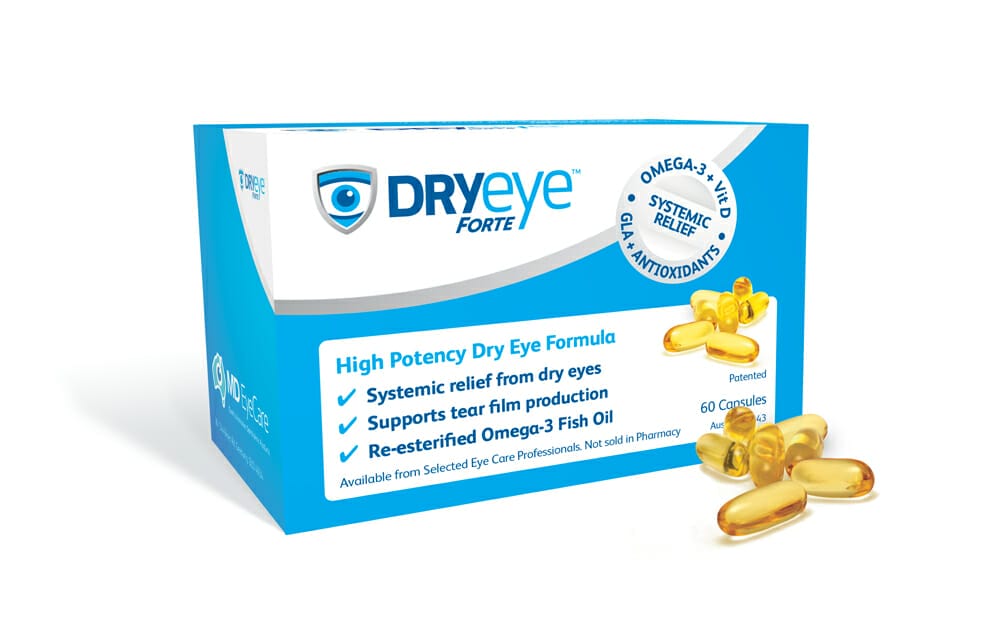 DRYeye Forte is a patented, high strength oral supplement that provides systemic dry eye relief and anti-inflammatory support.
Drawing on the latest dry eye research, this comprehensive formula contains therapeutic levels of EPA and DHA (1440mg) from pharmaceutical grade, re-esterified fish oil (mercury tested and sustainably sourced); GLA from plant-based borage oil; anti-inflammatory Vitamin D3; Vitamin E; and the powerful antioxidant gamma-tocopherol. Carefully balanced to optimise production of anti-inflammatory prostaglandins (PGE1 & PGE3), DRYeye Forte restores a healthy tear film and reduces ocular inflammation. Importantly, it includes the ingredient Vitamin D, which recent research highlights as a significant factor in dry eye syndrome.
Not sold in pharmacy, priced affordably, and with generous wholesale margins for stockists.
Contact: MD EyeCare (AUS) 1300 952 001 or (NZ) 0800 443 652