Viola Davis, Martha Stewart, Burt Reynolds, Alan Rickman, Samuel L Jackson… what have all these celebrities got in common?
They didn't find fame until they were into their 40s… and then their lives only became more interesting, dynamic and influential.
That's right. While the mid-40s seem old to many, it's considered young to more, so there's no need to assume your average 40+ patient coming through your doors is going to settle for a frame that turns them into a wall-flower.
In fact, it's likely to be quite the reverse.
By the time a person hits 45, they're typically comfortable in their shoes (and their glasses), they're not trying to keep up with the Joneses or intent upon looking like the latest A-list celeb on the catwalk.
They want a frame that livens up their face, makes them feel good about themselves and emboldens them to pursue their dreams.
The mature aged market is massively important for the optical sector – and I'm not just saying that because I'm proudly well and truly moving through that period of my life.
I'm saying that because it's a lucrative market and in need of extra attention from the eye health sector.
According to Specsavers State of the Nation Eye Health Report 2019,1 more than half of Australians and New Zealanders over the age of 40 have reported experiencing at least one eyesight issue that they haven't seen an optometrist about… and their most common complaints relate to not being able to see up close, or in the distance, as well as they used to.
This of course, is an easy fix with a visit to the local optometrist – most of them just need to be prompted.
Indeed, about 22% of Australians and New Zealanders over the age of 40 (approximately 2.4 million and 480,000 respectively) have been diagnosed with some form of refractive error and, based on selfreported data, around 1.3 million Australians over the age of 55 are affected by presbyopia.1 
Furthermore, with an ageing population, this number of mature-aged people experiencing vision problems due to eye conditions and diseases is expected to increase exponentially over future decades, further increasing the demand for eye health services and vision correction.
Yes, deteriorating eye sight is just one of those annoying realities we need to get used to – whereas just over three in 10 Australians aged 18–24 years wear prescription glasses and/or contact lenses, 85.8% in the 65+ age bracket need optical assistance. Sadly this tends to coincide with wrinkles, grey hair, as well as less tolerance to alcohol and lack of sleep – making the whole package a little difficult for some to come to terms with.
But let's not let the realities of age get us down – and definitely don't harp on about them to your mature aged customers. Because being older also comes with more expendable income and a desire to spend money on making ourselves look, well, more youthful.
Your biggest market for eyewear is undoubtedly women – for whatever reason (perhaps they're more vigilant about their eye health) women are more likely to wear glasses than men across all age groups. In fact, according to a study conducted by Roy Morgan Research, among 35–49 year olds 45.8% of men and 59.5% of women wear glasses and/or contact lenses. In the 50–64 years age group, 76.9% of men and 84.2% of women wear glasses and/ or contact lenses.2
So there it is – it's time to embrace your more mature customers and encourage them to experiment with frames they'd usually be too shy to try.
Guide them towards upswept frame shapes and warm tones that breathe life into their grey (or dyed) hair … and give them the confidence to break out. We only live once so we might as well have fun and look great while we're at it.
References 
www.profile-anz.com/wp-content/ uploads/2018/11/2018-SOTN-Eye-Health-Report_ web_SP.pdf 
www.roymorgan.com/findings/6805-reading-glassescontact- lenses-201605152248
Frames for the Mature Market
Nine Eyewear
Nine eyewear is designed in Denmark and handcrafted by skilled craftsmen in Japan. These contemporary frames are beautifully simple in their design, functional and comfortable to wear. Choose from seven collections, all weighing in at nine grams or less.
Contact: BeyondEyez contact@beyondeyez.com 
Louis Marcel
Timeless and elegant, Louis Marcel offers contemporary-classic design aimed at a discerning, mature lady. Centred on eternal beauty, the collection features titanium, exquisite Italian acetates, Swarovski crystals and superior enamel accents.
Contact: Aaron's Eyewear (AUS) 07 3367 8447 
Seiko
A breath of fresh air. De Rigo has released new Seiko models designed especially for the Australian market. From shape, to colour, to details, everything has been thought of to deliver the best products. Seiko brings uncompromised quality, refinement and durability.
Contact: De Rigo (AUS) 02 9428 1500 
Prada
Prada is synonymous with innovative spirit, curiosity and strong artisan traditions, making them an ideal choice for an older audience looking for high quality and craftsmanship. Pictured is PR01VV from the new Spring/Summer 2020 collection, an ideal shape for those who may require stronger prescription or progressive lenses. Contemporary geometric lines and a charming pop of colour bring together the complete look.
Contact: Luxottica Account Manager 
Swarovski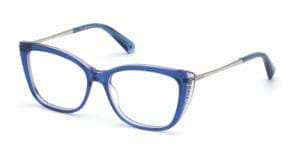 Swarovski's latest collection introduces a wide variety of new silhouettes with timeless shapes in the seasonal palette, offset perfectly by black as well as more muted tones. Swarovski crystal detailing on every design dials up the glamour and takes this eyewear to the next level. Pictured is SK5366 – a playful, rectangular style crafted from on-trend acetate and metal, and punctuated with shimmering Swarovski crystal detailing in bright tones.
Contact: Marcolin (AUS) 02 9697 8080 
Maui Jim

Crafted with sophistication and elegance, Maui Jim's specialty metal collection features titanium frames and line decor. Extremely lightweight, and comfortable, the MJO2716-16A (pictured) is ideal for even stronger prescriptions, perfect for the 21st century adult.
Contact: Maui Jim (AUS) 02 9452 5575
Ted Baker
Ted Baker is renowned for its perfect mix of distinctive design, beautiful quality and unconventional creativity, all liberally spiced with Ted's irreverent sense of humour and unswerving attention to detail.
Contact: Mondottica (AUS) 02 8436 6666 
Paul Taylor
Magnetic Chique is the recreation of a much loved Paul Taylor frame from the 90s. Described by one fan as "amazing, it's a chick magnet", this unisex design is available in 15 colours, with sizes 52–23 and temple 150mm.
Contact: Paul Taylor Eyewear (AUS) 0458 777 125 
LA Eyeworks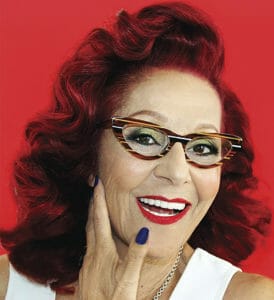 Fashion trailblazer Patricia Field wears Hickory in Josef Jasso's stunning new portrait for LA Eyework's Uncensored Visions series. A fearless and challenging stylist, Field is regaled for her Emmy Award-winning costume designs for Sex and the City, was Oscar nominated for T he Devil Wears Prada, and created a trendsetting buzz with her legendary NYC boutique.
Contact: ProOptics (AUS) 02 8007 6041 
Givenchy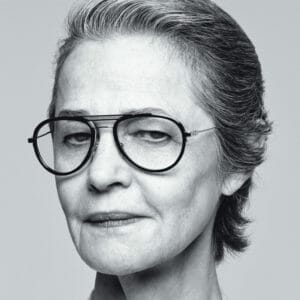 Parisian daring embraces a sporty allure in one of the season's strongest eyewear statements, GV 0125, which perfectly fits English actress, model and singer, Charlotte Rampling (pictured).
Contact: Safilo (AUS) 1800 252 016 
Anne Klein
Known for timeless and polished designs, Anne Klein Eyewear's collection offers a variety of refreshed tones and colourways, in feminine metals with classic shapes. The AK5072 is an uplifted round shape featuring beautiful tortoise horn colourations, paired with simple ultra-thin metal temples. Available in merlot, mocha and smoke.
Contact: Marchon (AUS) 02 9428 1500 
Rodenstock
Rodenstock spectacles are more than a special accessory for the perfect look – they are a fashion statement to accompany your patients through all aspects of life, from relaxing at the beach to playing sports and getting serious in the office. They are also indispensable for natural vision.
Contact: Rodenstock (AUS) 02 9748 0988
Stepper Eyewear
Stepper Eyewear is designed by German optician Hans Stepper, who mastered the art of developing three-dimensional facial fitting as the principle element to achievethe best solution for superior comfort and fit. Stepper Eyewear has been around for 50 years and is renowned for its lightness, functionality and comfort.
Contact: Optique Line (AUS) 03 9853 0796 
Niloca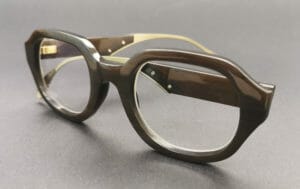 By sourcing horn from local Indigenous tribes and titanium from master crafters in Japan, Colin Redmond of Niloca has blended the best of both worlds of style and function without compromising the ophthalmic requirements of the patient and eye care professional. Available through stockists as custom order pieces.
Contact: Niloca (AUS) 0448 881 376 
Ic! berlin
Ic! berlin has released 34 new styles, including new sheet-metal based classic collection frames, all-new titan (titanium) and buffalo horn designs. Pictured is Alexandra N, a delightfully sleek and light female/unisex frame in rose gold.
Contact: Eyemakers (AUS) 02 9960 7766 
Mykita
By absorbing light rather than reflecting it, Mykita's matte finish creates a clean line, turning the focus to the pure form of the object or surface, and giving colours more intensity and depth.
Contact: Proper Goods (AUS) 02 8598 3037 
JF Rey
Synonymous with French Style, the JF Rey eyewear collection offers handmade, boutique luxury. Seamless patch-worked acetate, woven carbon fibre, and an endless array of hand painted finishes.
Contact: LBJ Optical (AUS) 1800 146 228 
Carter Bond
Rimini takes a classic panto keyhole design, and blasts it straight into the 21st century. Pictured here in matte black horn. Rimini is handmade from Italian Mazzucchelli acetates.
Contact: Sunshades (AUS) 02 8303 7333
Fleye
Milas is a modern classic frame inspired by the timeless panto shape, handcrafted by raw carbon fibre and light wood to add an exclusive and natural warmth to the frames.
Visit: fleye.dk/en