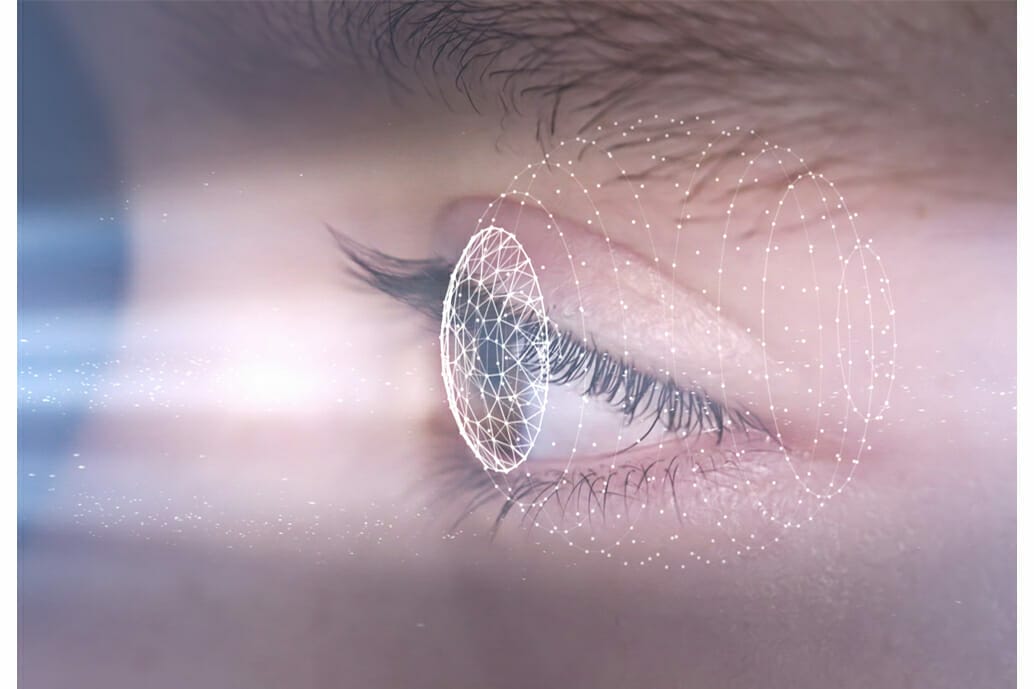 Glaucoma is the leading cause of irreversible blindness worldwide, affecting about 76 million people.
Since 2006, Glaucoma Australia has committed approximately AU$1.5 million to support Australian glaucoma researchers across a diverse range of projects. We asked some of the researchers currently supported by Glaucoma Australia funding to tell us about their projects which will ultimately contribute to reducing the burden of glaucoma on the community.
Detecting Those at Risk
Professor Jamie Craig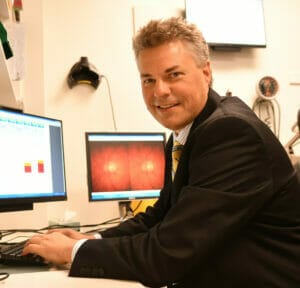 With funding from Glaucoma Australia and the National Health and Medical Research Council (NHMRC), researchers from Flinders University are conducting a prospective study to validate a Polygenic Risk Score (PRS) for glaucoma. Our team is part of a nation-wide collaboration who have identified 107 genes that increase an individual's risk of developing glaucoma. From this, a genetic test has been developed to identify those who may be at a high risk of losing vision from the disease.
The GRADE study aims to recruit 1,000 South Australian participants to better understand the clinical implications of the PRS. Participants over 50 years of age, regardless of family history of glaucoma, are invited to provide a blood or saliva sample to the study, to have their PRS calculated. Selected participants will also be offered a free, comprehensive eye examination to identify any early, undetected signs of glaucoma. We expect to see a higher rate of glaucoma in the high-risk groups of the PRS compared to the average or low risk groups.
This new predictive test means those most at risk can be more accurately identified using a single blood or saliva sample. In the future PRS calculation will assist clinicians in determining the best treatment options and their timing, and help guide family screening protocols.
Aimed at preventing glaucoma vision loss, the PRS test is the result of a long-running international collaboration between Flinders University and the QIMR Berghofer Medical Research Institute, and other research partners around the world.
The same team from Flinders University, in partnership with Glaucoma Australia, the University of Western Australia/Lions Eye Institute, the University of Tasmania, Sydney Eye Hospital and Western Australia Department of Health is conducting a family-based study, providing personalised risk information to family members of a person with glaucoma. Known as the TARRGET study, we are encouraging first-degree relatives to undergo a glaucoma screening appointment with an eye-health practitioner, and inviting participants to share the results with the study.
To date, more than 3,500 people with glaucoma have been sent forms investigating glaucoma status and mailing information for their immediate family members. From this, the study has received contact details for nearly 3,000 family members who will be sent personalised risk information brochures based on their type and severity of glaucoma. Of these, 785 family members have completed an eye-health check and provided information back to the study regarding their glaucoma status.
Feedback received by the study indicates that more than 50% of immediate relatives of a person with advanced glaucoma, have glaucoma or show suspicious signs requiring monitoring. Of those who have provided feedback to date, parents and siblings recorded comparable prevalence of having, or being at risk of developing, glaucoma (71.4% and 72.6% respectively), with children less prevalent due to their younger age (43.7%). The study encourages family members to talk to each other about glaucoma and reminds participants that eyehealth checks must be a regular and ongoing commitment to prevent vision loss.
Professor Jamie Craig is Chair and Academic Head of the Department of Ophthalmology at Flinders University and a consultant ophthalmologist. A clinician-scientist and NHMRC Practitioner-Fellow, Professor Craig's pioneering work establishing the Australian and New Zealand Registry of Advanced Glaucoma has been critical to Australia leading the world in discovery and translation of glaucoma genetics. His clinical practice and ongoing leadership of the world's largest glaucoma progression study enable significant translational outcomes to be achieved by more rational use of available tools, coupled with innovative concepts.
Monitoring Glaucoma at Home: The Future of Glaucoma Care
Dr George Kong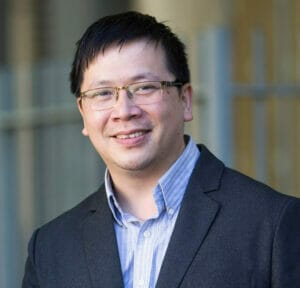 For patients with glaucoma, the ability to detect any changes in their peripheral vision (visual field) is critical to their management. However, the current practise of visual field testing in clinic is often not frequent enough, and some patient's vision can deteriorate before their next routine clinic visit. This can lead to delays in confirming a change in their clinical condition, resulting in delayed initiation of new treatments. During the COVID-19 pandemic, this problem has been exacerbated by the postponement of many routine glaucoma reviews.
It is within this environment that Glaucoma Australia's funding of my research into innovative telehealth technology has been particularly valuable.
Specifically, my research project is looking into innovative telehealth technology that helps patients with glaucoma monitor their own visual fields at home.
Previous research from my team showed that it is possible to test visual fields using Melbourne Rapid Fields – specially designed software that runs on computer/tablet devices found in most Australian households.1,2 The software is designed to allow selfdirected visual field testing by following simple computer voice guidance. Glaucoma Australia's funding is enabling us to conduct the world's first long term (18-month) study to examine whether patients with glaucoma are able to perform visual field testing, at home reliably, and consistently. This study was in follow-up to an earlier pilot study which showed promising results.
To date, we have completed 12 months of the study, with 60 patients enrolled to self-monitor their visual fields with at-home testing. Our study has shown that after a short learning curve, the visual field test results obtained from home correlate strongly with test results performed in clinic. Importantly, our study was uninterrupted by COVID-19 lock-downs and pleasingly, it has attracted strong interest internationally with our recent publication in the American Journal of Ophthalmology.3
The Melbourne Rapid Fields app can be used for visual field testing in optometry clinics and is available for download on Apple Appstore as well as available on the web browser (visiondata.net.au).
This technology will especially benefit patients living in rural and remote locations, who would otherwise need to travel long distances for specialist care. It is hoped that this research could lead to earlier detection of glaucoma progression compared to standard clinic visits, allowing patients most in need to receive specialist treatment in a timely manner, and thereby increasing the likelihood of preserving sight for more patients with glaucoma.
Dr George Kong MBBS (Melb) BMed Sci PhD (Melb) FRANZCO specialises in clinical glaucoma research, comprehensive glaucoma management, minimally invasive glaucoma surgery and complex glaucoma diseases. A medical technologies innovator, he developed Melbourne Rapid Fields visual field testing software and has received funding from the Ophthalmic Research Institute of Australia, Glaucoma Australia and the Royal Victorian Eye and Ear Hospital to examine its use to help monitor visual fields of glaucoma patients in the home environment.
Dr Kong has a clinical honorary position at the University of Melbourne. He is actively involved in the training of glaucoma clinical fellows at Royal Victorian Eye and Ear Hospital and he supervises graduate research students. 
References 
Kong YX, He M, Crowston JG, Vingrys AJ. A Comparison of Perimetric Results from a Tablet Perimeter and Humphrey Field Analyzer in Glaucoma Patients. Translational Vision Science & Technology. 2016; 5(6):2. 
Kong YXG. Visual field testing in the era of portable consumer technology, Clinical and Experimental Ophthalmology. May 2018. 
Uptake, persistence, and performance of weekly home monitoring of visual field in a large cohort of patients with glaucoma. Prea SM, Kong YXG, Guymer R, Vingrys AJ. American Journal of Ophthalmology Nov 2020
Hyperspectral Imaging: an Interdisciplinary Project
Professor Ewa Goldys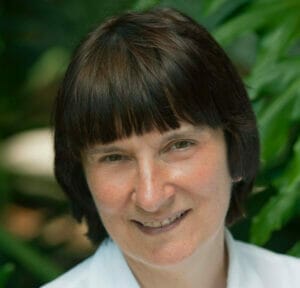 Hyperspectral imaging is an emerging field with immense potential for biomedical science. Due to the visibility of the eye structures, there is great scope to use multichannel excitation and emission spectra to detect damaged cells and biological substances in situ. In glaucoma, vision loss occurs due to optic nerve damage. Reactive oxygen species are thought to play a role.
My project links three high performing research groups – The School of Optometry and Vision Science, Graduate School of Biomedical Engineering, University of New South Wales (UNSW), and Westmead Institute for Medical Research. Its global and social relevance lies in the prevalence of glaucoma as the leading cause of preventable blindness worldwide – the vision loss is insidious, and detection of early damage to the drainage apparatus (the trabecular meshwork) and the neural network (retinal ganglion cells) is difficult. Furthermore, there is only one definitive treatment, which is to lower the pressure in the eye. Despite this, more than 10% of cases still deteriorate towards blindness. Not only could hyperspectral technology be an early diagnostic tool, it could also provide information on the mechanism of trabecular damage and retinal ganglion cell loss, paving the way for novel prevention and treatment paradigms.
This exciting interdisciplinary project on the translational trajectory from lab to clinic is being led by internationally-recognised glaucoma clinician-scientists, Associate Professor Andrew White and Professor Robert Casson. They are being supported by myself, as a world-leading biomedical engineer, and medical and data scientists Dr Nicole Carnt and Dr Abbas Habibalahi, who have complementary skill sets.
With an Australian small/medium enterprise providing device engineering and state-of-the-art infrastructure support from the Centre for Nanoscale BioPhotonics, our team is perfectly positioned to lead the world in this technology.
Prof Ewa Goldys is a world leader in hyperspectral imaging and photonics. In 2016 she was awarded the Australian Museum Eureka Prize for the pioneering discovery of the specific fluorescent fingerprint of cellular metabolism. She has over 300 publications and is a Fellow of the Australian Academy of Technology and Engineering, as well as the Optical Society of America and the International Society for Optics and Photonics (SPIE). Over the last ten years, she has led more than 20 end-user driven autofluorescence technology translational projects. Her ideas have underpinned the establishment of a company (Quantitative Pty Ltd, in 2013) and six bespoke imaging systems have been set up (three in Sydney, two in Adelaide and one in rural NSW).
MORE ABOUT THE RESEARCHERS
A/Prof Andrew White is a leading clinician scientist, ophthalmologist and glaucoma specialist. He holds dual appointments at UNSW and University of Sydney, and is Head of Ophthalmology at Westmead Hospital and the Glaucoma Biology Group Leader at Westmead Institute for Medical Research. His research has primarily been focused on understanding the role of reactive oxygen species in the pathogenesis of glaucoma in animal models, such as rats and mice. He has used this model to explore the utility of medications, already approved by the United States Food and Drug Administration, in reducing the formation of reactive oxygen species in these animal models, which confers a neuroprotective effect. Developing such technology will play a key role in bringing this laboratory based research to a clinical trial.
Prof Robert Casson is Head of Discipline of Ophthalmology and Visual Science at the University of Adelaide and Professor of the Ophthalmology Department, Royal Adelaide Hospital in Adelaide, South Australia. He is a world authority on glaucoma bioenergetics and retinal cell culture systems, including both their establishment and analyses. He has translated laboratory findings to the clinic in this field and continues to study the relationship between energy failure and glaucoma. Prof Casson has many clinical publications that have incrementally advanced knowledge of glaucoma practice, and is involved in ongoing longitudinal studies investigating predictors of glaucoma (the PROGRESSA study). He has been involved in a number of epidemiological studies shedding light on the problem of glaucoma in Southeast Asia.
Dr Nicole Carnt is a Scientia Fellow and Senior Lecturer in the School of Optometry and Vision Science, UNSW. While on a NHMRC CJ Martin Fellowship at Moorfields Eye Hospital, London, she became one of a select few global experts in the diagnosis of eye infections using in vivo confocal microscopy. Her scope now includes in vivo confocal limbal stem cell imaging and the use of other imaging technologies in eye disease.
Dr Abbas Habibalahi is a postdoctoral research scientist in my group at UNSW. He has significant achievements in the area of non-invasive autofluorescence diagnostics, most notably in the detection of reactive oxygen species and oxidative stress.