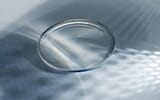 In Australia's deregulated world of optical dispensing, there's nothing stopping a new generation of dispensers from achieving the very best qualifications to take them forward.
ADOA Vic
Murray O'Brien
Royal Melbourne Institute of Technology (RMIT) has been training optical mechanics (spectacle makers)
and optical dispensers for well over 40 years and continues to be one of Australia's leading providers of this training. The Institute is currently running three programs with 130 students in total from Victoria, Queensland, New South Wales, Tasmania and South Australia.
RMIT has a fully equipped dispensing lab with manual and auto edging machines including all the latest equipment. Students learn on manual focimeters.
ADOA would like to congratulate all students on their achievements and wish them the best of luck in their future optical careers
RMIT runs an 18 month program consisting of five, five day blocks that suit trainees and non-trainees. Students learn edge and fit as well as all other optical dispensing theory and practice.
Additionally, there is a full time 12-month program that comprises three days per week each semester and is aimed at school leavers and casual employees. Edge and fit is also taught. Students are not required to be employed in optical industry, however each student undertakes industry placement as part of the program.
RMIT Optical also undertakes industry based training to meet the needs of larger organisations, both in term of curriculum and delivery.
The RMIT optical program co-ordinator is Tim Haigh. His contact details are: (AUS) 03 9925 4846 or email: timothy.haigh@rmit.edu.au
Join ADOA Victoria
The Australian Dispensing Opticians Association is for all qualified optical dispensers both employed and self-employed whether or not the store is independent, corporate or franchise.
Don Blanksby is our secretariat in Victoria, so new prospective members should feel free to give him a call to
talk about joining. Our number is (AUS) 03 9536 3127 or check the website at www.adoa.org.au
Murray O'Brien is the President of ADOA Victoria.
ADOA NSW
Martin Kocbek
ADOA hosted the 33rd Optical Dispensers Graduation Dinner at Dockside, Cockle Bay. Around 150 people attended the night.
I would like to thank the following people and groups…
Sydney TAFE/Randwick College and Western Sydney Institute/OTEN – without their commitment and co-operation our annual graduation event would not go ahead.
Our sponsors; ODMA, Rodenstock, Hilco Australia, Hoya and the Optical Dispensing Education Trust of NSW. Without their generous support the night would not have been the success it was. Please keep this support in mind when one of their representatives wants to call on you – support them as they have supported you.
A very big personal thank you goes out to the ADOA organising committee, which comprises James Gibbon, Keliegh Walsh, Veronica Crotty, Chedy Kalach and Steven Daras. These people are the ones that made it all work. The hours they put in to producing the event were amazing. I am very honoured to be working with such a great team and I'm sure I speak on behalf of all who attended the night when I say thank you and well done.
The biggest thank you of all goes out to all the graduating students who attended. I hope you enjoyed the evening and came away feeling proud of your achievements. Once again, ADOA would like to congratulate all students on their achievements and wish them the best of luck in their future optical careers. For the full report on the night go to page 68.
If you are a student who will be graduating this year, open your diary and make the graduation dinner in 2015 a "must do" NOW. This is one event on the optical dispensing calendar that should not be missed by any graduating student – you put a lot of time and effort into study, so this is your chance to come along and be recognised for all your achievements. The 2015 graduation dinner has been tentatively booked to take place at Dockside, Cockle Bay on 5 June.
Martin Kocbek is the President of ADOA NSW.