This month celebrates macular awareness. True to the definition of chronic eye diseases, age-related macular degeneration (AMD) is a long lasting disease with persistent and wide ranging effects. The ability to change patient behaviour, on many levels, is key to slowing the progression and reducing the impact of AMD. The mnemonic 'DRUSEN' will help you do it.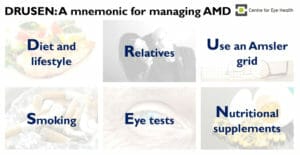 AMD can arise from several predisposing risk factors, such as smoking, poor diet and lifestyle, and it develops slowly over time. Patients with this disease are often difficult to motivate and manage.
Primary eye care providers, especially optometrists, have a very important role to play in empowering our patients to achieve better visual and health outcomes. However, in the busy confines of the consulting room, it can be all too easy to forget the additional myriad of factors that warrant further attention while managing this special sub-population of patients. In this article, we describe a systematic approach for recalling best-practice AMD management strategies framed around the mnemonic and hallmark sign of AMD, known as DRUSEN.
D FOR DIET AND LIFESTYLE
A healthy diet and lifestyle has a proven benefit in reducing the risk of AMD progression. A diet high in nutrient rich foods such as fruits, vegetables, legumes, and fish as well as the limited consumption of red meat and alcohol offers some protection against the development of late AMD.1 An active lifestyle with regular exercise is also associated with lower odds of both early and late AMD.2 As little as three hours of low to moderate intensity physical activity per week can be beneficial.2
This type of information can be useful for empowering patients to kick start their health care journey; however, it is important to recognise the challenge of exercise in ageing patients with other co-morbidities and/or low vision. Where available, patients should be encouraged to seek help from healthcare providers, including their general practitioner, orientation and mobility specialist, physiotherapist, patient support and/ or local seniors' groups. Furthermore, hypertension, raised body mass index, hypercholesterolemia and cardiovascular disease all represent lesser known modifiable risk factors for AMD that ought to be addressed during a consultation.3
R FOR RELATIVES
Over 50% of the heritability of AMD has been related to two specific loci, making AMD a well defined disease of genetic inheritance.4 A family history of AMD has been associated with at least a four fold higher risk of AMD, higher when immediate family members (sibling or parent) are affected.5,6 Thus, best practice evidence recommends that patients with AMD be educated to advise siblings and children to have their eyes tested regularly.
U FOR USE AN AMSLER GRID
Since its introduction in 1947, the Amsler grid has been recommended routinely by eye care professionals as a simple, easy to handle, self evaluation tool for patients with macular disease. Despite its limited sensitivity and the emergence of other options, the Amsler grid remains the most prolific tool for alerting a patient to neovascular conversion, and provides a means of empowering patients to take responsibility in managing their own eye health.7,8
Patients with AMD should be advised to regularly self monitor their vision monocularly using an Amsler grid and to promptly report any new symptoms or changes such as metamorphosia and/or scotoma. The message is best repeated for patients at high risk of progression and can be supported by family members. Providing and reiterating the correct instruction for using the Amsler grid is critical as incorrect techniques (incorrect working distance, inappropriate optical aids for near, binocular viewing) can significantly reduce the sensitivity and hugely discount the value of self monitoring.
S FOR SMOKING
Smoking is strongly associated with all forms of AMD based on a preponderance of epidemiologic evidence.9-12 Current smokers have a nearly four-fold higher risk of incident sight threatening late AMD than those who have never smoked, and on average, develop AMD five years earlier than non-smokers.11 Smoking cessation is also associated with a reduced risk of AMD progression. The risk of developing AMD in individuals who have not smoked for more than 20 years is comparable to the risk in those who never smoked.13 Therefore, patients should be strongly encouraged to cease smoking and to do so as early as possible. With the patient's consent, general practitioners may also be enlisted to help devise and implement a quit smoking strategy.
E FOR EYE TESTS
Patients with AMD should be educated carefully about the importance of routine eye examinations and future follow up should be scheduled, ideally via an electronic recall system. Educating patients regarding the importance of dilation in facilitating a detailed view of the macula as well as the peripheral retina, generally improves their acceptance of the use of the dilating drops. Printed patient educational materials may also facilitate patient's health related knowledge and self management skills.14 For clinicians, additional guidance on the ideal review schedule for different stages of AMD is available via a number of excellent clinical practice guidelines.
N FOR NUTRITIONAL SUPPLEMENTS
Patients with intermediate AMD in one or both eyes, or late AMD in one eye, benefit from a 25% reduction in their risk of progression to advanced disease using AREDS and AREDS 2 endorsed supplements.15-17 Significantly, the formula has no proven benefit in those with no, early or advanced AMD in both eyes. A number of products reflecting the AREDS formula are commercially available. However, not all contain the correct ratio of ingredients and some require more than one tablet to match the AREDS2 recommendation. Optometrists with a clear understanding of the AREDS formulation should advise their patients accordingly. On the other hand, high dose vitamins and minerals can sometimes interfere with medications and may be associated with adverse effects. Patients should be advised to speak to their general practitioner prior to taking any nutritional supplements.
MAKE A DIFFERENCE
Optometrists are uniquely positioned to make a difference in the lives of patients with AMD. Further help is available in the form of clinical guidelines, literature reviews and the ready support from excellent organisations, such as the Macular Disease Foundation Australia or Guide Dogs NSW/ACT.
Repetition is key and each patient attendance forms an excellent opportunity to review patient progress. A personalised medicine approach, including the delivery of key management strategies is of proven benefit to the appropriate target audience.18 For example, low vision services should be recommended for suitable patients. Apply these strategies consistently and together we can make a difference to the lives of the 1.29 million Australians living with AMD.
Angelica Ly BOptom (Hons),GradCertOcTher, PhD, FAAO is the lead clinician (macula) at the Centre for Eye Health. With a passion for evidence based optometry, ocular disease and clinical research she has presented at global conferences and has been widely published. 
Pauline Xu BOptom (Hons), MOptom, GradCertOcTher is a Centre for Eye Health lead clinician (retinal dystrophies). She has experience in a variety of clinical settings including rural and urban private practice, and she spent five years as a research optometrist with the Brien Holden Vision Institute before joining the Centre. 
Centre for Eye Health is an initiative of Guide Dogs NSW/ACT and UNSW Sydney and has an affiliation with the Macular Disease Foundation Australia. 
The authors thank Michael Yapp and Professor Michael Kalloniatis for reviewing the manuscript. 
References 
Merle BMJ, Colijn JM, Cougnard-Gregoire A et al. Mediterranean Diet and Incidence of Advanced Age- Related Macular Degeneration: The EYE-RISK Consortium. Ophthalmology 2019; 126: 381-390. 
McGuinness MB, Le J, Mitchell P et al. Physical Activity and Age-related Macular Degeneration: A Systematic Literature Review and Meta-analysis. Am J Ophthalmol 2017; 180: 29-38. 
Chakravarthy U, Wong TY, Fletcher A et al. Clinical risk factors for age-related macular degeneration: a systematic review and meta-analysis. BMC Ophthalmol 2010; 10: 31. 
DeAngelis MM, Owen LA, Morrison MA et al. Genetics of age-related macular degeneration (AMD). Hum Mol Genet 2017; 26: R45-R50. 
Smith W, Mitchell P. Family history and age-related maculopathy: the Blue Mountains Eye Study. Aust N Z J Ophthalmol 1998; 26: 203-206. 
Shahid H, Khan JC, Cipriani V et al. Age-related macular degeneration: the importance of family history as a risk factor. Br J Ophthalmol 2012; 96: 427-431. 
Crossland M, Rubin G. The Amsler chart: absence of evidence is not evidence of absence. Br J Ophthalmol 2007; 91: 391-393. 
Faes L, Bodmer NS, Bachmann LM et al. Diagnostic accuracy of the Amsler grid and the preferential hyperacuity perimetry in the screening of patients with age-related macular degeneration: systematic review and meta-analysis. Eye (Lond) 2014; 28: 788-796. 
Risk factors associated with age-related macular degeneration: A case-control study in the age-related eye disease study: age-related eye disease study report number 3. Ophthalmology 2000; 107: 2224-2232. 
Klein R, Klein BEK, Tomany SC et al. Ten-Year Incidence of Age-related Maculopathy and Smoking and Drinking: The Beaver Dam Eye Study. American Journal of Epidemiology 2002; 156: 589-598. 
Tan JSL, Mitchell P, Kifley A et al. Smoking and the Longterm Incidence of Age-Related Macular Degeneration: The Blue Mountains Eye Study. Archives of Ophthalmology 2007; 125: 1089-1095. 
Tomany SC, Wang JJ, Van Leeuwen R et al. Risk factors for incident age-related macular degeneration: pooled findings from 3 continents. Ophthalmology 2004; 111: 1280-1287. 
Khan JC, Thurlby DA, Shahid H et al. Smoking and age related macular degeneration: the number of pack years of cigarette smoking is a major determinant of risk for both geographic atrophy and choroidal neovascularisation. Br J Ophthalmol 2006; 90: 75-80. 
Moerenhout T, Borgermans L, Schol S et al. Patient health information materials in waiting rooms of family physicians: do patients care? Patient preference and adherence 2013; 7: 489-497. 
Evans JR, Lawrenson JG. A review of the evidence for dietary interventions in preventing or slowing the progression of age-related macular degeneration. Ophthalmic Physiol Opt 2014; 34: 390-396. 
Lutein + zeaxanthin and omega-3 fatty acids for age-related macular degeneration: the Age-Related Eye Disease Study 2 (AREDS2) randomized clinical trial. JAMA 2013; 309: 2005-2015. 
Age-Related Eye Disease Study Research G. A randomized, placebo-controlled, clinical trial of highdose supplementation with vitamins C and E, beta carotene, and zinc for age-related macular degeneration and vision loss: AREDS report no. 8. Arch Ophthalmol 2001; 119: 1417-1436. 
Scott I. Ten clinician-driven strategies for maximising value of Australian health care. Aust Health Rev 2014; 38: 125-133.