Little kids love to look like miniature versions of their mum and dad, and they'll often naturally gravitate to frames that look similar to those their parents wear.
But the look of a frame is just the beginning for young people intent on immersing themselves in the rough and tumble of life.
Helping your youngest patients choose spectacles and sunglasses wisely is no easy feat. Typically they'll latch on to the frame they like, according to colour, graphics or sparkles, and if it's not suitable, there's nothing you'll be able to say that will convince them otherwise.
Some frames, such as Kids by Safilo, a line designed in collaboration with children, come with temple straps to reduce the risks of loss and hold the frames firmly in place
For this reason, consider restricting the number of frames you have on display then bringing out the most appropriate options to suit the patient once you've identified their visual needs, noted their facial measurements, and assessed their lifestyle and fashion style preferences.
Of course you will need to establish your credentials as an eye care professional who loves working with kids and has the glasses to make them happy. This can be done with eye catching window displays, and a small frame selection supported by relevant point of sale materials.
You'll also need to create an environment that makes your youngest patients feel comfortable and engages their attention. Space permitting, create a decorated play area with toys and books to keep them occupied if they need to wait for their consult or while you talk to their parents. You can also consider installing a mirror at child height so your youngest patients can try frames on in comfort. Ensuring a positive experience for children, especially when they are new to spectacles, will encourage their compliance.
IT'S ALL ABOUT FIT
Regardless of age, frames that slide down the nose, leaving the patient looking over the top, are distracting and result in poor optics. On a child, a poor fitting frame can impact visual, leaning, and social development. It can also negatively influence their spectacle wearing routine – a child who cannot see adequately through the lenses or keep the frame in place while getting on with life, is likely to abandon them.
To achieve the best frame fit, carefully consider the age of the child in front of you and with that, their facial structure. A toddler's face has a lower, flatter nose than that of a child in primary school. A teenager's face will be closer to that of an adult. That means for your smallest patients, the bridge needs to be designed with a wider splay or pads that are lower set and can be adjusted to sit on the bridge appropriately – if there is a gap between the bridge of the frame and the bridge of the nose, the frame will slip. Temples need to be sized to sit comfortably behind the ear lobes rather than protruding beyond. British optical dispenser Alicia J Thompson, has extensively researched frame fit for children. You can obtain some of her advice by referring to her article in mivision's December 2018 issue (www. mivision.com.au/2018/11/kids-facesfinding- the-frame-to-fit).
Some frames, such as Kids by Safilo, a line designed in collaboration with children, come with temple straps to reduce the risks of loss and hold the frames firmly in place.
Ensuring a positive experience for children, especially when they are new to spectacles, will encourage their compliance
Zoobugs, designed for children by ophthalmologist Dr Julie Diem Le, also has an entry level functional spectacle collection for toddlers that come with straps.
Zoobug has developed two other lines for toddlers and young children – its traditional collection which is fun and functional for the playground, and a collaborative collection, which is more fashion focussed yet still comfortable and durable.
One collaborative collection, released at Silmo, was designed with kids' fashion stylist Kate Hill. Available with both optical and sun lenses, this collection comprises glossy Italian acetates with glitters and bold patterning. Sun lenses are polarised and come with coloured and mirror finishes (see the runway model on page 100).
SUN PROTECTION
While most of your children's eyewear is likely to be optical, it's well worth talking to patients about the importance of wearing quality sunglasses, especially considering the high UV levels prevalent in Australia and New Zealand. Kids in general spend far more time outdoors than adults, however their crystalline lenses are more susceptible to damage because they are unable to effectively filter out UV rays. Protecting their eyes now will help prevent ocular damage and disease in the future.
MATERIALS
Plastic frames have traditionally been best suited for children because they are lightweight, more durable and can be less expensive. However today there are plenty of highly flexible and strong metal frames, such as those created by OVVO that will withstand playground action. OVVO frames come with three different temple lengths enabling eye care professionals greater flexibility to get the perfect fit.
EXPAND YOUR OPTIONS
Looking after the eye health and vision needs of children is a great way to build your practice. The child you look after today may well become a patient for life, along with their siblings, parents, and even relatives and friends.
Take a look at some of the fabulous kids' frames presented in the following pages and consider expanding your offering to this.
Frames for the Rough & Tumble of Life
OVVO Junior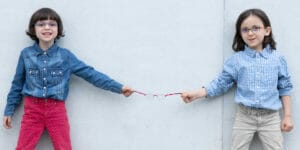 Introducing OVVO Junior, a new collection of "virtually indestructible" eyewear for kids and teens. To ensure a perfect fit, there are five styles to choose from in 47, 49 and 51 eye sizes.
There are also seven different temple colours available in three different sizes – 115, 120 and 125. All are displayed in an attractive leather bound kit.
Contact: Aaron's Eyewear (AUS) 07 3367 8447 
Mars Fashion Blue Light Glasses
Nowadays, most children are heavily exposed to digital devices from a very young age when their eyes are still developing. Mars Fashion blue light plano and prescription glasses can protect their eyes from long-term effects of blue light exposure.
Contact: Bonastar (AUS) 02 9310 1688 
Police
The Police kids' range provides comfort and style for young ones who are always on the move. Model VK555 features a new distinctive 'empty' rubber temple that gives a sporty and techy look to the frame.
Contact: De Rigo (AUS) 02 9428 1500
Domani Eyewear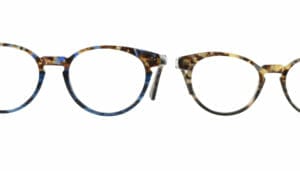 Domani Eyewear's Petite collection covers all eye sizes from 38 to 50mm and features soft flex plastic, curl tips, adjustable tips, straps, universal nose pads, comfort bridges, elaborate acetate combinations, metal, flower petals and Swarovski crystals. According to Domani, this collection is a favourite among behavioural optometrists.
Contact: Domani Eyewear (AUS) 02 9997 1910 
Humphrey's YoungStars
Humphrey's YoungStars is a cool collection for kids, featuring the latest styles from the adult Humphrey's collection transformed into a child friendly size.
Three new models have been added to the collection, including 580040 pictured here.
Contact: European Eyewear (AUS) 03 8756 0900 
Superkids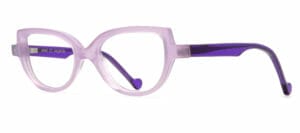 Superkids acetate frames for juniors are fun, simple and durable. These great looking frames come with flexible hinges for easy wear.
Contact: Eyemakers (AUS) 02 9960 7766 
Juzvision
The latest collection of superhero frames has landed exclusively at Juzvision, bringing Superman, Batman and Justice League styles into reach for your eager little patients.
Contact: Juzvision (AUS) 0428 236 251 
Kids Eye Gear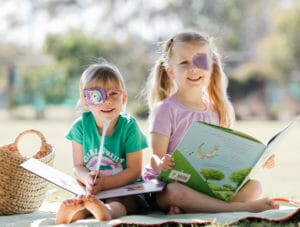 Kids Eye Gear is the home of colourful orthoptic eye patches, SpecStoppers ear hooks and Blinx eyewear charms.
Contact: Kids Eye Gear (AUS) 0414 566 894 
Little4eyes Disney Collection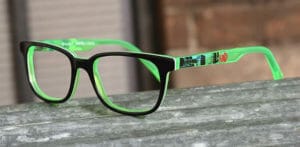 Little4eyes' newest Disney collection includes Princess, Spiderman, Star Wars and Avengers models.
These frames have German-engineered OBE-Uno-flex hinges which are repairable with the change of a spring.
Contact: Little4eyes (AUS) 03 9448 8932
Ugly Fish
Ugly Fish Eyewear is excited to be extending the 'Optics by Ugly Fish Eyewear' range. With frames suited to active babies, kids and tweens, the range offers flexible temples, light weight frames and matching ear locks all at a realistic price.
Contact: Piranha Eyewear (AUS) 02 4284 7888 
Safilo
The Kids by Safilo line was created by working with, observing, and playing with children from the very early stages of the development process.
Contact: Safilo (AUS) 02 9540 0500 
Zoobug
Zoobug's Butterfly pushes the boundaries of shape and colour, while maintaining great functionality in terms of fit, comfort, and durability to meet the needs of active kids.
Butterfly by Zoobug London was nominated for a 2019 Silmo D'Or Award. The British eyewear company was founded by ophthalmologist Dr Julie Diem Le.
Contact: Mondottica (AUS) 02 8436 6666 
Marchon Eyewear
Marchon eyewear Australia has a wide selection of kids' products across leading brands like Nike, Lacoste T(w)eens, Flexon Junior, Hello Kitty, Nine West and Coast Junior.
The collections provide fun and vibrant offerings that combine comfort and ease to allow for active play.
Contact: VSP (AUS) 02 9694 80 80 
NANOcool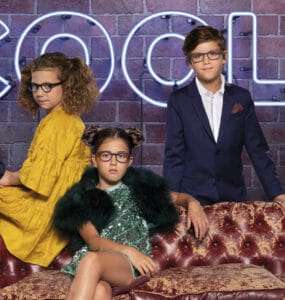 Aviva & Mann Group uses high quality acetates and high density materials to manufacture its thinner, lighter and more flexible NANOcool collection.
All styles produced with natural acetate have a spring hinge for a perfect fit to all face types and improved comfort. Colours are derived from the latest trends to present interesting combinations and themes.
Contact: Aviva & Mann Optical Group (AUS) 1300 850 882